It's SPRING!! The days are getting longer, the weather is getting warmer, and we are spending more time outdoors. That means it's time for easy, healthy, and tasty Spring Dinner recipes for families! So, I have compiled a list of 20 Spring Dinners that fall into one or more of these categories: they are easy to make, use healthy ingredients, are great for eating outdoors or on-the-go, and use seasonal produce.
Easy to prep and cook
You are busy this Spring with work, home, activities, and school still going in some form – remote, in person, or both. That means you will need easy to prep-ahead and easy to cook dinners. These dinners are all super easy to make with prep-ahead steps listed for every recipe along with quick and easy cooking steps.
Healthy Ingredients (but still delicious!)
Spring weather brings sunshine, birds chirping, flowers blooming. It means shedding layers and being more active. This naturally brings a desire for healthier foods and meals. This can be tricky with kids! Mention the word healthy in my house and my oldest runs out the door. But healthy dinners CAN be delicious. All of these recipes listed here have been tested and approved with busy families with kids of all ages.
Good for On-the-go or Outdoors
With warmer weather, you are likely more on-the-go. That means more outdoor activities or just enjoying meals outside. Meals that are served cold or can be eaten with your hands are easier for these times. So, I have included some sandwiches, tacos, and salads that are easy to eat quickly or taken outside.
In-Season
These Spring Dinner Recipes take advantage of fruits and veggies that are in season. There are so many benefits to eating produce that's in season. You get fresher products as they have to travel less distance and time when they are in season. They often cost less because they are in abundance. And you get a variety of different foods from what you may have been eating through the winter. In the Spring, you get asparagus, artichokes, peas, spinach, kale, limes, pineapple, apples, and so much more! You can get a complete list of fruits and veggies that are in season in Spring here. 
I hope you try and love these 20 favorite Talking Meals Easy Spring Dinner Recipes!
This One-Pan Parmesan Crumb Chicken and Asparagus is crispy, healthy, filling, easy, and delicious. The chicken is simply breaded with a mixture of parmesan cheese and breadcrumbs. The Asparagus is lightly seasoned with extra virgin olive oil, garlic, salt, and pepper. Sprinkle the entire pan with scallions for a mild onion flavor and this dish is loaded with amazing but simple delicious-ness! Asparagus is in season in the Spring, so you will start to see it more in the stores and at a lower cost. This is a great Spring dish also because it's so easy! It all cooks on one pan in the oven.
When it comes to fun Spring Dinner Recipes, I always think of tacos! These Korean Beef Tacos are mouth-wateringly delicious and so easy to make you will be blown away! The marinade comes together in minutes for a salty, nutty, slightly acidic, sweet, and savory flavor. Each amazing taco also has crunchy Sesame Cabbage Slaw and a creamy, cool, Cilantro Lime Sriracha sauce! Limes are in season in the Spring, so take advantage and buy a ton! Use them for this recipe and then juice some for a refreshing Lime-ade. This is also a fun outdoor eat-with-your-hands dinner as you can get as messy as you want!
Most people have had Chimichurri, but how about Chicken Chimichurri Rojo? It's a perfect Spring or Summer dish because you can simply grill or broil the chicken then top with this make-ahead cool, fresh, oh-so-delicious Chimichurri Rojo. The Rojo comes from the addition of red pepper and combined with the other ingredients, this sauce is cool, tangy, sweet, savory and incredibly full-flavored!  All of the ingredients get blended in a food processor so it could not be easier! With garlic, parsley, cilantro, lime, vinegar, and red pepper, this is one easy sauce that delivers BIG flavor!
This Garlic and Lime Shrimp with Tzatziki Sauce combines big bold flavors with cool, refreshing flavors. The Shrimp is simply sauteed with minced garlic, olive oil, and lemon for big bold flavors. You can also marinade the shrimp in the garlic and olive oil and then grill, squeezing the lemon over after grilled.  The Tzatziki Sauce is bright and cool with creamy yogurt with fresh cucumber, lime, garlic, and scallion. A perfect combination and so easy to pull together for a bright and light Spring dinner!
Peas are in so many Spring recipes, but in my family, they unfortunately will only eat them blended. So, bring on the Pea Soup! Creamy, sweet, fresh, with a kick…this Zesty Pea Soup with Peas, Jalapeño, and Mint is a delicious new take on the traditional Pea Soup recipe! You get the sweet Spring flavor of the peas with the cool fresh mint, followed by the peppery kick from the jalapeño that gives you a wonderful warmth (not spicy hot) feel in your mouth and keeps you coming back for more. They blend together for the perfect Zesty Pea Soup and one of the most quintessential Spring dinner recipes.
Creamy, bright, herby, and lemony, this recipe screams Spring dinner recipes! Lemon Dill Sauce Chicken and Asparagus is Dill-licious! (yep, I just did that!) This is such an easy one-pan skillet recipe. It has seared chicken in a light and creamy sauce delicately flavored with garlic, lemon and fresh dill. Then it's loaded with fresh and bright Spring asparagus. Yum! You could serve this over rice or pasta, but honestly, it's perfect just on it's own!
Spring Green Cauliflower Cream Fettuccine is bright and creamy and perfect for this list of Spring dinner recipes. With Spinach blended into the sauce and bites of Asparagus, you get the creaminess and the texture all in one fabulous dish. Cauliflower Cream Sauce is truly a chameleon. It can take on any flavor that you add to it. With the green veggies, this Green Cauliflower Cream Fettuccine recipe takes a comforting cream sauce to the next level.
This Quinoa and Kale Salad with Roasted Chickpeas and Creamy Lemon Dressing has everything you could ever want in a Spring dish. It's fresh, light, and bright from the lemon dressing, kale, scallion, and red pepper. Then it's hearty, nutty, and salty from the quinoa, roasted chickpeas and Feta Cheese. And then you get a burst of fresh sweetness from the pomegranate seeds. All of the different textures will make your mouth so happy!
Craveable Curry Chicken Salad has so many fantastic flavors and textures! Use leftover chicken breast, buy a rotisserie chicken, or get cooked chicken from the Deli!   The chicken is mixed with a creamy sweet and savory curry dressing. Then you get a burst of freshness from the red pepper, a salty bite from the scallion, and sweetness from the raisins. Make this once and you will crave it again and again! It's a perfect Spring lunch or dinner for eating while you sit outside enjoying the sun and breeze.
Moroccan Meatballs Stuffed Pitas are filled with homemade hummus, moist turkey meatballs made with warm Moroccan spices like ginger, turmeric, and coriander, and then topped with creamy, fresh and bright lemon yogurt sauce. These Stuffed Pitas are incredibly easy to make, fun to stuff, and so delicious to eat. It's another eat-with-your-hands dinner that fun to take outside and enjoy in the Spring.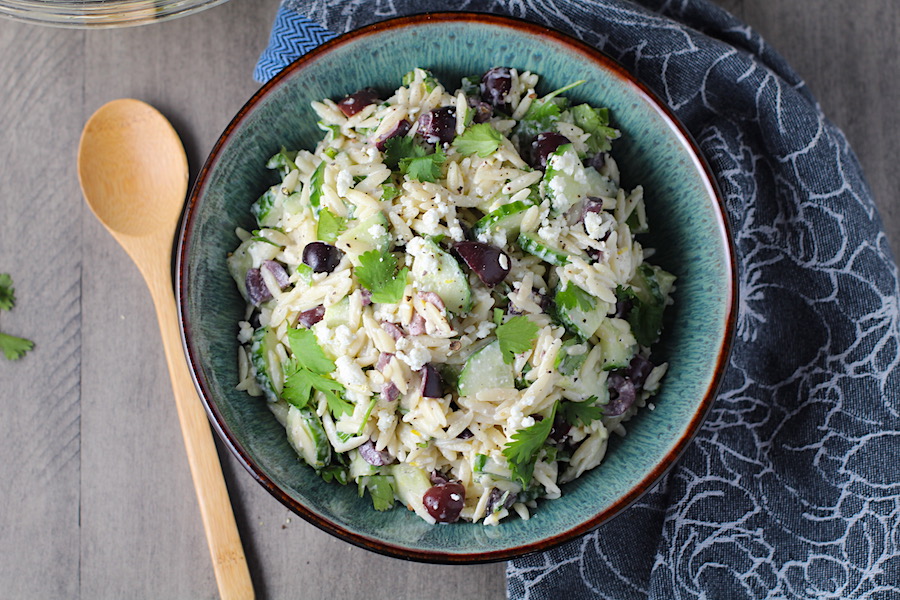 Ground Chicken Greek Meatballs are so moist and bursting with big flavors from garlic, feta, parsley, and oregano. You can make them ahead and freeze for months. Then simply bake for 25-30 minutes and enjoy! Paired with a tangy and bright Tzatziki sauce! Served with this amazing Greek Orzo Salad with Kalamata Olives, Cucumbers, and Feta Cheese that will make you go weak in the knees! It's creamy, tangy, crunchy, salty, fresh, bright, and delicious. It starts with Orzo pasta. Cucumber brings a cool refreshing crunch. The kalamata olives and feta bring the saltiness and tang. All of this goodness is combined with a creamy lemon dressing that's bright and light!
Vegetable Frittata with Lemon Crema is an easy weeknight dinner, quick breakfast, or weekend brunch recipe! This Vegetable Frittata is thick and hearty with lots of flavors and textures from the veggies, but is also light and creamy from the eggs and cheese. It's loaded with healthy veggies, is gluten free, and super EASY to make and to clean up after. This recipe is great to use any Spring veggies that you can find in the store or have leftover in your fridge!
Healthy, comforting, utterly delicious – that's today's Shell Pasta with Italian Sausage and Kale. The sauce is loaded with a salty homemade Chicken Italian Sausage flavored with garlic and fennel. Kale is in abundance in the Spring and here it's cooked in the flavorful sauce so it wilts down and melds into the backdrop so perfectly. Hearty shell pasta perfectly holds the creamy parmesan cheesy sauce in each shell cup. Parmesan on top is the salty and nutty finish!
Sweet and Sour Chicken Kabobs have pineapple, onion, and red pepper for sweet, savory, tangy, and salty flavors. Chicken is marinated in a Sweet and Sour marinade so that when it's grilled, it gets the most amazing sweet and savory grill flavor. The grilled pineapple intensifies into this deep flavor, that is still sweet, but somehow also savory from the grill and the caramelization of the natural sugars. The onion and red pepper round out the flavors and textures with a bit of fresh crunch. Look for whole pineapples in the Spring on sale at your store and enjoy them in this recipe, as a snack, for breakfast, or for dessert!
These Slow Cooker Pork Tacos are mouthwateringly fantastic! Top them with with Pickled Onions, Shredded Cheese, and Cilantro Lime Crema drizzled all over! You get the salty and smoky flavor from the perfectly seasoned and slow cooked pork, a sweet and tart bite from the pickled onions, with creaminess from the cheese, and tang from the cilantro lime crema. I love these tacos in the Spring because once again, they are fun and great for enjoying outside.
Family Chickpea Coconut Curry with Vegetables is a creamy, crunchy, and filled with warm, soothing, yummy flavors. You get nutty roasted chickpeas, with sweet and creamy coconut milk. Then lots of crunch and texture from the sweet red bell pepper, zucchini, and onion. Finally, I took a little inspiration from Thai Curry and added in aeromatic fresh basil, which brings a wonderful fresh finish. It's all served on top of fluffy rice that soaks up the delicious sauce.
Quinoa and Black Bean Burritos are a scrumptious eat-with-your-hands family dinner! They are packed with protein and fiber, but also ooey-gooey cheese, tomato, cilantro, and sour cream! The 'meat' in this recipe is a flavorful taco-seasoned quinoa, black bean, and cauliflower filling. Easy to prep in advance and wrap individually! Eat on the go, outside for lunch, or in the backyard for dinner.
This Spinach Artichoke Stuffed Zucchini has all the goods! It tastes delicious and indulgent, but it's healthy too with so many nutrient-dense veggies! Each fantastic bite gives you creamy and earthy artichoke, nutty and cheesy Parmesan, fresh spinach, and meaty zucchini. Prepare entirely ahead and then bake 20 minutes and enjoy! While zucchini comes into season more in the Summertime, spinach is in season in the Spring. Frankly, this is just such a Springtime looking meal that I just love!
This Fish and Chips recipe is baked, not fried, so it is light and crispy, but has all of the amazing flavor you want. The Mind Blowing Remoulade sauce is sweet, salty, tandy, and a little bit spicy – you will be scraping the bowl with your fries and fish to get every drop! I added this one to the list for Spring dinners because fish is a great light protein option for Springtime. It's a great option for getting picky kiddos to eat more fish!
Broccoli Pesto Pasta is delicious AND good for you! It has all of the classic pesto flavors from garlic, basil, parmesan cheese, and pine nuts. But rather than a huge punch in the face of flavor, it's a bit more mellow – and healthier – for you with the addition of broccoli! This last dinner made the list because it's light and bright and a super fast make-ahead dinner for Spring!
Super Easy Nut-Free, No-Bake Energy Bites with Chocolate Chips are magnificent! They are sweet, nutty (but no nuts!), chocolaty, chewy, crunchy, and filling. Eat them for breakfast, a snack, or even dessert! Kids love them because they taste great. Adults love them because they are good for you. Schools love them because they are nut-free. YOU will love them because they are scrumptious! The best part?? NO BAKING! And you can store them in the freezer! The ingredients in these Energy Bites are loaded with health benefits and lots of fiber and protein, which help to give you energy. Protein is a macronutrient that is metabolised into energy for the body and helps to repair and build tissue. Soluble Fiber thickens when digested to slow gastric dumping and help to maintain energy.
What are YOUR favorite Spring recipes?  Please share in the comments!
😍 Carrie