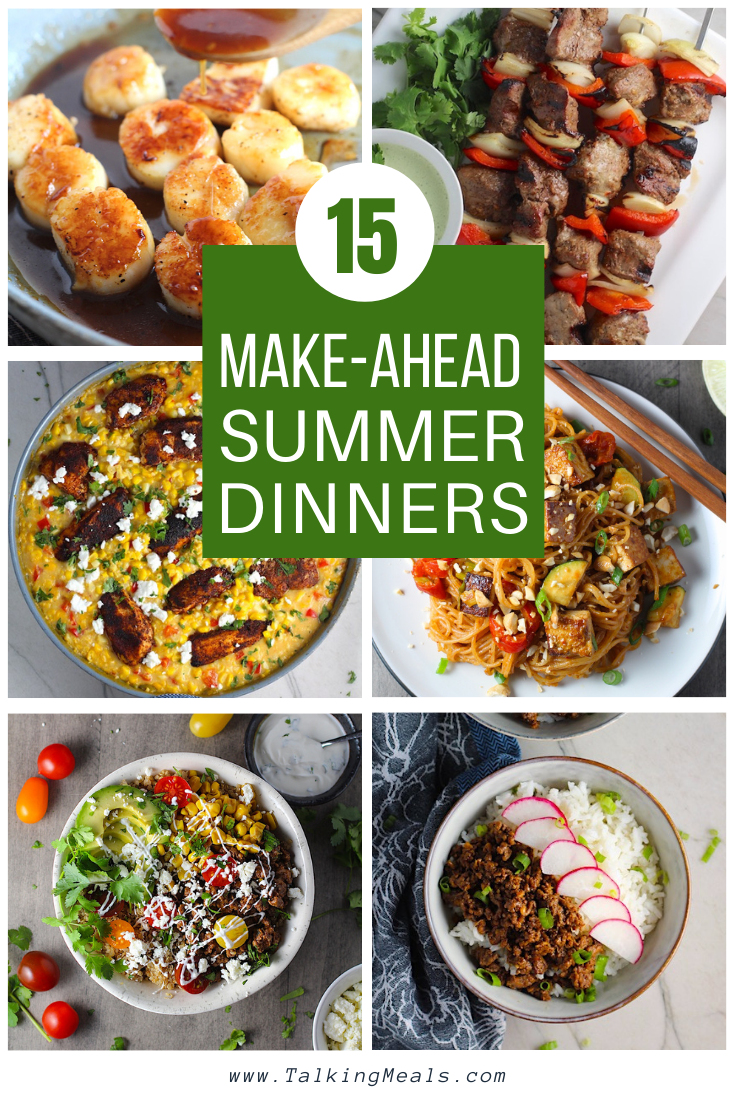 The weather is warmer, the days are longer, and there is no school. Kids are running around all day playing and you are running around all day too, probably playing a little, and working (in some form or another) a lot. That means it's time for Easy Summer Dinners! More specifically…delicious, healthy, MAKE-AHEAD Summer Dinner Recipes.
What these Dinners have in Common
PREPPED OR COOKED AHEAD – Summers days are longer and packed with outdoor activities, camps, work, and more. So, when dinner time rolls around, you need easy dinners that come together fast! That's where prepping or even cooking the meal entirely ahead comes to the rescue.
IN SEASON – Each recipe includes bright and fresh summer flavors and ingredients that are in season. This means that you should be able to find all ingredients easily and even at a discount. Produce will be fresher as it can come in from local farms vs. far away places.
HEALTHY, BUT DELICIOUS – The word 'healthy' often scares off kids and many adults too. However, healthy can be yummy. It doesn't have to be boring or bland food, it just means eating balanced meals that provide you with the vitamins and nutrients to give you energy for your Summer days!
Here are 15 Easy Make-Ahead Summer Dinner Ideas that you can prepare ahead and finish fast at the end of long summer days!
15 Easy Make-Ahead Summer Dinner Recipes
Get ready for a symphony of flavors and textures because this recipe has got it all! The first in the line up of Summer Dinner Recipes is my Sweet and Sour Chicken Kabobs with pineapple, onion, and red pepper. They are sweet, savory, tangy, and salty. The chicken is marinated in a simple Sweet and Sour marinade so that they get the most amazing sweet and savory grill flavor. The pineapple when grilled, intensifies into this deep flavor, that is still sweet, but somehow also savory from the grill and the caramelization of the natural sugars. The onion and red pepper round out the flavors and textures. The remaining sweet and sour sauce is drizzled over top for the final glazed touch. It's party time for your taste buds!
Serve these Chicken Kabobs on top of the most flavorful herb-i-licious Green Rice Recipe. Make sure to check out this recipe which comes together in minutes. Basil, chives, and spinach are blended with a touch of sour cream and mixed with fluffy white rice. The herbs pair perfectly with the kabobs.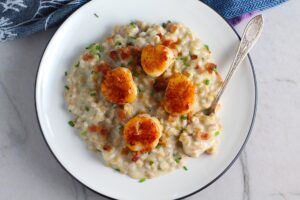 These Glazed Pan Seared Scallops with Garlic and Honey take only 10 minutes to make and taste AMAZING! Scallops are seared for a crispy, caramelized crust on the outside and then glazed with a sweet and succulent thick sauce. Garlic, lemon, and honey are added to the pan to create this easy glaze that pairs perfectly with the sweet scallops with their salty sear. Try these with my Velvety Barley Recipe with Bacon and Gruyere and you have a delicious family dinner!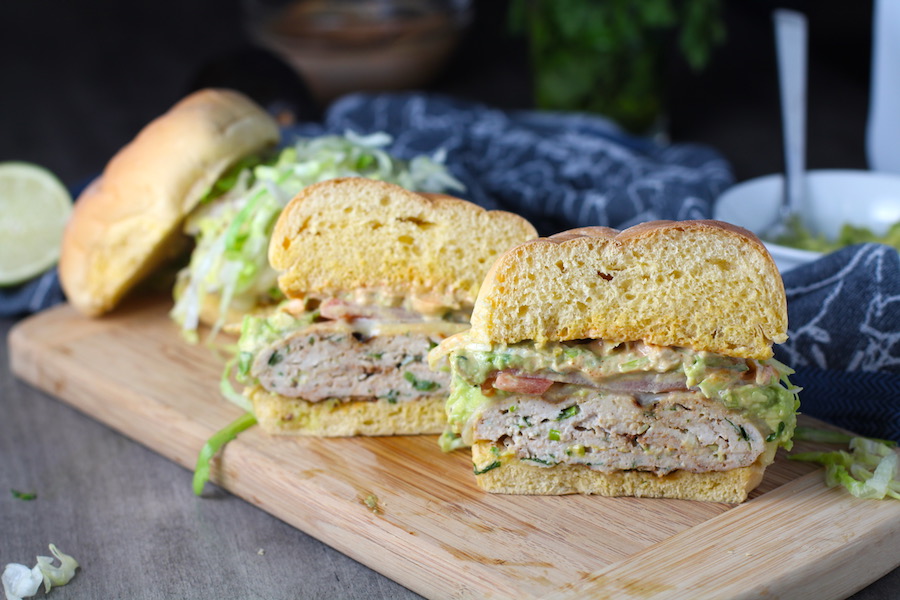 Of course there would be a burger on a list of Summer Dinner Recipes! This Taco Chicken Burger recipe was a successful experiment in how tacos can transform into the most incredible burger. They are easy to make ahead, flavorful, moist, and all together taco-licious. It is chock full of smokey taco seasonings, cilantro, and scallions. Then on top you've got all the taco fixings you need… melty cheese, creamy guacamole, tomato, lettuce, and chipotle mayonnaise! You can make a double batch and freeze them raw individually. Once frozen, you can combine them in an airtight container and store for up to 4 months in the freezer.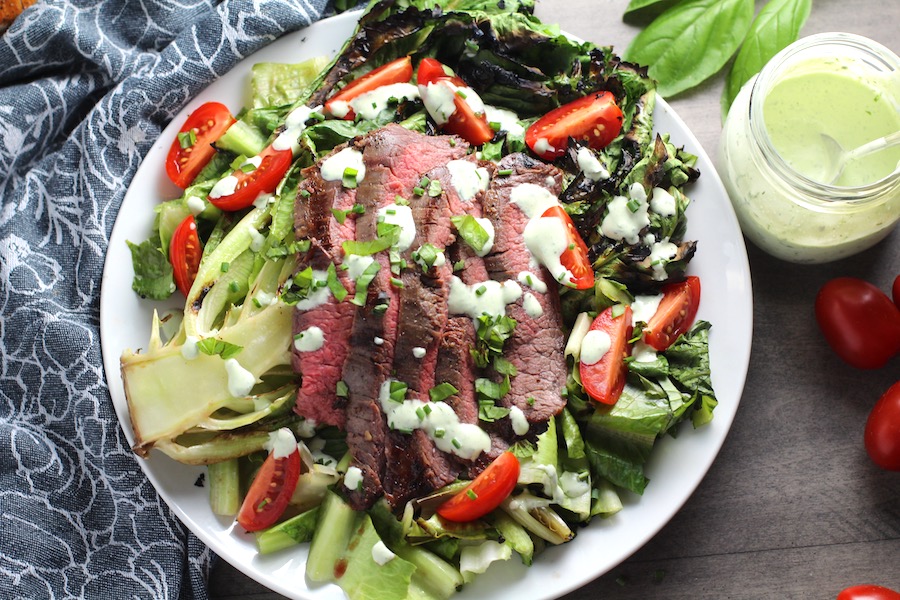 When it comes to Summer dinner recipes, salads might be an obvious one. But this is no ordinary salad. This Grilled Flank Steak Salad Recipe with Creamy Basil Dressing is such a hearty, healthy, fresh, and vibrant Steak Salad Recipe! It has tender strips of garlic-rubbed grilled flank steak over grilled romaine, bright tomatoes, and fresh cool basil yogurt dressing. The romaine lettuce is grilled so it gets this slightly charred, slightly nutty, deep new amazing flavor that is nothing like the boring lettuce you know. So few ingredients, but so much flavor!!
For this recipe, you can make the Creamy Basil Chive Yogurt Dressing up to 5 days in advance. All ingredients go into the blender and it takes only minutes! You can also make the marinade and marinate the flank steak 2 days in advance.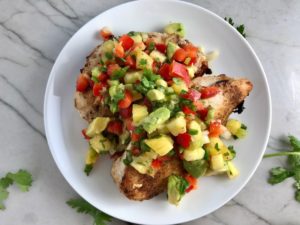 Zippy Pineapple Salsa with Avocado is no ordinary salsa, it's not even an ordinary Pineapple Salsa. Fresh, bright, sweet, creamy, crunchy, and bursting with flavor, this Zippy Pineapple Salsa has pineapple, red pepper, jalapeño, cilantro, scallion, lime, and avocado. It's the perfect topping for grilled chicken. It's also just perfect for eating with chips or as a salad on it's own! The salsa can be made in advance, with the exception of adding the avocado. Just grill your chicken, then dice and add the avocado and dinner is served!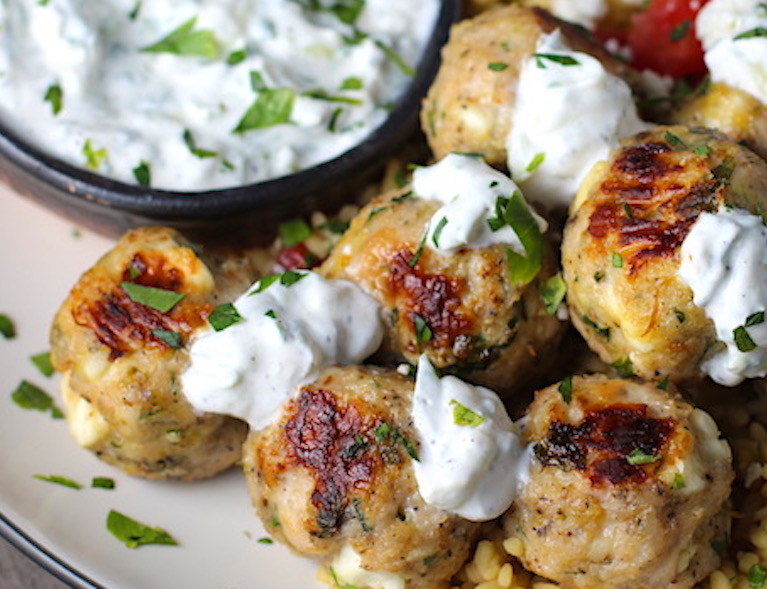 Ground Chicken Greek Meatballs are so moist and bursting with big flavors from garlic, feta, parsley, and oregano. You can make them ahead and freeze for months (make a double recipe!). Then simply bake for 25-30 minutes and enjoy! Paired with a tangy and bright Tzatziki sauce and served with a Greek Orzo Salad with Kalamata Olives, Cucumbers, and Feta Cheese. It's creamy, tangy, crunchy, salty, fresh, bright, and irresistibly delicious. The base here is Orzo, which is the perfect size and texture. Cucumber brings a cool refreshing crunch. The kalamata olives and feta bring the saltiness and tang that keep you coming back for more…and more…and more. All of this goodness is combined with a creamy lemon dressing that's bright and light! The meatballs and the salad are completely make-ahead for such an easy-breezy Greek dinner.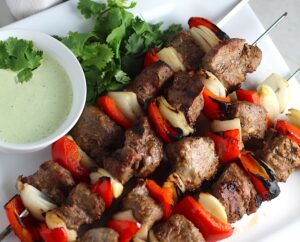 Nothin' says Summer dinner recipes to me more than grilling a good kabob! These Garlic Steak Kabobs with a Creamy Cilantro Sauce are my favorite Summer family dinner. Beef filet is cut into chunks and then marinated with a delicious garlicy sauce. Skewered and grilled with onion and red pepper, they are tender, flavorful, and utterly mouthwatering. Then, drizzle with or dip into a cool and bright Creamy Cilantro Sauce for the perfect bite! Kabobs are also such an easy Meal Prep idea because you can prep them entirely ahead and then simply grill them when you're ready to eat! You can also make a double recipe to have leftovers of this delicious meat and then slice for steak sandwiches, a quick stir fry, or add to a mushroom sauce over pasta!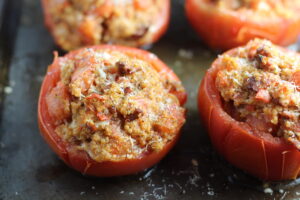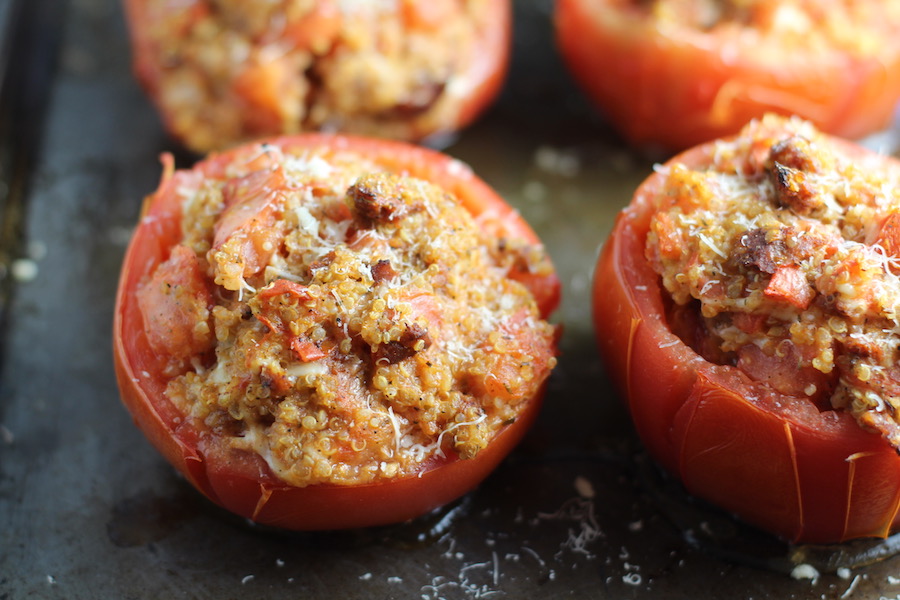 These Stuffed Tomatoes are little treasures with chorizo, quinoa, parmesan cheese, mozzarella, chives, garlic, and oregano are simply divine! Juicy tomatoes are hollowed out and the insides are mixed with these amazing ingredients and then stuffed back in. You get the warm juicy tomato with a salty and hearty center. Each bite is salty, peppery, creamy, and incredibly flavorful! These can be stuffed ahead and then baked right before serving. Have as a side or a main for the perfect Summer treat!!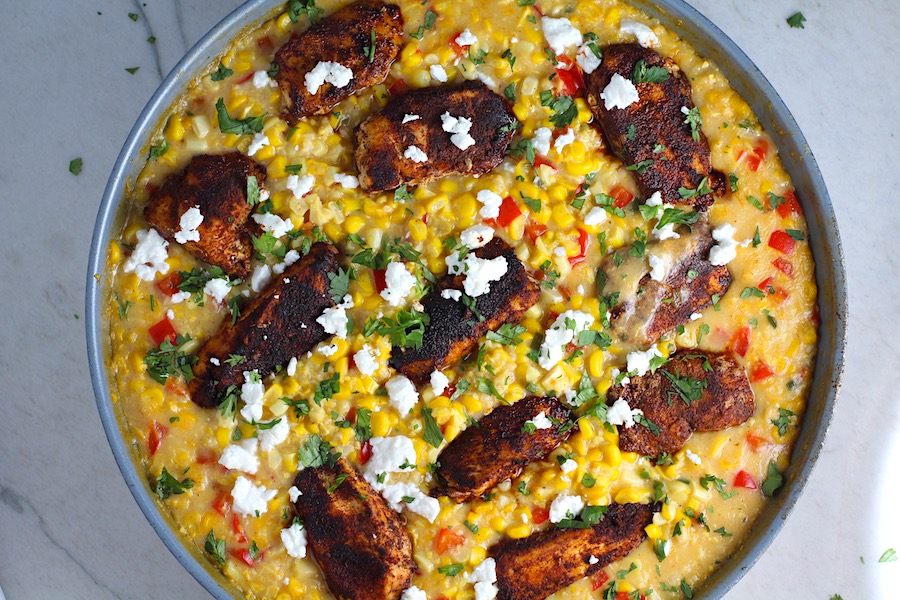 In my opinion, corn should be in just about every Summer dinner recipe! So, here we have a Creamy Corn and Blackened Chicken skillet dinner that's easy to make and scrumptious to eat. The creamy corn is rich, creamy, savory, slightly sweet, and slightly smokey. The blackened chicken is coated with warm spices like chili powder, paprika, and cumin that bring huge flavor, but not a lot of heat. It finishes with a delicious salty bite from cotija cheese. Best part is that it all cooks in one large pan, can be made entirely ahead and reheats beautifully when you are ready to eat – truly a perfect dinner!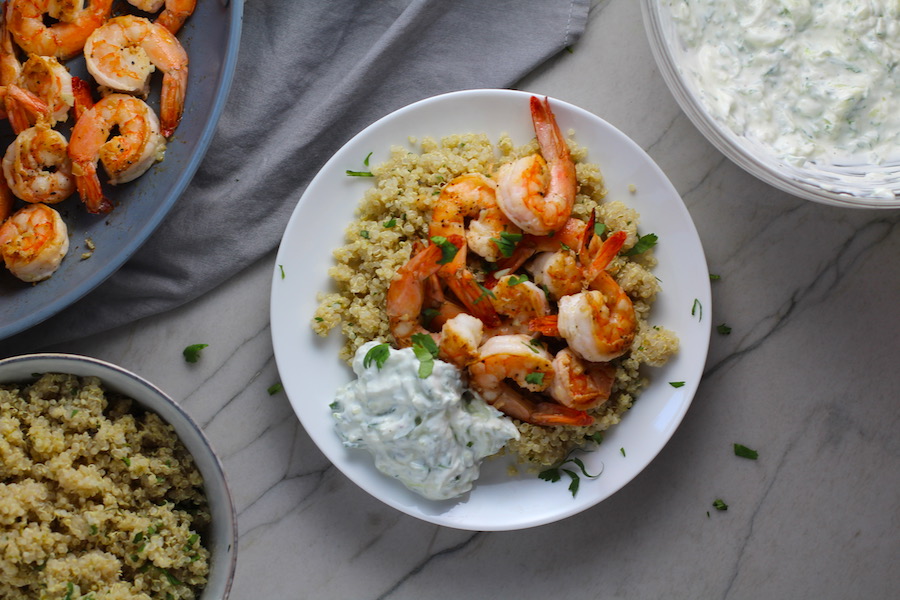 I love to combine big bold flavors with cool, refreshing flavors. Enter THIS flavorful Garlic and Lime Shrimp Recipe with a bright and delicious Tzatziki Sauce. The Tzatziki Sauce has cool and creamy yogurt with fresh cucumber, lime zest, garlic, and scallion. Serve with Cilantro Lime Quinoa and you have a complete and delicious meal! The Quinoa and Tzatziki can be made entirely ahead, then just take a few minutes to cook the shrimp when you're ready to eat! It's a great Summer dinner.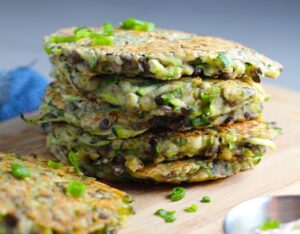 Crispy outside, soft and warm inside, these Lentil and Zucchini Cakes are so satisfying! The flavors are simple but perfect with parmesan bringing a salty and nutty backdrop and oregano adding an herbaceous note. The scallion gives a mild onion flavor. But of course, the stars here are the meaty and earthy lentils and the fresh zucchini. Formed into a perfect cake and pan fried in just a bit of olive oil. You can either make the raw patties ahead and then cook them right before you want to eat or make them ahead and reheat!

30-Minute Korean Ground Beef and Rice Bowls are the perfect weeknight family dinner! The mouthwatering sauce comes together in just minutes and gets added to the ground beef in the pan for the most intensely perfect flavor. The Soy sauce brings salt, the sesame gives nuttiness, the vinegar gives acidity, the brown sugar brings sweetness, and the ginger and garlic bring loads of spice and flavor! Served over rice with with a simple cool and crunchy radish garnish, it's a hearty and delicious dinner! You can make each component of this dish ahead, reheat the beef and rice, then top with garnishes.
Get ready for a flavor explosion with these Thai Peanut Sauce Noodles with seared tofu and veggies! The sauce is nutty, tangy, salty, slightly sweet, and spicy with peanut butter, teriyaki, Thai red curry paste, sesame oil, and garlic! The tofu is seared for a perfect outside and creamy inside. The zucchini, peppers, and peanuts on top add crunch and texture. The noodles, well they let you slurp everything up perfectly! It's irresistible!
This is perfect for a prep-ahead and last-minute-weeknight-cook dinner. The cooking only takes about 15 minutes, so most of the work is the prep for the tofu and the veggies.
During the Summer, no one wants to stand in front of the stove inside adding broth to risotto every 5 minutes, so I have a quickie version for you! Asparagus and Tomato Quinoa Risotto is such a hearty, delicious, and healthy dinner. This is yet another way to incorporate that fantastic superfood, Quinoa, into your dinner rotation! The Quinoa beautifully absorbs and plumps up with all of the flavor from the broth, onions, garlic, tomato paste and oregano. Then cut asparagus is mixed in along with nutty and creamy parmesan cheese for a perfect finish. Make this entire dish ahead and simply reheat it for dinner with grilled steak or chicken or fish!
Making a Ground Beef Taco Quinoa Bowl is so darn tasty and perfect for busy Summer nights! Everything can me prepped and cooked ahead, so you only need to reheat and enjoy. The base of these bowls is the Quinoa, which is lightly seasoned and is a perfect fluffy backdrop. It's topped with saucy ground beef that's loaded with savory and smoky Mexican flavors from the chili powder, cumin, garlic, and scallions. Corn that is slightly seared brings a pop of sweetness. The Cotija cheese brings tang and creaminess and the tomato a burst of freshness. The avocado adds rich creaminess and the cool cilantro lime crema brings that final bright finishing touch. Overall, this is one harmonious dinner filled with bright, creamy, savory, smokey, and delectable flavors and textures!
What are YOUR favorite Summer dinners? Please share in the comments!
😍 Carrie