Let's turn Thanksgiving stress into a relaxed and enjoyable holiday with this Thanksgiving Meal Planner Printable! It will give you everything you need to plan, prepare, and cook a delicious and stress-free Thanksgiving dinner.
Hosting Thanksgiving Dinner can be stressful!
Afraid you may end up throwing your turkey across the room vs. serving it to your guests? I don't blame you, hosting Thanksgiving can be overwhelming! How big of a turkey do you need? What can be made ahead? How in the world do you get it all done at the same time?? It's stressful – but it doesn't have to be!!
Let's turn Thanksgiving stress into a relaxed and enjoyable holiday!
Your Ultimate Holiday Meal Planner for a No-Stress Thanksgiving
After years being a caterer, making meals for my family, and developing easy dinner recipes on this blog, I have mastered the art of planning and prepping ahead. So, now I bring all of these plans, tips, tricks, and checklists to you for Thanksgiving! CLICK HERE TO GET THE THANKSGIVING MEAL PLANNER PRINTABLE!
Here's what you will be thankful for with this freebie:
Your entire Thanksgiving Meal planned ahead
You will know exactly how to buy, store, prepare, and cook your turkey
A Day-by-Day Prep-Ahead Checklist will help you prepare a little each day during the 7 days before Thanksgiving
Most of the food prepared ahead of Thanksgiving Day
You get to relax and enjoy time with your family on Thanksgiving Day!!
What you will get in this Thanksgiving Meal Planner Printable
PLANNING & PREP TIPS CHECKLIST – When it comes to planning any dinner party, there are a few key things to remember that I learned as a caterer in NYC. Following these tips will help you no matter how big or small the dinner or event. CLICK HERE TO GET THE THANKSGIVING MEAL PLANNER PRINTABLE
PLAN-YOUR-MENU TEMPLATE – You will get a menu template where you can write down your appetizers ideas, main dishes, and side dishes. There is space to list the dish and the ingredients, along with any notes.
TURKEY TIPS! – Next you will get the best cheat sheet for buying, prepping, and cooking your turkey! You get tools and equipment, tips for buying and thawing, including how big the turkey should be, steps for cooking your turkey.
PREP-AHEAD SCHEDULE – I have put together a detailed checklist for each day to prepare your kitchen, dining room, and food in the 7 days ahead of Thanksgiving.
THANKSGIVING DAY COOKING & SERVING SCHEDULE – That's right, you will get an hourly schedule and checklist to completely start and finish your Thanksgiving Meal! You also get a blank template so you can create your own.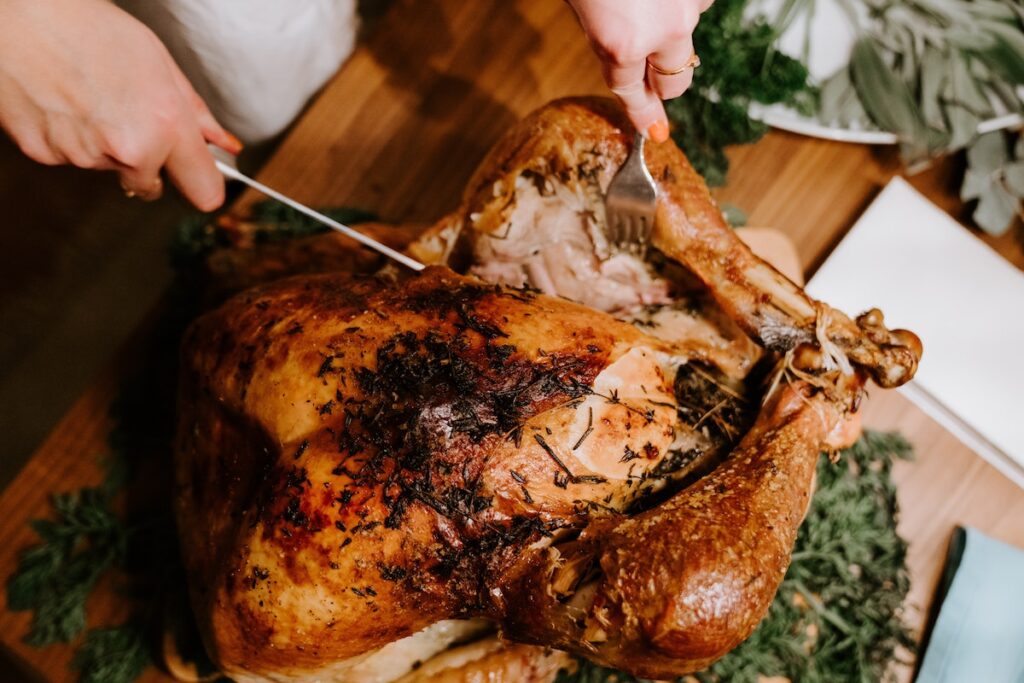 Don't Miss this Thanksgiving Meal Planning Printable!!
I hope these tips, tricks, guides, templates, and schedules help to make hosting Thanksgiving as easy as possible. Once again, you can get these as part of the Thanksgiving Meal Planner Printable!
Easy Thanksgiving Side Dishes
Even if you don't need the Guide right now, check out these Holiday Sides for Turkey that you can easily make ahead partly or entirely so that you can relax and enjoy the holiday.
HAPPY THANKSGIVING! 😍 Carrie