Jump to Recipe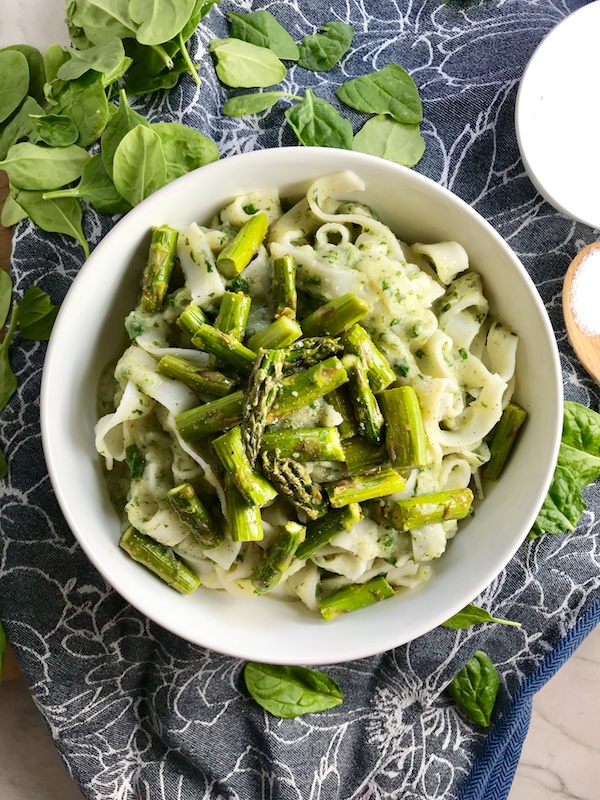 Green Cauliflower Cream Fettuccine is bright and creamy and perfect for Spring.  With Spinach blended into the sauce and bites of Asparagus, you get the creaminess and the texture all in one fabulous dish.  Cauliflower Cream Sauce is truly a chameleon. It can take on any flavor that you add to it.  With the green veggies, this Green Cauliflower Cream Fettuccine recipe takes a comforting cream sauce to the next level.  Gluten-Free, Dairy-Free, Vegetarian.
Cauliflower is so Versatile!
Another great way to use Cauliflower is to make Cauliflower Rice or Cauliflower Steaks!  If you haven't tried these little wonders, you really should.  Cauliflower is a chameleon and can REALLY taste like rice!
Easy Prep!
The recipe begins with about 3 cups of cauliflower florets, which are steamed in a large pot with some water.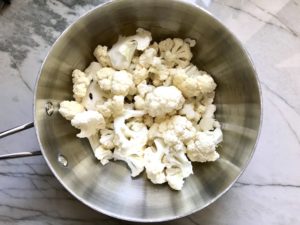 You then puree the cauliflower in a blender with some water and Vegetable Base. I love to use Better Than Bouillon; Vegetable Base (8 oz)
.  It has a rich, deep flavor, keeps so well in the refrigerator.  It's so versatile, I can add it to a variety of soups, sauces, and marinades.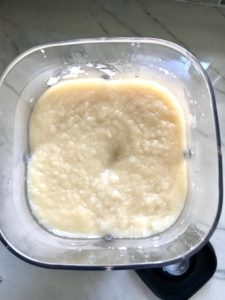 Then you saute garlic and spinach.  Here, I have recently been introduced to Dorot Gardens Frozen Garlic Cubes. I LOVE these!  I prefer to use fresh garlic whenever possible.  But let's face it, there are times (perhaps often🙄) when we are just so busy that we forget to buy fresh garlic.  Dorot Gardens gives you frozen pre-portioned garlic cubes that you keep in the freezer.  I tried it in this recipe and I'm telling you, it tasted just like fresh garlic that I had just minced.
Once the spinach is wilted, add it with the garlic to the cauliflower cream and pulse the blender to incorporate it into the sauce.  Pulse so that it blends, but not completely purees.  You still want to see the spinach bits and pieces.
For the 'Fettuccini' in this recipe, I LOVE to use Wide Rice Noodles, such as Taste Of Thai Noodle Rice gluten free Extra wide, 16 oz
.
After making the noodles and straining them, as well as roasting the asparagus, add the noodles back to the pot.   Pour over the Green Cauliflower Cream Sauce.
Last mix in the asparagus, saving some to put on top once plated.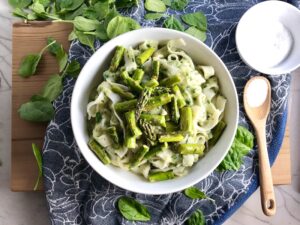 I hope you try this wonderful Green Cauliflower Cream Fettuccine!!
Spring Green Cauliflower Cream Fettuccine
Green Cauliflower Cream Fettuccine is bright and creamy and perfect for Spring. With Spinach blended into the sauce and bites of Asparagus, you get the creaminess and the texture all in one fabulous dish. Gluten-Free, Dairy-Free, Vegetarian.
Ingredients
3

cups

Cauliflower florets

1

cup

water

1

clove

garlic

2

teaspoon

Extra Virgin Olive Oil

1 teaspoon for spinach, 1 for asparagus

1.5

teaspoon

Vegetable Base

½

teaspoon

Fresh Ground Pepper or to Taste

Salt

to taste

2

cups

Baby Spinach Leaves

8

oz

Wide Rice Noodles

8

oz

Asparagus
Instructions
Prep Ahead
Steam the cauliflower.  Place the cauliflower florets in a medium sauce pot and fill with water to about ⅓ as high as the florets.  No need to cover with water, as we are steaming.  Cover and turn the stove to medium heat.  Water should come up to a boil and cook with cover on for 8-10 minutes.  Turn off heat and let sit for another few minutes.

While the cauliflower is cooking, mince 1 clove garlic and add to a preheated pan with 2 cups baby spinach leaves, and 1 teaspoon olive oil.  Saute until the spinach is wilted down, but still a bright green color.  Remove from the heat and set aside until ready to add to the blender.

Test the florets with a fork to make sure they are fall-apart tender.  Then strain out the water and transfer to a blender.  Add the garlic, 1 cup water, and 1.5 teaspoon of Vegetable Base. I like to use Better than Bouillon Vegetable Base.  Blend until smooth.

Add the spinach and pulse until incorporated and starting to turn the sauce green, but so you can still see pieces of the spinach.

Add ½ teaspoon Fresh Ground Pepper and test to see if additional salt is needed.  The vegetable base will add a salty flavor, so it may not be required.
Cook & Put it All Together!
Make the Wide Rice Noodles in a very large pot for lots of room, as rice noodles are starchy and can stick together if the pot is too small.  When you add the noodles to the boiling water, stir frequently until they start to soften to ensure the noodles do not stick.

Preheat oven to 375 degrees F.

Roast the Asparagus: Trim the ends of the asparagus and discard, as they can be tough.  Cut the asparagus into 1 inch pieces and place on sheet pan.  Drizzle with Extra Virgin Olive Oil and sprinkle with Salt & Pepper.  Roast in the oven for 10 minutes.

If you made the Cauliflower Cream Sauce a day or so ahead, warm it up now before adding it to the pasta.

Strain the noodles and add back to the pot.  Pour the Cauliflower Cream Sauce over the pasta. Add the asparagus (save some for adding on top of the dish) and stir to combine.  Enjoy!!
In order to keep the blog up and running this post contains affiliate links, it will be at no extra cost to you, please read the disclosure for more information.