Holidays can be stressful when it comes to cooking, but they don't have to be! Here are some of the best Sides for Turkey, Ham, or Beef that you can easily make ahead These are great for Thanksgiving dinner, Christmas, Easter, and any other holiday.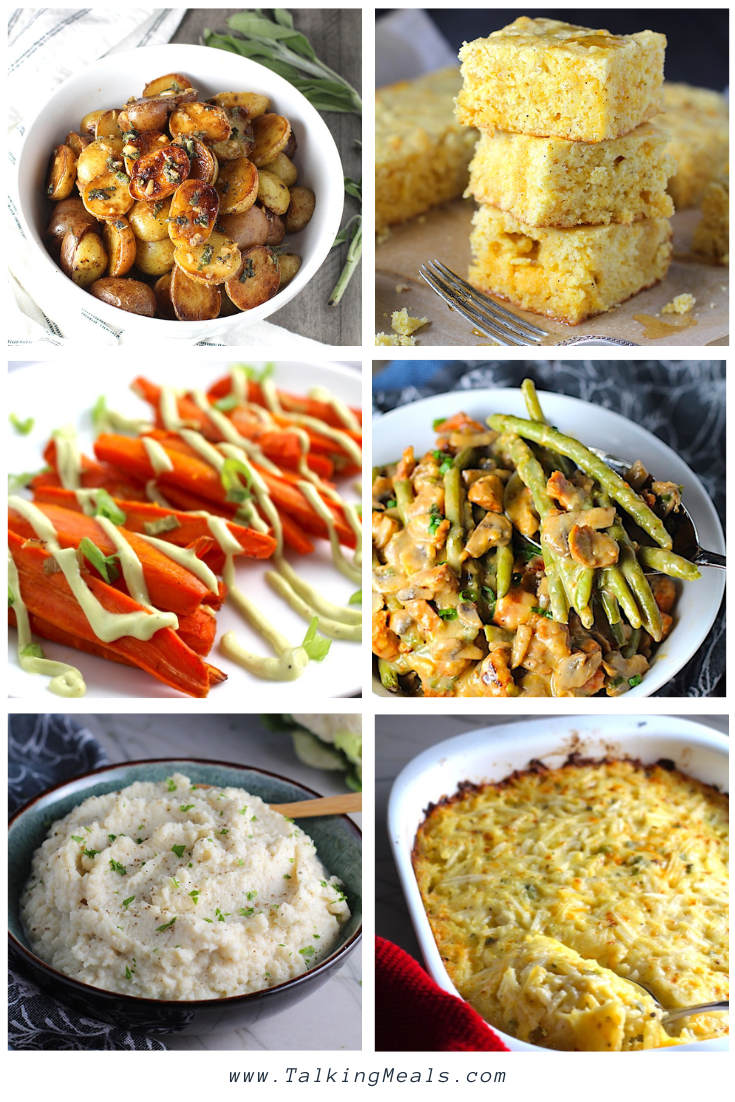 Do the Holidays in your house ever resemble a scene from the Chevy Chase Christmas Vacation movie? Mine too! Whether in reality or in your nightmares, the holiday season can be stressful! But they don't have to be – at least when it comes to cooking! COOKING A HOLIDAY MEAL CAN BE CALM & ENJOYABLE, I PROMISE!! All it takes is a bit of planning and prepping ahead. So to help you do just that, I have a list of delicious, easy-to-make-ahead, and crowd-pleasing Holiday Sides for turkey or any other main.
New and Different Sides for Turkey
When it comes to the holidays, we tend to make the same traditional dishes every year. But maybe this year is the year to change things up – even just a little! Adding a new variation can get your guests talking and can liven up a perhaps 'stale' dinner menu.
We all love the standards: turkey, stuffing, creamy mashed potatoes, sweet potato casserole, cranberry sauce, and green bean casserole. But what if you changed up one or two of those side dishes this year? Maybe adding goat cheese to your cranberry sauce. Or how about baby potatoes instead of mashed? Well, that's what I have for you today! Slight variations on traditional dishes that are delicious and of course, can be made ahead!
Thanksgiving Holiday Side Dishes
When it comes to Thanksgiving table side dishes, most people are looking for vegetables that can go with the traditional Turkey, Mashed Potatoes, Stuffing, and Gravy dinner. That means veggie recipes that bring in Fall flavors and are easy to prepare in advance given that you have the turkey to attend to. In this list, you will find plenty of these easy, make-ahead options!
Make sure to check out Reheating Thanksgiving Sides Perfectly after you finish here.
Christmas Holiday Side Dishes
For Christmas, many people make turkey, but many others look for something different, such as a beef roast, lamb roast, or ham. Regardless of which main dish option you go with, each of these sides will compliment it.
So, without further ado, here are…
Sides for Turkey You Can Make Ahead to Relax & Enjoy the Day!
Casseroles are one of the best make-ahead options for busy holiday meals and there is nothing better in the entire world than ooey gooey cheesy potatoes. So first up for Holiday Side Dishes is this Cheesy Hash Brown Casserole Recipe and it does not disappoint! It's warm, creamy, and full of flavor!
This Hash Brown Casserole Recipe says goodbye to the canned soup, but is still super easy with a simple roux with milk and broth added to create a thickened flavorful sauce. Add in a little sour cream, cheese, scallions, and oregano and you have the most comforting and flavorful side dish!
Substitutes: You could also turn this into a Sweet Potato Casserole with frozen sweet potato hash browns!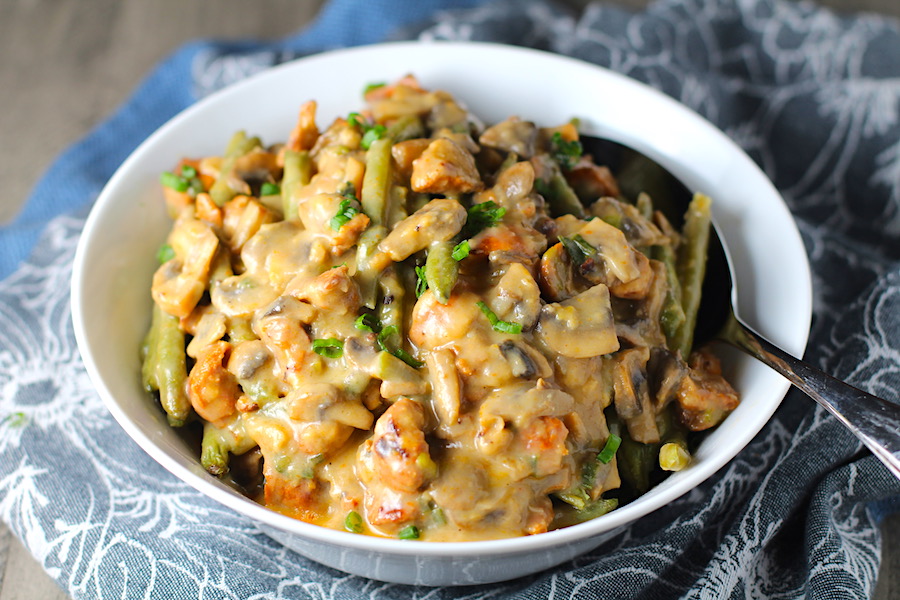 Now THIS is a side dish everyone can get behind! Creamy Green Beans and Mushrooms with Chorizo – because Chorizo makes everything taste better! It has fresh green beans and mushrooms. This recipe is savory, smokey, nutty, hearty, and oh-so-yummy.
For many, one of the most traditional Thanksgiving recipes and sides for turkey was mushroom-soup-in-a-can-based Green Bean Casserole recipe. Now, I loved it, but this new version will blow your socks off! It's fresher than the casserole version, has more texture, and has more depth of flavor. You can also make this ahead and simply reheat for Thanksgiving or other Holiday Dinner!
Substitutes: You can use brussels sprouts or even broccoli instead of green beans. And any sausage you prefer can be used in place of chorizo.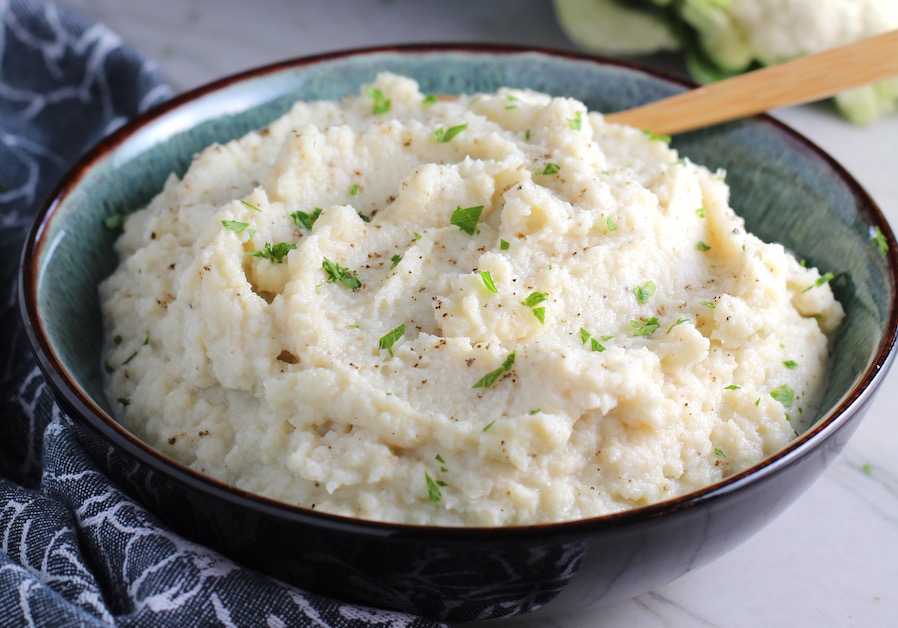 When it comes to sides for turkey, of course you need a mash. This creamy and silky Mashed Roasted Cauliflower is super easy to make in 25 minutes and will blow your mind! I'm talking, one bite and your taste buds sing, you think, wow, these are deliciously creamy perfect mashed potatoes. Someone tells you its cauliflower mash and just like that, mind blown!
The texture is perfectly creamy and mimics mashed potatoes. The flavor of the cauliflower when pureed like this is so mild, it completely takes on the beautiful aromatic roasted garlic, Parmesan Cheese, and the chicken bouillon flavoring. This roasted garlic mashed cauliflower is delicious by itself or with a savory sauce or gravy!
Substitutes: You can also make this mash using roasted butternut squash or roasted sweet potatoes for a mashed sweet potatoes. Side note, any leftovers of roasted butternut squash can be thinned out to make into butternut squash soup! Of course, you can use roasted potatoes and make a garlic mashed potatoes.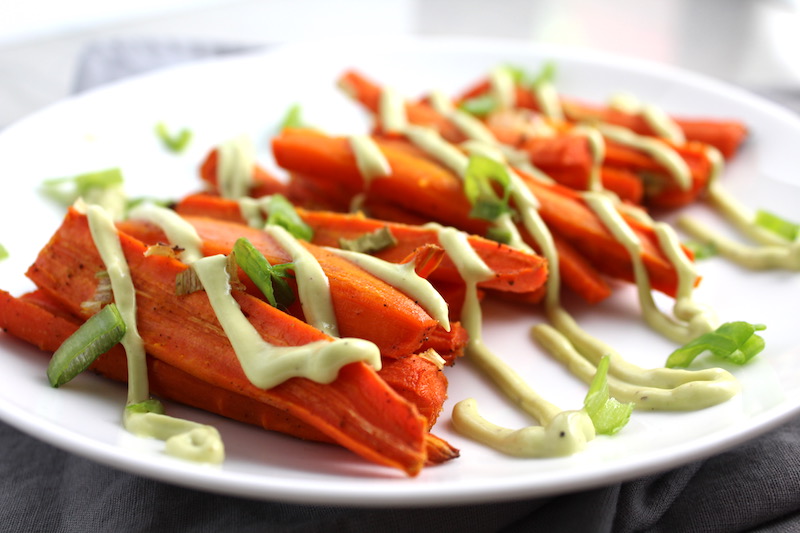 Roasted Carrots seasoned with smoky cumin, scallions, salt and pepper and then topped with a creamy and tangy Avocado Crema are such a delicious and quick side dish for a family dinner. The roasting brings out all of the natural sugars in the carrots, so they get this sweet caramelization in the oven which combines with the salty and smoky cumin seasoning so wonderfully. The Avocado crema takes it over the top with a creamy and silky balance. Absolutely a must-make side dish!
Substitutes: You could also swap the carrots for roasted acorn squash, pumpkin, butternut squash, broccoli, or roasted Brussels sprouts!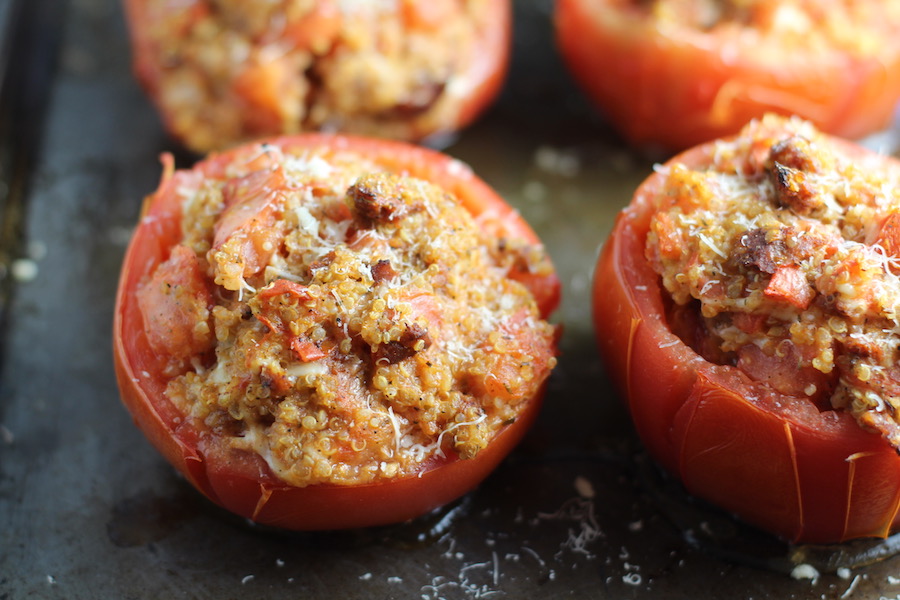 Stuffed Tomatoes are little gifts that you can serve your guests – and yourself because you can completely cook the stuffing, stuff the tomatoes, and simply bake before serving! And these Stuffed Tomatoes with chorizo, quinoa, parmesan cheese, mozzarella, chives, garlic, and oregano are simply divine! Juicy tomatoes are hollowed out and the insides are mixed with these amazing ingredients and then stuffed back in. You get the warm juicy tomato with a salty and hearty center. Each bite is salty, peppery, creamy, and incredibly flavorful! These can be stuffed ahead and then baked right before serving and are great as either a side or a main!!
Substitutes: You can use any sausage that you prefer in place of the chorizo. And just about any cheese will work! Or how about using a cornbread stuffing in these tomatoes instead of quinoa?? Which brings me to the next Side dish….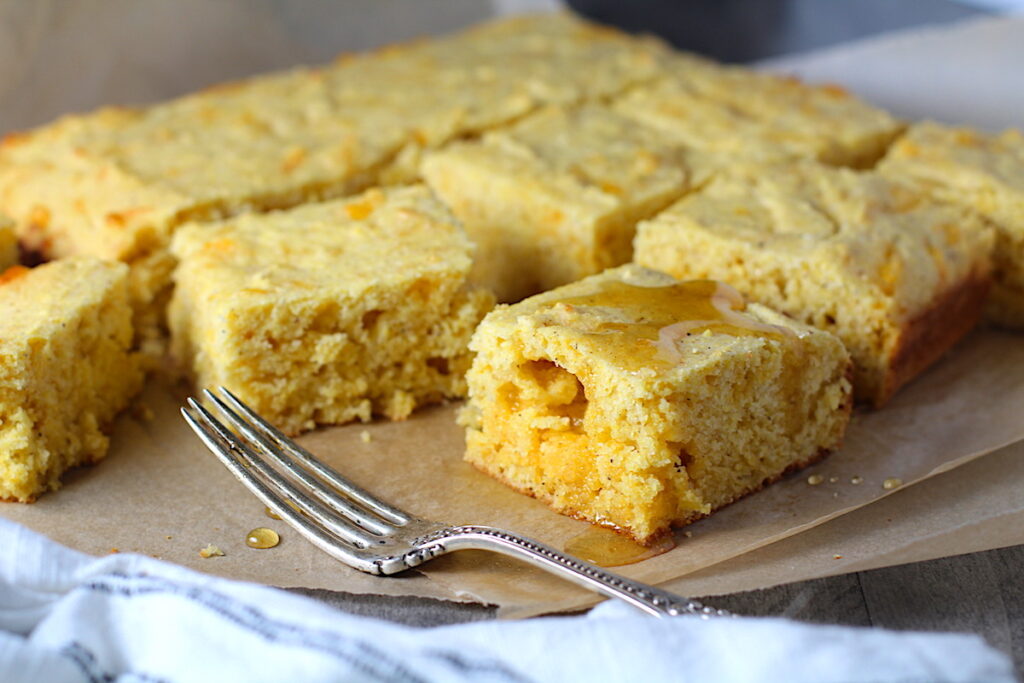 There is no better combination than salty and sweet. This Cheddar Honey Gluten Free Cornbread brings that combo to life spectacularly – particularly when the aromas from the honey, corn, and cheddar fill your house. This gluten free version is moist, slight salty from the cheese, slightly sweet from the honey and cornmeal. It's the perfect holiday side dish because it balances out the other menu items. It's a warm, comforting, scrumptious must-make recipe!
Substitutes: If you don't have honey or just want to make this even sweeter for breakfast, try using maple syrup instead!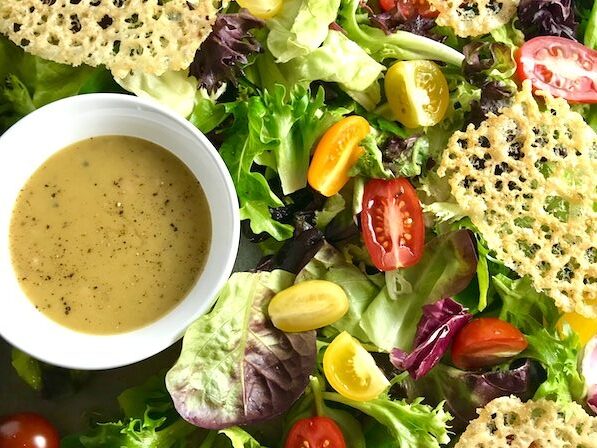 This is a super simple Herb Parmesan Crisps and Shallot Vinaigrette Salad. The buzz-worthy Herb Parmesan Crisps that take the place of the crouton crunch. The Vinaigrette is sweet from the honey, tangy from the dijon and vinegar, creamy from the emulsion of the dijon and oil, and has a slight bite from the mild shallots. But the real heroes of the dish, the ingredient that will have people talking about this Salad, are the Herb Parmesan Crisps, which are salty and nutty and crispy and delicious and addictive…oh, and so easy to make you will not believe it!
Substitutes: Try a Brussels Sprouts Salad! Simply shave with a grater or thinly slice raw brussels sprouts into a salad mix or all on its own! It's very seasonal and delicious! A Kale salad would also be fantastic!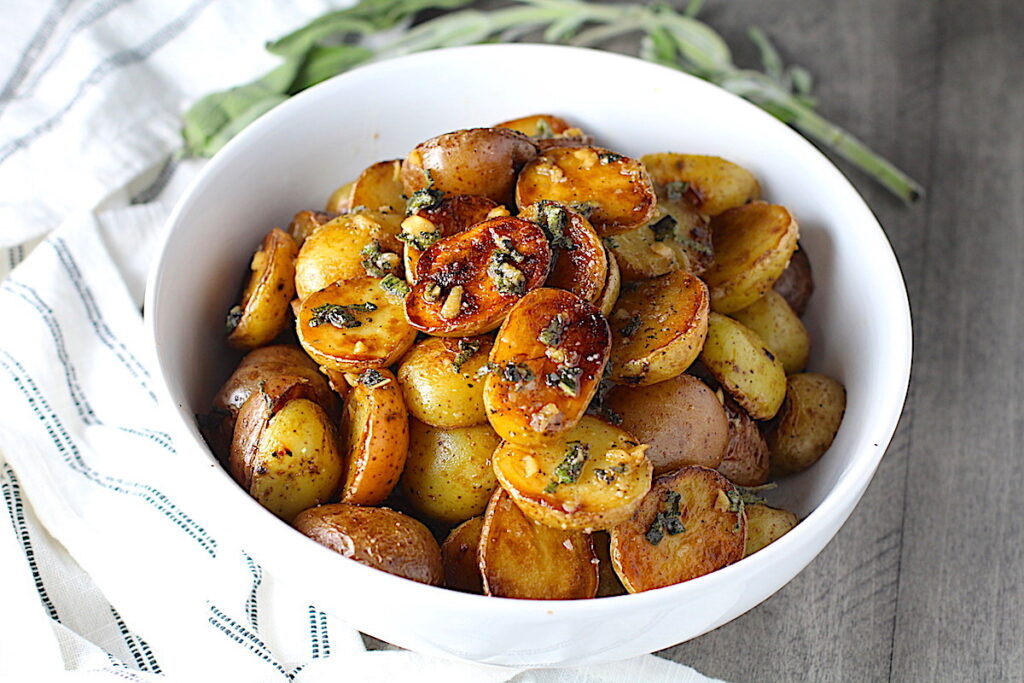 Want something other than creamy mashed potatoes? Here we take the humble, understated, perhaps even dull potato and turn it into something glorious that you will be proud to serve at dinner! This is my salty, crispy, irresistible Sage Butter Potatoes Side Dish Recipe! The potato is truly one of the most iconic comfort foods. It's filling, warm, creamy, and always available! But this recipe uses small creamer potatoes, cut in halves, then seared in olive oil in a skillet, then finished in a delectable buttery sauce flavored with just a little salt and ground black pepper, garlic, and sage. Yup, buttered potatoes are where it's at on your Fall dinner table.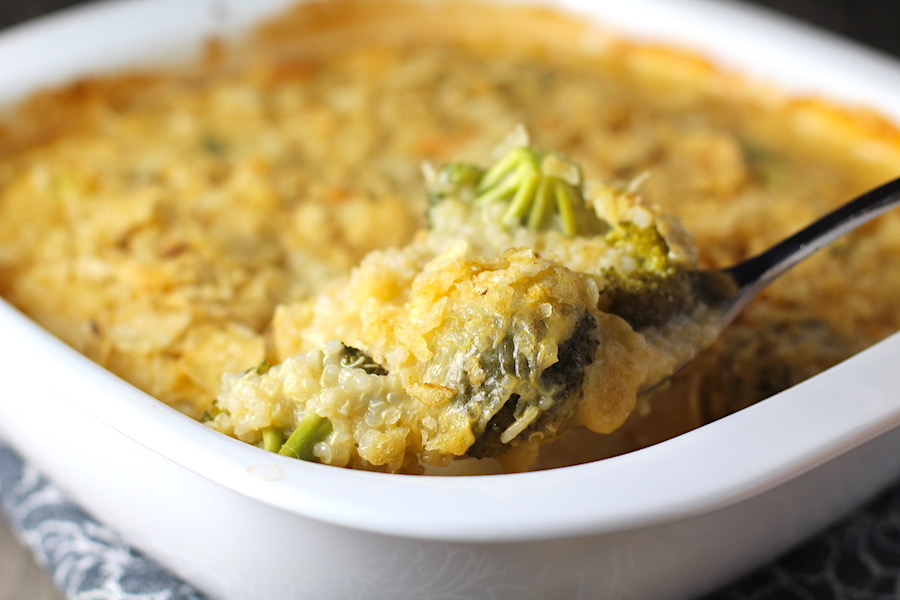 Casseroles are great for holidays as they can be made ahead, feed many, and are easy to serve. And a classic combo is broccoli and cheese. Usually, it's made with rice, but this is a healthier version that's made with Quinoa! Get ready for a comfy and cozy Broccoli Cheese Quinoa Bake that's a simple side dish that goes with any main dish! This recipe comes together easily and gives the most amazing flavor. The quinoa is hearty, creamy, and flavorful, but also super healthy, loaded with fiber and protein! The broccoli brings color, vitamins, and texture. The cheese, well, it's creamy and delicious! You can make this casserole entirely ahead and reheat it in the oven before serving.
Time for something unexpected and let me just say, you are about to try little savory bites of heaven! Crispy outside, soft and warm inside, these Lentil and Zucchini Cakes are so satisfying! The flavors are simple but perfect with parmesan bringing a salty and nutty backdrop and oregano adding an herbaceous note. The scallion gives a mild onion flavor. But of course, the stars here are the meaty and earthy lentils and the fresh zucchini. Formed into a perfect cake and pan fried in just a bit of olive oil. I love these for one of the Holiday side dishes because, once again, they can be made ahead and reheated in the oven. But also, they are just delicious!
Well, we have come to the end of the list, but check out all of the great Side Dishes on the Blog! Also, let me know what your favorite Holiday Side Dishes are!

[email protected]