Jump to Recipe
This is a super simple salad with homemade Honey Shallot Vinaigrette and buzz-worthy Herb Parmesan Crisps that take the place of the crouton crunch.  The Vinaigrette is sweet from the honey, tangy from the dijon and vinegar, creamy from the emulsion of the dijon and oil, and has a slight bite from the mild shallots.  But the real heroes of the dish, the ingredient that will have people talking about this Salad, are the Herb Parmesan Crisps, which are salty and nutty and crispy and delicious and addictive…oh, and so easy to make you will not believe it!
BAKED PARMESAN CRISPS TAKE SALAD FROM BORING TO AMAZING!
Ever get invited to a dinner and when you ask what to bring, you are told SALAD?  You say of course you can bring a salad, but secretly you are thinking you will never be the star dish at this dinner with a stinkin' salad!  Let me tell ya, OH YES YOU CAN BE A STAR WITH A SALAD 🙂  In fact, you should host your own Potluck dinner and make this salad because it's THAT great! 
Parmesan Crisps are great to use as croutons, like in this recipe, but also great for low-carb diets.  You may have seen keto parmesan crisps as a thing.  It's because you can get the crunch of a carb-loaded cracker without the carbs.
HERB PARMESAN CRISPS
The Herb Parmesan Crisps are only 2 ingredients: grated parmesan cheese (shredded is fine too!) and dried Oregano.  It starts by making small piles of the parmesan cheese about 2 inches on a lined baking sheet.  You can line it with aluminum foil, but parchment paper is the best option for the easiest removal. 
Spread each pile into a thin circle then sprinkle dried oregano over each.
Bake in a 400 degree F for 5-6 minutes until the parmesan cheese melts down and starts to get golden brown.  Then remove from the oven and let cool and crisp up.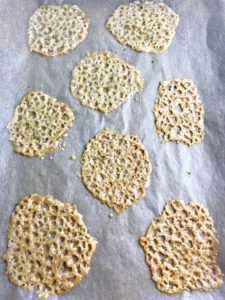 MAKE YOUR HONEY SHALLOT VINAIGRETTE
The Honey Shallot Vinaigrette starts out with none other than the shallots that are finely diced.  Then add the dijon mustard, honey, vinegar, extra virgin olive oil, salt, and fresh ground pepper.  Whisk together with a fork until it emulsifies and comes together beautifully into a thick dressing.
I love a simple Spring salad mix and beautiful red, purple, and yellow grape tomatoes.  If you are bringing the salad to a potluck, you will want to rinse and completely dry the lettuce leaves.  You can roll them lightly in paper towels to absorb any excess water.  Then keep the vinaigrette in a separate storage container until ready to serve, when you can toss it together with the Spring mix and tomatoes.  Lay the Herbed Parmesan Crisps on top of the salad and enjoy!
RECIPE FAQS
Can I use shredded Parmesan cheese instead of grates?
Yes, you can use finely shredded or grated parmesan cheese in this recipe.  You just don't want to use slices, as it will not melt as well or create those beautiful lacy holes throughout.
How long will the parmesan crisps last?
In my house, not long!  haha…  Seriously, you can store these in an airtight container in the fridge for up to 3-4 days.  If they lose their crispiness, you can put them back in the oven for 5 minutes at 300 F degrees.  Then let them cool again.  These parmesan crisps are a great option to work into your meal prep and meal plans as they can add big salty flavor and texture with only a little bit.
What else can I serve these Parmesan Crisps with?
Well, I love to snack on them!  But here are a few yummy ideas of using them to jazz up other recipes.  How about adding them to a quinoa salad, such as this Quinoa and Kale Salad with Roasted Chickpeas and Creamy Lemon Dressing?  Or how about adding them to a soup, such as this Golden Carrot Ginger Soup Recipe with Smoked Ham.  You can also break them up and add them to protein dishes for texture, such as this Quick Cooking Creamy Chicken Paprika.
Herb Parmesan Crisps and Shallot Dressing Salad
PARMESAN CRISPS take an ordinary salad to extraordinary!  These are a cheesy, crispy alternative to croutons.  The simple salad with fresh greens and colorful tomatoes, the easy homemade vinaigrette, and crispy Parmesan crisps is the perfect Potluck Salad!
Ingredients
Salad
12

Grape Tomatoes

10

ounces

Spring Mix or Mesclun Salad
Shallot Vinaigrette
1

Shallot, large

2

Tablespoons

Extra Virgin Olive Oil

2

Tablespoons

White Wine Vinegar

2

Tablespoons

Dijon Mustard

1

Tablespoons

Honey

¼

teaspoon

Salt

Fresh Ground Pepper, to taste
Parmesan Crisps
4-6

ounces

Grated Parmesan Cheese

½

teaspoon

Dried Oregano
Instructions
Prep-Ahead Steps
Preheat oven to 400 degrees F.

Rinse and dry salad mix.  See notes if you are doing this in advance.

Rinse and dry the grape tomatoes, then slice them in half and store in a sealable baggie.
Shallot Vinaigrette
Finely dice 1 Tbls shallot

In a small bowl, add the Dijon, Oil, Vinegar, Honey, Shallot, Salt, Pepper. Whisk together with a fork or small whisk until completely blended together. Taste on a piece of lettuce for seasoning and add salt or pepper as needed.
Herb Parmesan Crisps
Line a large baking sheet with parchment. If you don't have parchment paper, you can use Aluminum Foil. Start by make small mounds with 1 Tbls grated parmesan cheese.

Spread each cheese mound out into about a 2 inch flat circle. Each should be about 1 inch apart from the others. Sprinkle dried Oregano over each Parmesan circle.

Bake in oven for 5-6 minutes until bubbling and starting to brown around the edges

Remove from oven and let cool. Once cooled you can remove the crisps from the pan and place on paper towel to soak up some of the excess oil. These are fragile, so stack them gentle and the lightly wrap in paper towel and place in plastic storage container for transporting.

When adding these to the salad, you can leave them whole for a more dramatic effect, assuming you have at least 1 per guest. Or you can break them up and sprink them over top.
Bringing it together
When you are ready to serve the salad, toss the Vinaigrette with the salad and tomatoes. Rearrange the salad to make sure the beautiful tomatoes are on top. OR serve the dressing on the side and let guests add their own dressing. Add the Parmesan Crisps and Enjoy!
Recipe Notes
If you are washing the salad mix in advance, make sure that you dry the leaves as much as possible.  Then roll out 4-5 full sheets of paper towel and dampen it with water.  Lay the dried salad in the paper towel  and roll it up lightly so as not to crush/bruise the leaves.  Then put in a large plastic bag or store in the serving bowl you are using.