Whether you are reheating Thanksgiving sides that you made ahead of the holiday or reheating leftovers, I've got you covered. Here you will find all of the tips, tricks, and instructions you need for reheating Thanksgiving sides!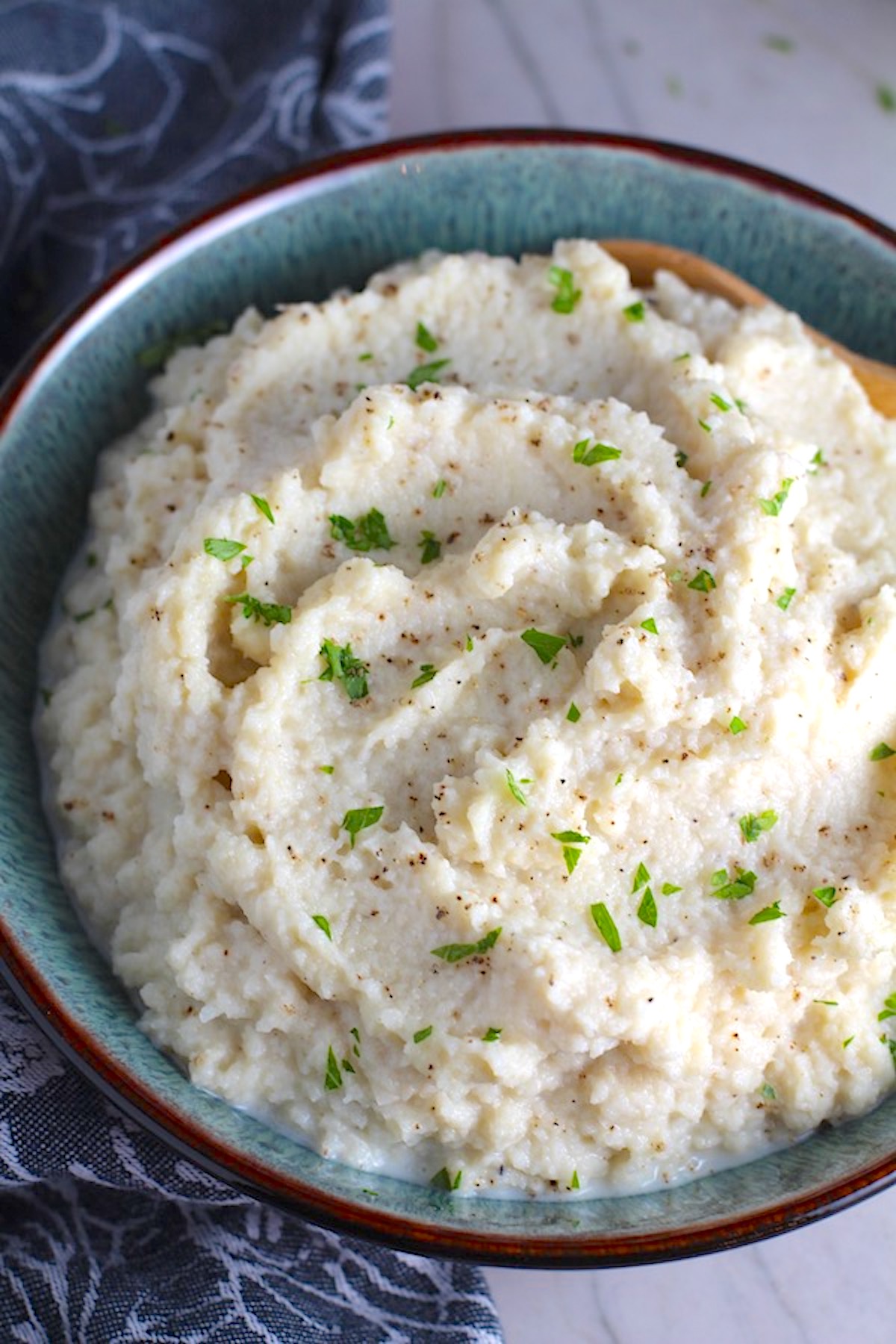 If you've visited any other recipe on this blog, then you know I am a HUGE proponent of prepping and even cooking meals ahead to save time. Well, Thanksgiving day is no different! In fact, prepping and cooking Thanksgiving side dishes ahead is the easy way and the best way to actually enjoy the holiday! BTW, if this sound like a heck-yes to you, then be sure to download my FREE Thanksgiving Dinner Prep and Planning Guide! Don't serve cold or room temperature food, reheating Thanksgiving sides just takes a few tips and tricks so they taste fresh.
I've organized this post so that you can quickly jump to the side dish you have questions about. Or simply scroll through to see them all! Whether you are looking for green beans, potatoes, or the turkey itself, I've got you covered! I also have sections for each food on reheating if you've made it ahead or if they are Thanksgiving leftovers.
Jump to:
Top tip for Thanksgiving
Thanksgiving day is hectic! So, my top tip for the big day is to plan, prepare, and make as much as possible in advance!! I have a guide that tells you what can be made 1-5 days ahead and what can be made Thanksgiving morning. Plus so much more in this free guide. Download the Free Thanksgiving Dinner guide now!
Food Safety First
If you are making any food ahead for Thanksgiving, make sure that you store it in the refrigerator and do not leave it out all day at room temperature! Leaving food out for too long is the way to let harmful bacteria grow. You don't want one of your guests ending up with food poisoning!!
If you are making several things at once ahead of time. Allow them to cool after coming out of the oven for 30 minutes. Then place them in the fridge as far from other raw meats or highly perishable foods as possible so you don't risk bring their temperature up from the residual heat.
Always use airtight containers and store the food in oven safe dish if you will be going straight from the fridge to the oven. Now let's get going!
Green Bean Casserole and Other Casseroles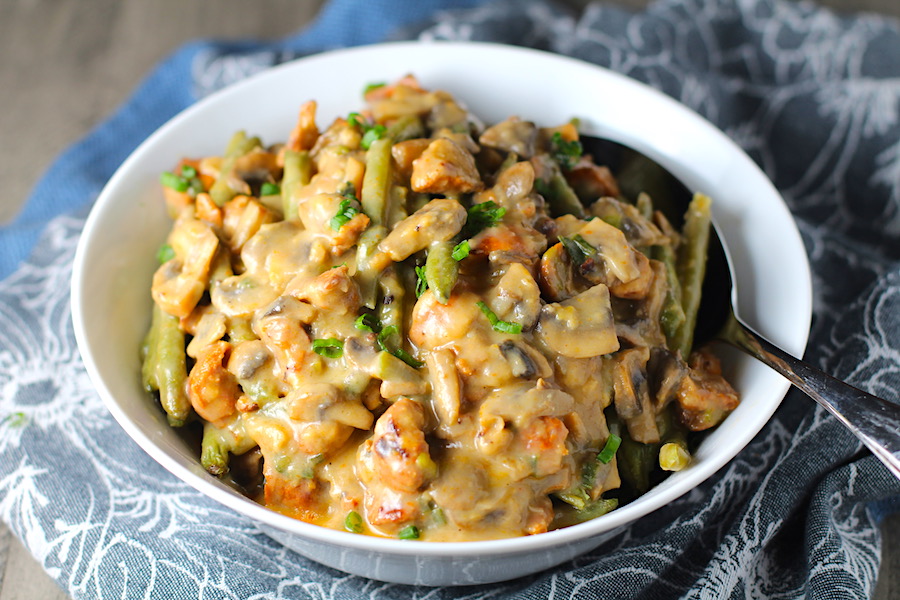 Make Ahead and Cook
You can cook prepare and cook a Green Bean Casserole (or just about any other casserole) up to 3 days in advance and reheat them before cooking.
You can also place the casserole dish in a 350 F degree oven covered for 20-25 minutes until heated through. If you add anything crunchy to the top of the casserole such as fried onions, then you will want to remove the cover for the final 5-10 minutes and add them for that last bit of cooking time to get crispy. Check out my new take on this old favorite with my Chorizo Sausage and Green Bean Casserole recipe!
You can also use your microwave oven for the reheating of the beans and then transfer the uncovered casserole to the oven to crisp up the topping.
Leftover Green Beans
Not sure about your family, but mine seems to always leave more leftovers of the green beans than the stuffing or potatoes. So, if you have leftovers, you can simply follow the same reheating instructions above.
You can also freeze them. Beans will likely get a bit mushy once they thaw and are reheated. You will want to chill them in the fridge and then seal it in an airtight container in the freezer. They can be stored in the freezer up to 4 months. To reheat, you can thaw them and then place the casserole dish in a 350 F degree oven covered for 20-25 minutes until heated through.
Stuffing
Make Ahead and Cook
Stuffing can be prepared in advance at various stages and even baked in a casserole ahead of time. I always, always make more stuffing than anything else. That means, that I need to bake the extra that will not fit into the turkey, in a casserole dish.
When baking the stuffing ahead, I like to make it a bit more wet than I would if baking it right before serving. To do that, I mix in a ¼ cup or more of chicken broth. That way, when you reheat it after already baking it, it doesn't dry out.
After mixing the stuffing, split it into the amount for the bird and the amount to be baked. Seal the turkey stuffing in an airtight container and it will last in the fridge for 2 days, but I would not leave it longer than that if it contains raw eggs. Then bake the remaining or store the remaining in the casserole dish sealed airtight.
Leftover Stuffing
Always store the leftovers separately from other leftovers in an airtight container. Shallow containers are best for reheating in the container. They will last for 5 days in the fridge. To reheat the stuffing, cover it and place it in a preheated 350 F degree oven for 15-20 minutes until warmed through.
If the leftovers are dry, you can add a splash of broth and then mix it in. If you really want to go for it, add a couple pats of butter to the top and then warm it in the oven!
Of course, the microwave works great for stuffing too!
Some other ways to use the stuffing? How about adding it to scrambled eggs for breakfast? Or, replacing the quinoa in these Tomatoes Stuffed with Quinoa and Chorizo.
Mashed Potatoes
Make Ahead and Cook
Mashed potatoes are also a great option for making ahead because frankly, they take time and effort! They are not difficult, but time-consuming. If you can make the mashed potatoes or mashed sweet potatoes 2-3 days in advance, you can use these tips for reheating and making them taste fresh and creamy. BTW, have you ever tried Mashed Cauliflower or cauliflower purée?
First, when you make them, add more milk and butter than you normally would. Since they will be stored in the fridge and then reheated, you will lose moisture throughout the process. To reheat them, you can place them in a casserole dish covered in a 350 F degree oven for 20-30 minutes. Test the mashed potatoes and if they are dry, mix in 3-4 tablespoons of butter and ¼ cup milk, heavy cream, or half and half. Continue to add ¼ cup of milk at a time until you have your desired creaminess.
Once again, you can always use your microwave to reheat the potatoes. Just make sure to stir them every 2 minutes of heating so that you can ensure they are getting warmed through completely.
Leftover Mashed Potatoes
For leftover mashed potatoes, you can reheat them the same exact way as described about. You can also reheat and crisp them up with some butter or olive oil in a skillet over medium heat on the stove!
You can also repurpose them by adding them to this Creamy Chicken Potato Soup Recipe. Or how about adding them to the top of a Chorizo Sausage Shepherd's Pie with Ground Beef and Corn.
Cornbread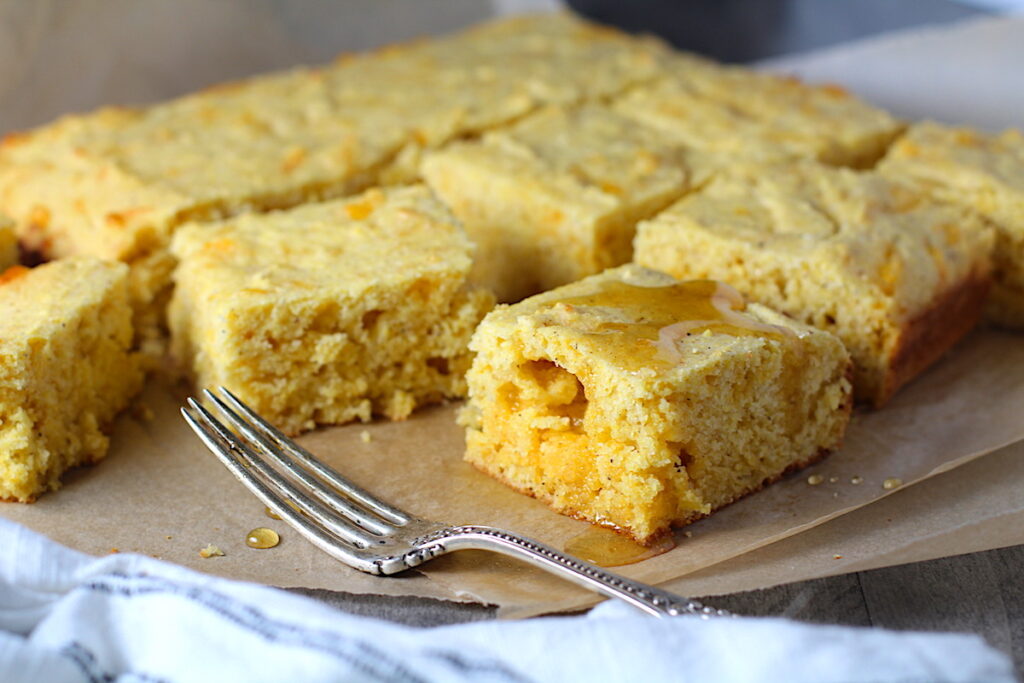 Make Ahead and Cook
Cornbread is a delicious addition to Thanksgiving dinner. I highly recommend checking out this Cheddar Honey Glazed Cornbread Recipe version. To warm up cornbread, you simply place it wrapped in aluminum foil or in a covered backing dish in the oven at 350 F degrees for 15 minutes or until warmed through.
To refresh cornbread that may seem a bit dried out, you can drizzle melted butter or honey on top before baking it to reheat it.
Leftover Cornbread
Warming up leftovers will be just the same as above. However, if you're looking for some other creative ways to use the leftovers, try these ideas!
For breakfast or a snack, simply spread cranberry sauce on a piece of cornbread. YUM!
Make cornbread croutons! Cut up the cornbread into bite sized cubes. Toss in or spray with olive oil and then toast on a sheet pan in a hot oven at 375 F degrees for 10 minutes. This is such a good use for leftover cornbread on salads or soups.
How about a breakfast casserole? Cut up or break apart the cornbread and mix it in with beaten eggs, ham, and cheddar cheese. Bake in the oven at 375 F degrees until the eggs are completely cooked through, about 30-40 minutes. Or add the cornbread to my Slow Cooker Eggs, Chorizo, and Hash Browns Casserole! Reduce the hashbrowns by the amount of the cornbread you add and it will be amazing!
Roasted Vegetables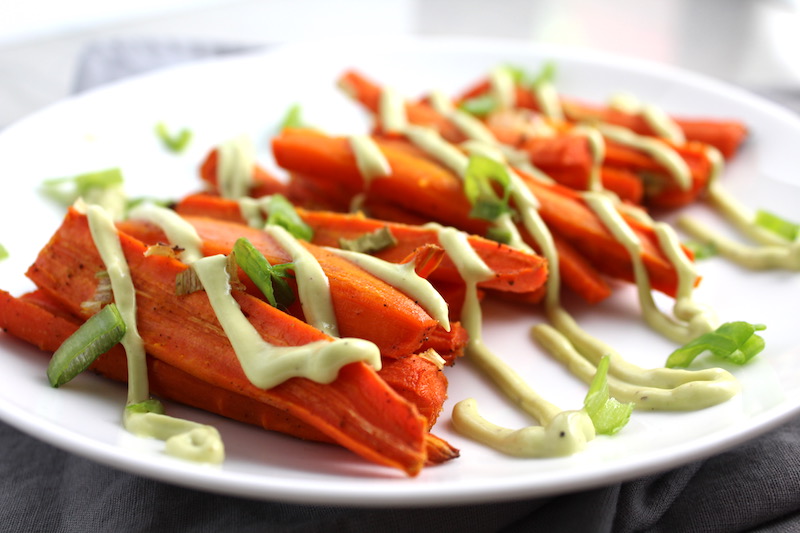 Make Ahead and Cook
With roasted veggies, you can either prep them ahead and roast right before you are ready to serve or roast ahead. To reheat roasted veggies, you can toss them in a skillet over low heat on the stove. You can also put them back in the oven on a baking sheet for 10 minutes just to warm through. I love roasted brussels sprouts, roasted broccoli, these roasted carrots for the holidays.
Leftover Stuffing
Leftover roasted veggies can be used in so many new and different ways! You can dice them up and add to an omlet. Or add them to a soup along with the leftover turkey. They are great used in a stir fry or how about in these Leftover Turkey Breast Recipe: Asian Lettuce Wraps!
Reheating Thanksgiving Turkey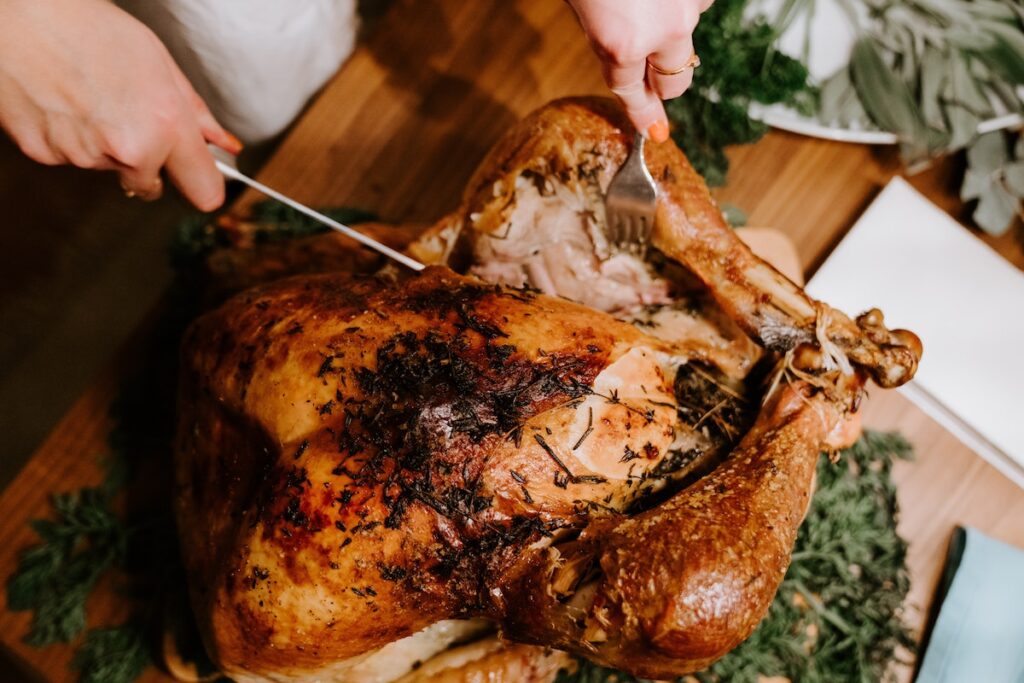 Make Ahead and Cook
If you are feeding a gigantic crowd or transporting a cooked Thanksgiving turkey to another location, you may need to make it ahead and reheat it. Make sure that when you make it ahead, you cook it fully! Please do not think that you can cook it halfway and finish it later. That's the way to grow bacteria and make your guests sick! Make sure that the internal temperature, using a food thermometer or meat thermometer, of the turkey reaches the safe temperature of 165 F degrees.
To reheat it, you will want to cut the turkey meat off the bones. You can either cut it into large sections to be reheated or completely sliced. If you try to reheat the whole turkey after being cooled, it will simply take too long and overcook.
For the reheating sections or slices of turkey breast meat, I recommend saving some of the turkey juices to baste it before adding it to the oven again. You can also use chicken or turkey stock for this. Drizzling some of the juices or stock over the breast and then covering it in a 350 F degree oven for 10-15 minutes should help to bring it back to warm without drying it out.
Leftover Turkey
For leftover turkey, reheat it just the same as above. Or you can eat it cold too! We always eat cold turkey on sandwiches with fresh made potato salad. My mom started this tradition of making extra potatoes and turning them into potato salad.
Here are some other ways to use leftover turkey. Make a Turkey Salad with Lemon dressing and Grapes. How about shredding it and making Leftover Turkey Pasta Bake: Stuffed Shells in Tomato Sauce? Or add it to a Delicious Healthy Turkey Ramen Noodle Bowl Dinner.
Do you have any other leftover sides you need help with? Just email me to let me know about the rest of your sides!