Jump to Recipe
You will not believe how AMAZING this Mashed Roasted Cauliflower and Garlic is! It's easy, creamy, and full of flavor with roasted garlic, parmesan, & chicken bouillon.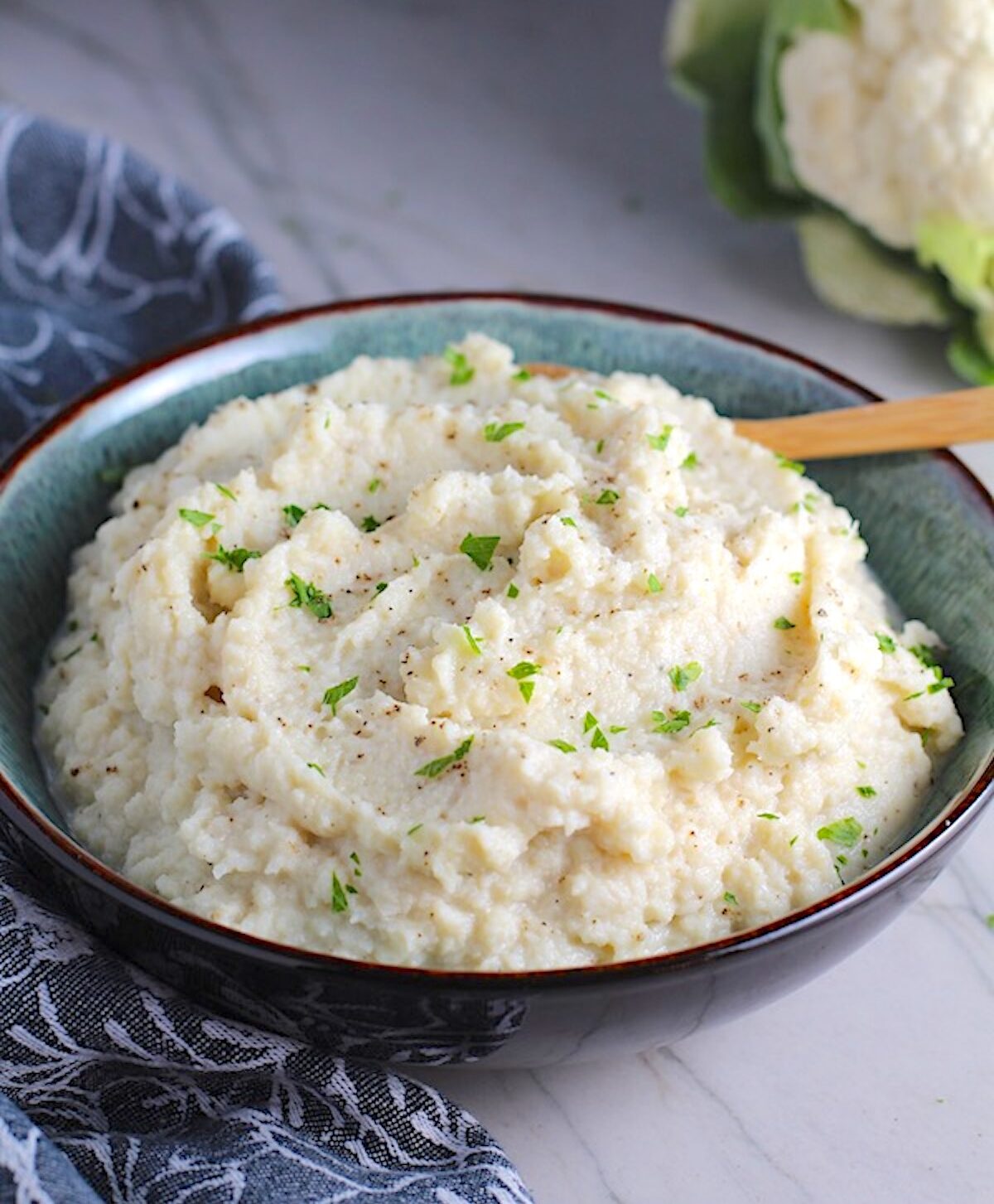 This creamy and silky Mashed Roasted Cauliflower with Garlic and Parmesan will blow your mind!  I'm talking, one bite and your taste buds sing, you think, wow, these are deliciously creamy mashed potatoes.  Someone tells you its cauliflower mash and just like that, mind blown!
The texture is perfectly creamy and mimics mashed potatoes.  The flavor of the cauliflower when pureed like this is so mild, it completely takes on the beautiful aromatic roasted garlic, Parmesan Cheese, and the chicken bouillon flavoring.  It's delicious by itself or with a savory sauce or gravy!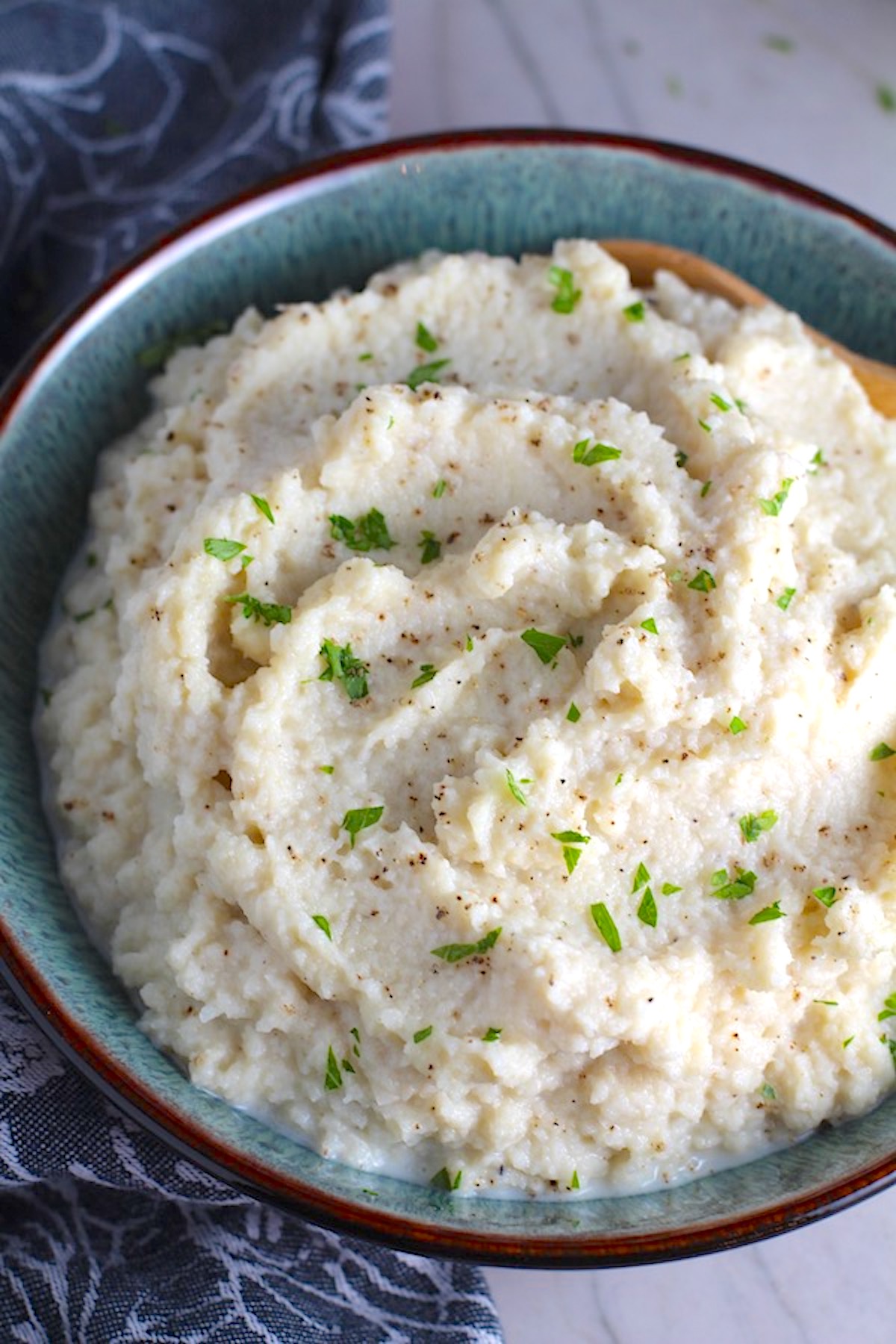 CAULIFLOWER IS SOOO GOOD FOR YOU!
Ever since learning how good for you cauliflower is during my studies for my Certification in Nutrition and Healthy Living, I've been hooked!  Cauliflower is a great low-calorie and low carb food full of health benefits!  This recipe has only 65 calories per serving, even with the parmesan and milk!   While it's low in calories and carbs, it's high in Fiber and contains so many vitamins and minerals. 
Cauliflower is a Cruciferous Veggie, just like Broccoli and Kale, which we all know are extremely good for us.  So, it also contains important Antioxidants which can help to reduce the risk for heart disease and may have anti-cancer effects.  
Try these other delicious and healthy Cauliflower recipes:
Quick note! This post contains affiliate links, which means I earn a commission (at no extra cost to you) if you purchase from them. This commission is what helps me keep this blog afloat :). But, I also share these links because I have used the products, genuinely love them, and want you to know exactly what I used.
Simple Ingredients and Substitutes
Cauliflower – I always buy a whole head and cut it myself, but you can also buy the fresh florets. You can use froze, but make sure to bake off all excess water. You could substitute with butternut squash or even sweet potatoes.
Extra Virgin Olive Oil – You can substitute with any neutral oil, such as vegetable oil, avocado oil, or even coconut oil.
Salt – I used kosher salt, but any salt will work.
Ground Black Pepper – You can use fine or coarse ground black pepper. I like fresh ground, but pre-ground is fine too.
Fresh Garlic cloves, minced – Fresh is best when it comes to garlic, but you can buy pre-minced garlic to save time or mince it in bulk and freeze it for use when you need it! If you do not have fresh garlic, you can substitute dried garlic flakes or garlic powder.
Chicken base (or crumbled bouillon)
1% milk – The milk helps the puree get creamy and replaces the heavy cream or heavy whipping cream in traditional mashed potatoes. You can also use skim milk, 2% milk, full fat whole milk, or of course, heavy cream.
Parmesan Cheese, grated – As the parmesan imparts much of the amazing flavor, please be sure to buy good parmesan from the cheese section of the store vs. the shelf-stable jar. You can either grate your own, or buy it pre-grated.
Fresh Parsley – The parsley is really for color, so you can leave it out. You can also substitute other fresh herbs, such as basil, thyme, or oregano.
Simple Equipment for this Mashed Cauliflower Recipe
For roasting the cauliflower and garlic, you will need a large sheet pan (I use a 17×11).
For making the Mash, you need a food processor. If you are like me and only have a mini food processor, no worries, just blend in 2 batches and then mix all of it together. You can also use a blender if you don't have a processor.
Since there isn't that much liquid, an immersion blender may not work as well, but if that's your only option, place a small amount of cauliflower and all of the liquid in a tall blending cup and blend that first, then slowly add more cauliflower until fully blended.
Prep-Ahead Steps for Mashed Roasted Cauliflower
We are all extremely busy and making dinner during the week can be overwhelming. This entire recipe can be prepared in the day(s) in advance and store in the fridge for up to 4 days in advance.
It starts with chopping up the cauliflower florets into small pieces so that they cook faster. You want them to get really soft so they blend up smooth.
PRO TIP: I place my cutting board right inside my baking sheet pan, so when I'm done chopping, I can simply slide the cutting board out dumping all of the cauli pieces onto the pan!  No Mess!!  
Before roasting the cauliflower, I simply drizzle olive oil over top and then rub it around with my hands to ensure all are coated as well as the bottom of the pan. I don't season with salt and pepper at this stage because I want to taste and control how much goes in after the other ingredients.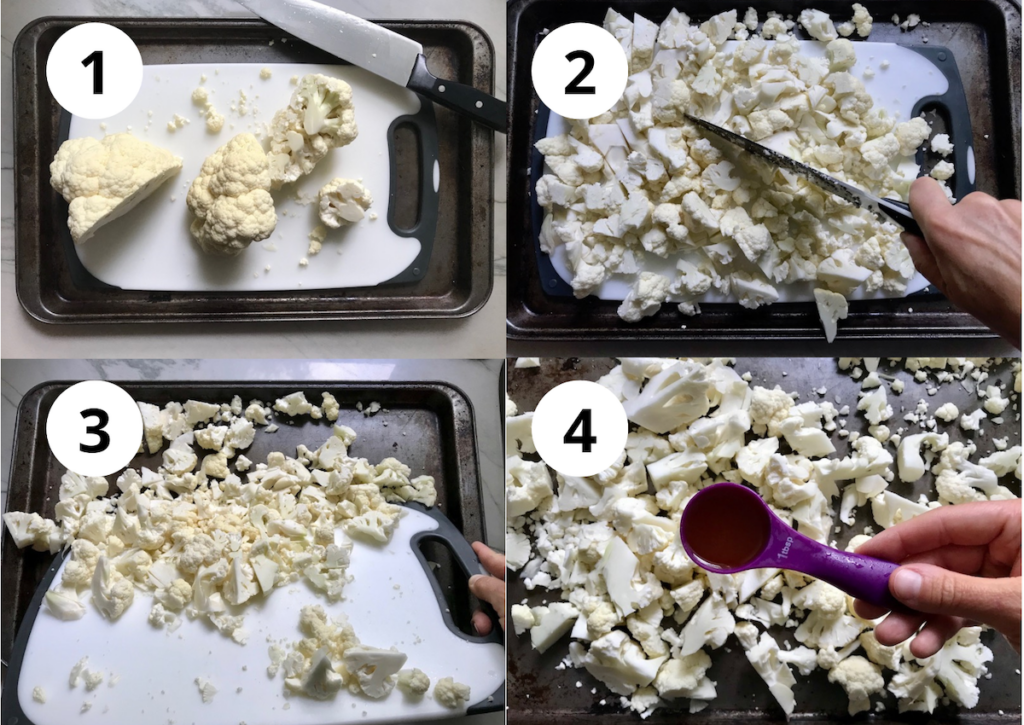 To the baking sheet, I also add 3 cloves of garlic!  They can go right on the pan, skins and all.  The roasting brings out the most amazing buttery flavor.
At this point, you can store everything in the fridge or move on to roasting.
Cook your Mashed Roasted Cauliflower and Garlic
Then roast in the oven at 400 F degrees for 20 minutes, until fork tender!
Once the garlic and cauliflower are roasted, they get mashed! Save the parmesan, salt, and pepper until the end. First blend the cauliflower, garlic (skins removed), milk, and chicken bouillon or base.
Once blended, then you can add the parmesan salt and pepper in. Pulse to combine, taste, and add salt or pepper as needed to make sure it's perfect!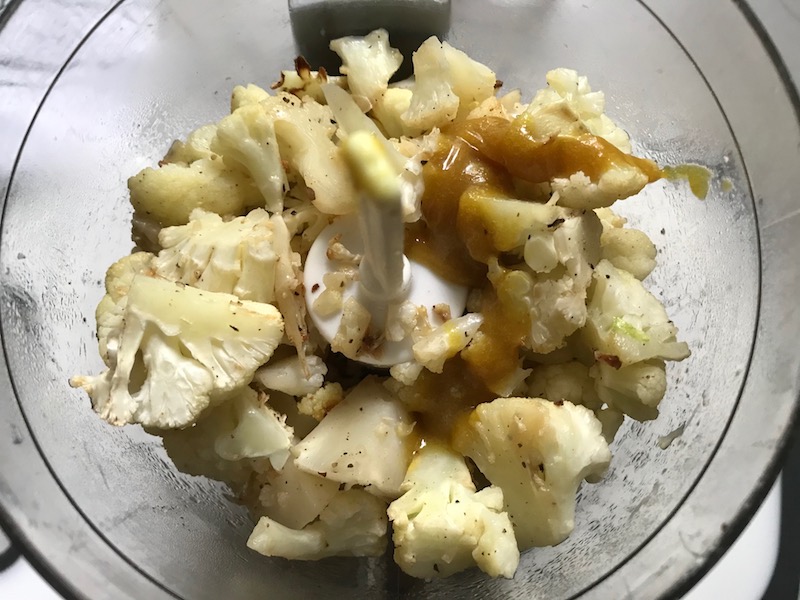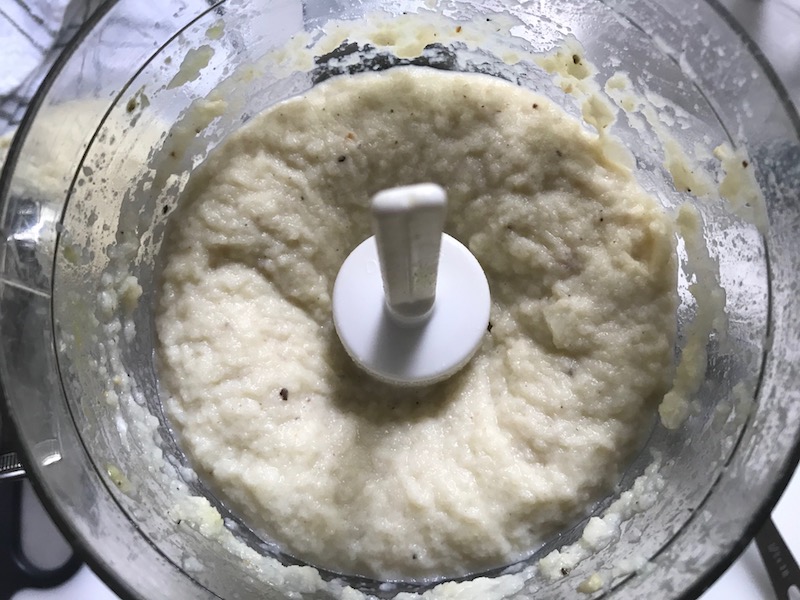 This roasted cauliflower mashed with garlic and parmesan is delicious. ENJOY!  😍 Carrie
Can I freeze the roasted Garlic Mashed Cauliflower?
Yes, you can freeze this roasted cauliflower mash, however, it will retain water.  Therefore, when reheating it, you will want to bake it in the oven for 20 minutes 350 to ensure that any excess water evaporates.  Add milk and/or butter to bring it 'back to life'.  It will keep in the freezer for up to 6 months.
Can I leave the Parmesan out of this Roasted Mashed Cauliflower?
You can leave out the Parmesan Cheese, but you may need to add a touch more salt, so just taste for seasoning.  You can also swap with shredded cheddar!
Can I mix mashed cauliflower with mashed potatoes?
You can easily turn this into Cauliflower mashed Potatoes by making your favorite mashed potatoes recipe and then mixing in this cauliflower mash! Or you can dice potatoes into ½ inch cubes and roast them with the cauliflower until fork tender. Then puree them with the cauliflower and garlic.
What can I serve with this?
Oh, my friend, so many things!!! The #1 recipe on my site that is perfectly paired with this Mash is my 5-Ingredient Meatloaf and it's delicious! Try my Oven Fried Chicken with Bacon & Honey for a Southern dinner with a twist. Or if you want something on the grill, how about my Garlic Steak Kabobs? Or a very flavorful Hungarian Paprika Chicken where the peppery flavor goes so well with this Mash! And, if you want something really saucy to pour over this Mash? Well, then try this Tarragon Mustard Chicken!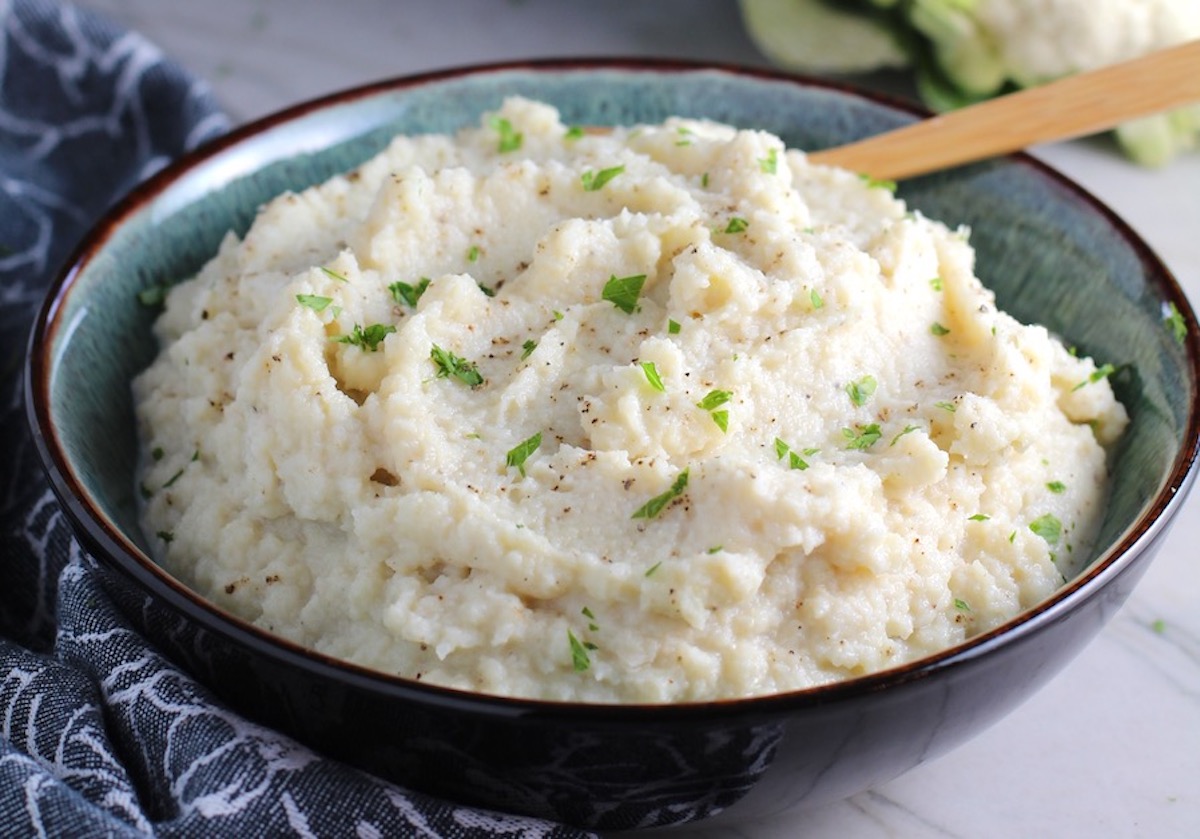 Mashed Roasted Cauliflower with Garlic and Parmesan
This creamy and silky Mashed Roasted Cauliflower and Garlic will blow your mind!  The texture is perfectly creamy and mimics mashed potatoes.  The flavor of the cauliflower when pureed like this is so mild, it completely takes on the beautiful aromatic roasted garlic and the chicken bouillon flavoring.  It's delicious by itself or with a savory sauce or gravy!  #cauliflowermash #glutenfree #easysides
Ingredients
1

head Cauliflower

(about 5 cups florets)

1

tablespoon

Extra Virgin Olive Oil

¼

teaspoon

salt

⅛

teaspoon

black pepper

2

Garlic cloves

2

teaspoon

Chicken base

(or crumbled bouillon)

½-1

cup

1% Milk

¼

cup

Parmesan Cheese

grated

1

tablespoon

Fresh Parsley
Instructions
Preheat the oven to 400 F degrees.

If your cauliflower is not cut, then cut off the florets and then give them a rough chop to get to small pieces that can cook faster.

To a large Sheet pan, add cauliflower florets and whole garlic cloves (with skin is fine as you can remove later). Drizzle or Spray everything with 1 tablespoon Olive Oil plus salt and pepper, then rub it all around with your hands. Spread out into a single layer. Put the pan in the oven center rack and roast for 20 minutes.

If the skins are still on the garlic, remove or squeeze the roasted garlic out. Discard the skins and then transfer the garlic and the cauliflower to a food processor. Add the milk, chicken base. Pulse to get going, then puree until smooth. Add the parmesan cheese and pulse to combine. Taste for salt and pepper and add as needed.

To serve, garnish with fresh chopped parsley.