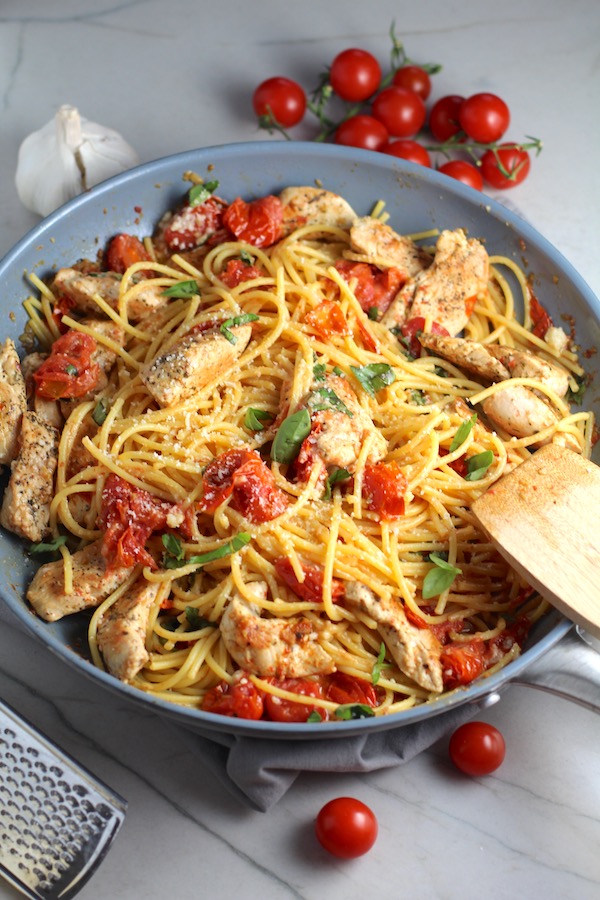 It's SUMMER!!  That means it's time for Easy Summer Dinners!  Not sure about you, but we've been thrust into 90 degree days here in NY/NJ and I'm now sweating in places that no one should be sweating :/  But I'm NOT complaining because I will take this over freezing cold weather any day!  Are you with me?  Ok, then I'm guessing you're also looking for some delicious, healthy, but most importantly, EASY Summer Dinners!  
I hear ya!  Busy Summer weeknights or hot Summer weekends need easy, prep-ahead, and deliciously fresh and healthy dinners.  So, here are 10 of my favorite Talking Meals Easy Summer Dinners!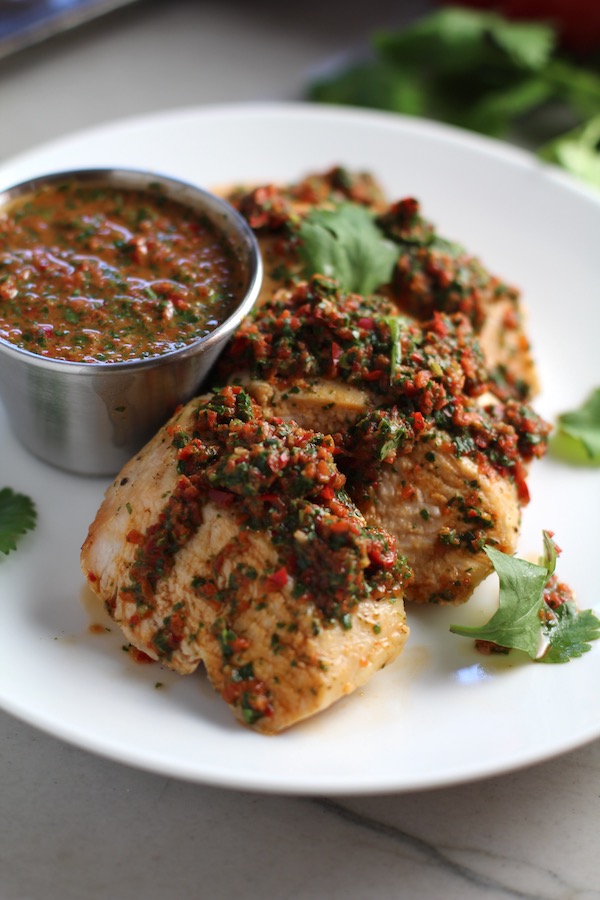 Most people have had Chimichurri, but how about Chicken Chimichurri Rojo? It's a perfect Summer dish because you can simply grill or broil the chicken then top with this make-ahead cool, fresh, oh-so-delicious Chimichurri Rojo. The Rojo comes from the addition of red pepper and combined with the other ingredients, this sauce is cool, tangy, sweet, savory and incredibly full-flavored!  All of the ingredients get blended in a food processor so it could not be easier! With garlic, parsley, cilantro, lime, vinegar, and red pepper, this is one easy sauce that delivers BIG flavor!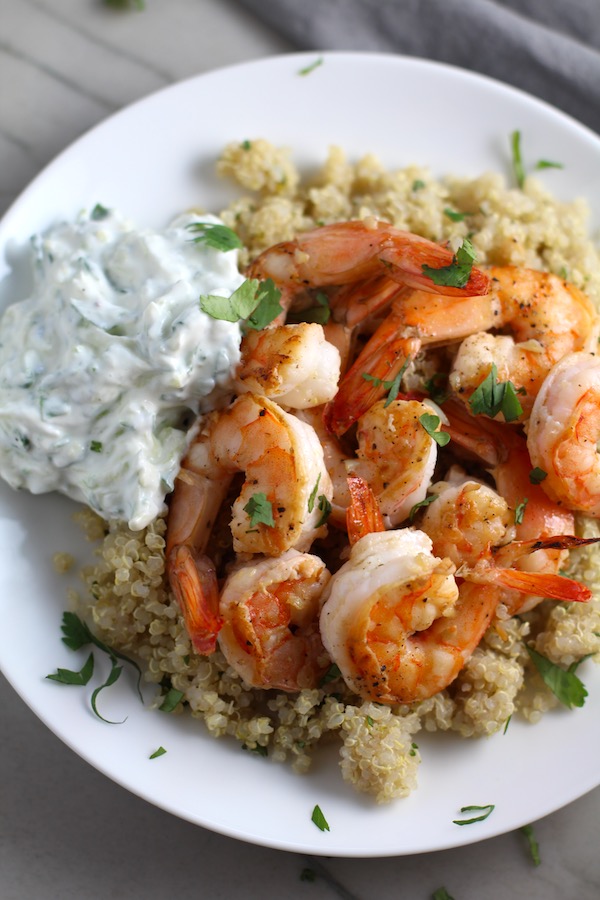 This Garlic and Lime Shrimp with Tzatziki Sauce combines big bold flavors with cool, refreshing flavors. The Shrimp is simply sauteed with minced garlic, olive oil, and lemon for big bold flavors. You can also marinade the shrimp in the garlic and olive oil and then grill, squeezing the lemon over after grilled.  The Tzatziki Sauce is bright and cool with creamy yogurt with fresh cucumber, lime, garlic, and scallion. A perfect combination and so easy to pull together!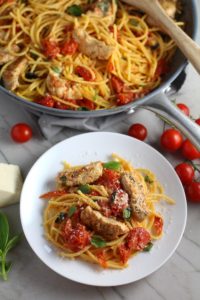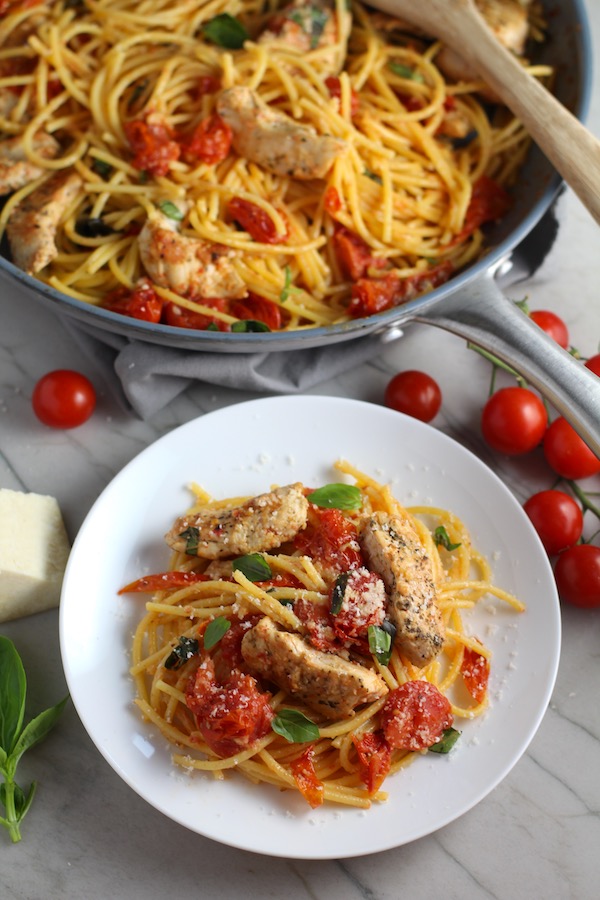 A perfect Summer pasta dish.  Sometimes less is more and this Chicken & Cherry Tomato Pasta with Basil, Garlic, and Parmesan Cheese is just that…more, as in you will WANT MORE! It has a garlic-y backdrop with sweetness from the natural sugars that are released from the cherry tomatoes. Then you get freshness from the basil, salty and nutty flavors from the Parmesan and a hearty bite from the chicken and pasta!! It's simply divine!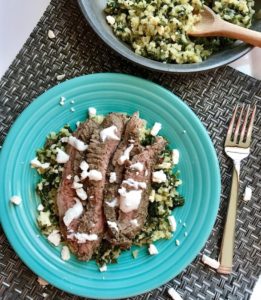 Mediterranean Flank Steak with Kale & Feta Cauliflower Rice is a delicious Mediterranean-inspired recipe with a flavorful garlic-oregano-rubbed flank steak on top of delicious cauliflower "rice". To finish it off, a cool and bright Lemon & Garlic Yogurt Sauce. Mediterranean cuisine is filled with fresh and natural ingredients, both of which hold true in this meal. The simple rub for the flank steak lets the meat be the hero. The salty, texture-filled, Kale and Feta Cauliflower Rice seriously tastes just like rice filled with flavor. This is a must-try dish!
Creamy, bright, herby, and lemony, this recipe screams SUMMER! Lemon Dill Sauce Chicken and Asparagus is Dill-licious! (yep, I just did that!) This is such an easy one-pan skillet recipe. It has seared chicken in a light and creamy sauce delicately flavored with garlic, lemon and fresh dill. Then it's loaded with fresh and bright asparagus. Yum!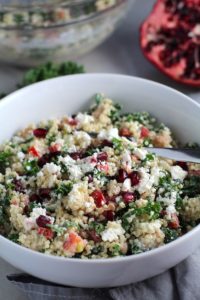 This Quinoa and Kale Salad with Roasted Chickpeas and Creamy Lemon Dressing has everything you could ever want in a Summer dish. It's fresh, light, and bright from the lemon dressing, kale, scallion, and red pepper. Then it's hearty, nutty, and salty from the quinoa, roasted chickpeas and Feta Cheese. And then you get a burst of fresh sweetness from the pomegranate seeds. And all of the different textures will make your mouth so happy!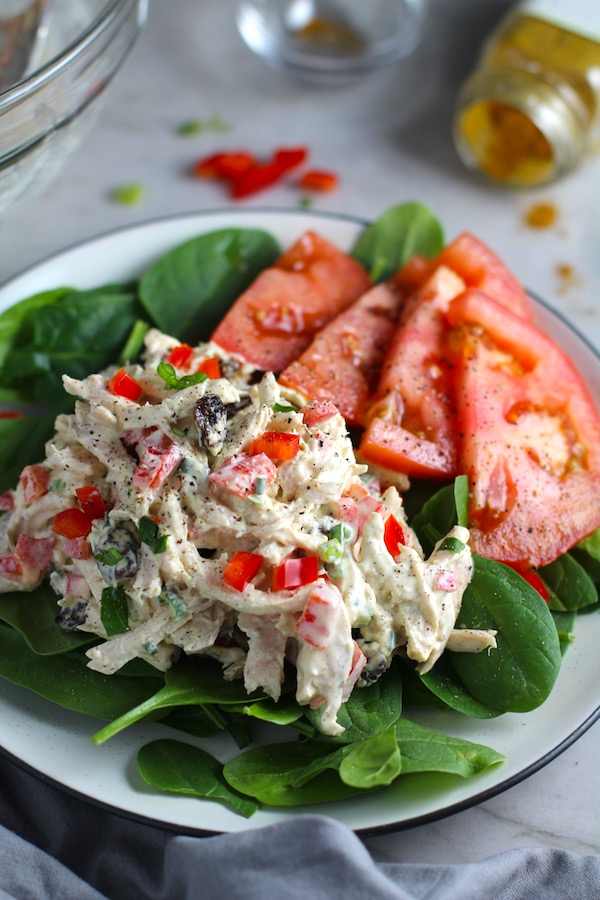 Craveable Curry Chicken Salad has so many fantastic flavors and textures! Use leftover chicken breast, buy a rotisserie chicken, or get cooked chicken from the Deli!   The chicken is mixed with a creamy sweet and savory curry dressing. Then you get a burst of freshness from the red pepper, a salty bite from the scallion, and sweetness from the raisins. Make this once and you will crave it again and again!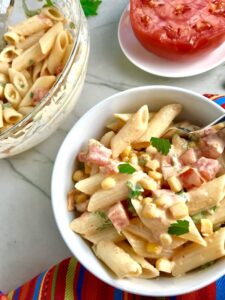 Creamy Mexican Pasta Salad with Corn and Sun Dried Tomato Dressing is a fresh, creamy, and smoky dish that's bursting with flavor and texture! First, you get creaminess and depth, as well as smokiness and and a hint of sweet from the sun dried tomato dressing. Then you get freshness from the tomatoes and a burst of sweet from the corn. Finally a bite from the scallion and cilantro. It's the perfect comfort side dish or add beef, chicken or shrimp and call it a meal!
Zucchini and Chicken Rice Skillet is a creamy and flavorful recipe filled with different textures. It's incredibly easy to make as it all comes together in one skillet. Instead of roasting chicken, use leftover chicken breast, buy a rotisserie chicken, or get cooked chicken from the Deli!   The chicken is mixed with earthy mushrooms, aromatic onions and garlic, fresh and bright zucchini, and rice. The cream sauce is light and creamy, but there is actually no heavy cream at all; instead almond milk, broth, parmesan, and cornstarch create the perfect amount of creaminess. And it's Gluten Free!
Hello, Beautiful!  This Sunny Quinoa with Fried Egg & Veggie Medley looks like summer in a bowl!  With only 6 ingredients, it's so simple, but incredible because the combination of flavors is just perfect together. The veggie medley of corn, zucchini, and red pepper is bright and fresh and full of sweetness that bursts in your mouth.  And if you have never had a fried egg with the yoke oozing over your rice or pasta or, in this case, quinoa, you are missing out and have gotta try this. 😎 The yoke brings a natural creaminess to the dish that you just cannot get from anything else.
What are YOUR favorite Summer recipes?  Please share in the comments!
😍 Carrie