Jump to Recipe
Fall is about comfort foods and this Creamy Mexican Pasta Salad with Corn and Sun Dried Tomato Dressing is a comforting, creamy and smoky dish that's bursting with flavor and texture! First, you get creaminess and depth, as well as smokiness and and a hint of sweet from the sun dried tomato dressing. Then you get freshness from the tomatoes and a burst of sweet from the corn. Finally a bite from the scallion and cilantro. It's the perfect comfort side dish or add beef, chicken or shrimp and call it a meal! Gluten Free, Vegetarian
It's getting a little silly how many recipes I seem to be developing with a Mexican inspiration. But I just love all of those smokey and salty spices and flavors! I also really love Sun Dried Tomatoes, which may seem a bit strange for a Mexican recipe. However, when blended into the dressing for this Mexican Pasta Salad, the Sun Dried Tomatoes give such depth and a hint of sweetness to the dressing, which is simply fantastic!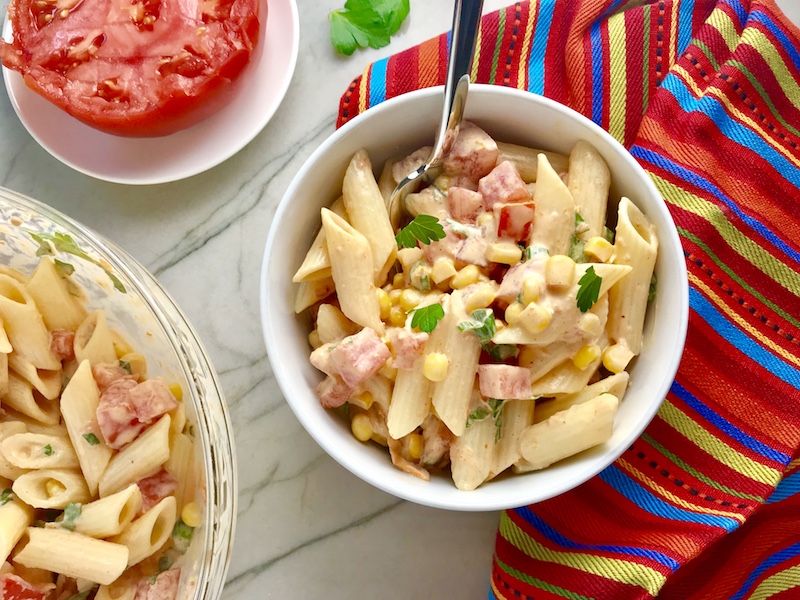 Quick note! This post contains affiliate links, which means I earn a commission (at no extra cost to you) if you purchase from them. This commission is what helps me keep this blog afloat :). But, I also share these links because I have used the products, genuinely love them, and want you to know exactly what I used.
PREP-AHEAD TO MAKE YOUR MEXICAN PASTA SALAD
This is another great recipe that can be made entirely ahead and then eaten in the next days!
To prepare, you will need to cook the pasta and let it cool. I used a Gluten Free Penne for this salad. There are several brands out there that I like, including Banza, which is made from chickpeas. Just be sure not to over cook the gluten free pasta or it will just fall apart on you when you mix it with the rest of the ingredients. Of course, you do not need to go Gluten free here, any of your favorite short-cut pastas will be fine!
Then dice the tomato, thaw the corn or cut it from the cobb after it is cooked, chop the cilantro, and slice the scallion.
To make the Mexican Salad Dressing, you simply put the 4 ingredients (Mayonnaise, Sour Cream, Sun Dried Tomatoes, and Taco Seasoning) into a mini food processor and blend them together until smooth and creamy! Note, this recipe calls for Taco Seasoning, so feel free to use whatever favorite blend you want. Because some blends have more salt than others, I have not included salt in the dressing recipe so be sure to taste for salt and add to taste.
Add all ingredients into a large mixing bowl and toss together to combine. Taste again for salt and add as needed. Yep, it's really that simple!
That's it! ENJOY!
😍 Carrie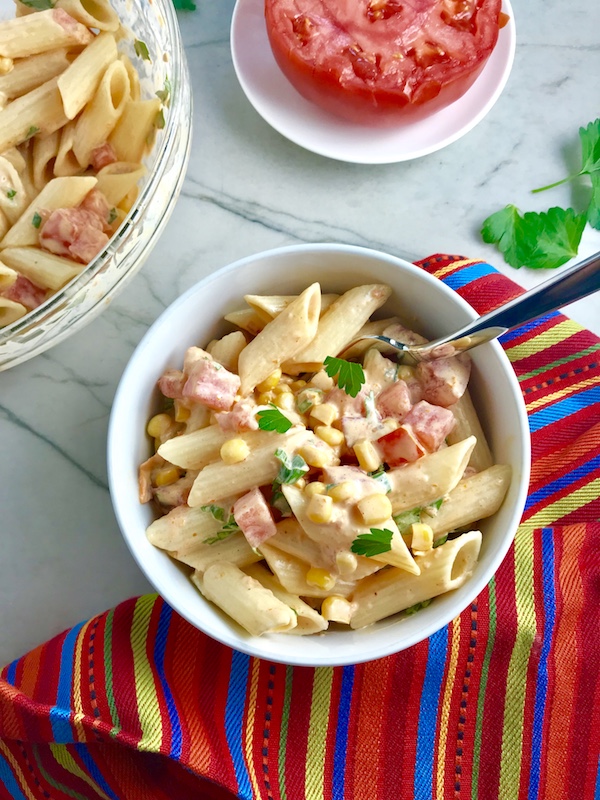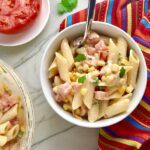 Mexican Pasta Salad with Sun Dried Tomatoes & Corn
Fall is about comfort foods and this Creamy Mexican Pasta Salad is a comforting, creamy and smoky dish that's bursting with flavor and texture! First, you get creaminess and depth, as well as smokiness and and a hint of sweet from the sun dried tomato dressing. Then you get freshness from the tomatoes and a burst of sweet from the corn. Finally a bite from the scallion and cilantro. It's the perfect comfort side dish or add beef, chicken or shrimp and call it a meal!
Ingredients
10

oz

Gluten Free Penne, uncooked

Any short cut pasta will work

1

Beefsteak Tomato, large

1

cup

Corn Kernels, frozen

of corn fresh is great too, just be sure to cook it

3

Tbls

Cilantro, chopped

2

Scallions

½

cup

Mayonnaise

1

cup

Sour Cream

¼

cup

Sun dried Tomatoes

In oil or Soaked in water to rehydrate and soften

2

teaspoon

Taco Seasoning
Instructions
Prep-Ahead
Cook your pasta according to package instructions. Then cool in the fridge.

If your Sun Dried tomatoes are purchased dry, then soak them in hot water to rehydrate for at least 30 minutes. If they are already in oil, no need to do this. Rough chop the sun dried tomatoes so they blend easier.

Chop the cilantro. Slice the scallions. Thaw and cool the corn kernels if frozen.
Make the Dressing/Sauce
To a mini food processor or blender, add the mayonnaise, sour cream, sun dried tomatoes, taco seasoning. Blend. Taste for salt and add as desired (some taco seasonings have more salt than others).
Make Salad
In a large mixing bowl, add the pasta, corn, tomato, cilantro, scallion, and dressing.

Fold all ingredients together to combine. Taste again for salt and add to taste. Enjoy!
Recipe Notes
If you are having this as a side dish, you will obviously get more servings from it.  However, if you add some grilled Chicken, or ground beef, or shredded pork, or grilled shrimp, you can have this as a meal!  If served as a meal, you may only get 4 servings.