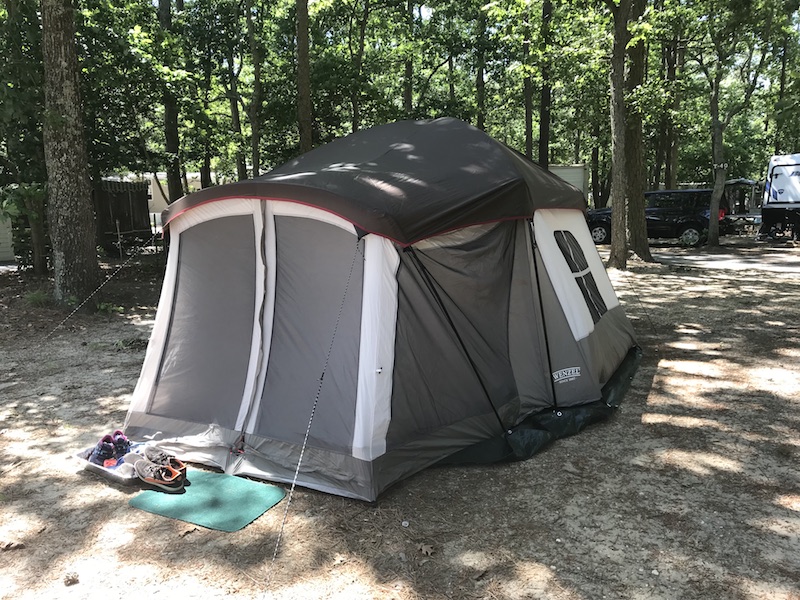 Camping with Kids! Yay, what could more fun!?? (hmmm…Sitting in NJ traffic, getting waxed, riding an over-stuffed subway with no air-conditioning….). JK!!   No really, camping with kids CAN be fun and I am living proof, here to share my experience, tips, tricks, and guidelines for making sure you ALSO HAVE FUN WHEN CAMPING WITH KIDS!
A couple weeks ago in June, the day after school was out, we packed up the car, drove 2.5 hours south to Ocean View, NJ to go camping – me, Dave, and the two girls, Daniela (age 9) and Alexa (age 6).  We met another family there with a daughter who is friends with Daniela and we had an amazing time!  I'm not gonna lie, there were certainly moments of frustration and I may or may not have screamed  "take off your shoes outside the tent" a few (100) times, but overall, we LOVED IT.  And I'm already thinking about when we can plan our next camping trip.
If you have not yet taken the leap to go camping with kids, if you are still on the fence, here are some reasons you should give it a try!
Quick note!  This post contains affiliate links, which means I earn a commission (at no extra cost to you) if you purchase from them.  This commission is what helps me keep this blog afloat :).  But, I also share these links because I have used the products, genuinely love them, and want you to know exactly what I used. 
You can be a kid again – When was the last time you enjoyed getting dirty or played outside or built a fort for yourself? Probably when you were a kid and I'm guessing you had pure, authentic fun while doing those things. Camping is your chance to do these things and act like a kid again.
Improve you well-being by detaching from technology – There have been numerous articles about why to detach and studies showing the negative impact of technology and continual internet and phone usage on our physical, mental, and emotional well-being. Everything from neck pain from looking down all the time, to memory challenges, to irritability, to general high levels of stress. Camping is a great opportunity to detach from the world, from work, from everyday life to really relax.
Bond with your family – if you leave the iPads at home and put your phones away unless for emergencies, and really detach from the everyday, then camping can be an amazing time to talk and share and connect and bond with your partner and kids.  Best yet…you get to sleep all cuddled up in one tent!  I highly recommend this spacious and comfy (and easy to put together) tent, but I write more on this later!
Exercise in a FUN way! Tired of the gym and not a runner? Camping is a great way to burn extra calories and work out muscles you may not regularly work out. Whether through hiking, swimming, lifting wood, or just walking around the campsite, you are likely to be very active outdoors while camping and it will not even feel like 'working' out, it will be fun!
Camping with kids…it's not for everyone. Or is it?
I grew up in the Midwest in a suburb of Chicago and every summer, we would drive up to Wisconsin to go camping at least one time at a campground, but then 'camp' in our backyard in tents a few more times. I LOVED IT! I loved everything about it, but mostly sleeping in tents which were like forts to me. However, when I moved to NYC, if I mentioned camping I apparently grew a couple more heads based on the looks I received. Camping can be EASY and FUN for everyone!  With just some planning and preparation you too can love camping!
General Camping with Kids Tips
I have some more specific tips and guidelines below, but first, let's start with the broader, more general before-you-go-make-sure-you Tips.
Discuss the trip and set guidelines/rules ahead of time with your kids so you avoid frustration at the campsite.  Be sure to explain to them what to expect during the day and at night sleeping in a tent.  Set guidelines and rules up front before you go and make sure they understand them.  For example, no wondering off into the woods.  No touching strange plants or animals.  Delegate 'jobs' to the kids, such as trash duty or sweeping the tent duty or hanging towels on the clothes line.  
Pack Kid Camping Kits.  It's important to talk about camping with your kids ahead of the trip and to get them excited.  But it's also important for them to start thinking responsibly.  I suggest helping them to pack their own individual camping kits.  In each child's kit, you should pack:

Note book and pen/pencil – for taking notes on what they find
Camera – even if this is a disposable one that you buy just for camping, it creates excitement that they too can capture the memories
Snacks
Sweater
Sunscreen stick
Flashlight
Keep food and items secure.  Make sure that at the campsite you always keep food and any valuable items zipped/closed up or locked in your car.  Depending on where you are camping, there could be squirrels, raccoons, or even bears that will love that you brought them food 🙂  AND, plastic bags left on the ground during the night are an open invitation.  The raccoons will feel invited – and then will rip them right open.  So put trash in the dumpster or lock it up! 
Picking the Camping Location
If you are going camping with the kids for the first time, my recommendation is to find a safe location with amenities that has good reviews from other parents. For us, we live in NJ and there are bears here. Therefore, we wanted to ensure we were not in "bear country" so we looked about 3 hours south near the ocean. We also wanted to make sure we were near swimming opportunities, whether it was a lake, a pool, or the ocean. Fortunately, we had all three! Finally, we wanted a place that had bathroom and shower facilities. The bonus is that the camp ground we found also had WIFI, so if that is important to you, be sure to ask.  Here is a link to place in NJ where we have gone 2 years in a row!  We love it there.
Invite Friends – Or Not
There are pluses for going with another family and for just going with your family alone. Alone, you really get time to bond with your family, with your kids. You can teach them "skills" from your Boy Scout or Girl Scout days. You can all build the tent together. You can hike and talk about their hopes and dreams. You can roast marshmallows and star gaze and play games.
If you invite another family, you can do all of these things but for some kids and some families, this may be more enjoyable and less stressful. While the adults set up camp, the kids can play with each other vs. nagging you about when the tent will be up and they can go swimming (I'm talking to you, my loving sweet girl, Daniela ). Games can be a bit livelier and camp fires can be a bit longer.
However, the BIGGEST benefit of inviting another family is splitting up the packing list, which I am telling you can end up being a ton of stuff! If you need an extra table, one of you brings that and the other brings the gazebo. One of you brings hotdogs and the other the buns. One of you is in charge of snacks and the other in charge of breakfast items. You get the picture.
Packing
Packing just the right items, not too many and not too few will help make your camping experience a success. My parents had it down to a science and really enjoyed the planning and packing almost as much as the camping itself. My Mom was in charge of the food and supplies. My Dad was in charge of the gear…tents, tarps, grilling items, camping stove, chairs, blow-up matts (really swimming floats!), sleeping bags, etc.
The best advice my mom gave me for the food was (1) Keep it simple (2) pack the cooler according to LIFO – Last In, First Out. This just means that the first thing that goes in the cooler is the last meal you will eat camping, so that what is on top ends up being used first.
In terms of gear, the items you may need to purchase in advance, here are the ones that we have and really love.
Tent  We have the the 6ft x 11ft Wenzel Klondike Tent that has 2 rooms.  The back room that closes off and the front screened in room, that also completely closes for sleeping if needed.  We use the front screen room for storage and the back room for sleeping the 4 of us.  We also use Aerobeds and can fit 2 double beds, so that takes up the entire back room space.  Here are a couple pictures of the tent on our latest camping trip.
Gazebo  Next up is the gazebo.  You may be thinking this is too much, I don't need a gazebo.  But, let me tell you that when the mosquitos and bugs start to get to you while playing a game and hanging out after dinner or during your morning coffee, you will be so thankful you have a screened in gazebo!  We kept our table, chairs, coolers, and other communal supplies in our gazebo and it was perfect!  You want to be sure to buy one that is fully screened in and large enough to seat your group.  Here is a really great option for a Gazebo.
The Food
Since this is a food blog, I'm sure by now you are wondering when I will get to the food! The truth is, if this is your first time camping with kids AND you are driving more than 30minutes away from home to the campsite AND you only have your single car/SUV trunk, here is my honest recommendation….buy food when you get there. This kills me to say, but I want you to enjoy yourself and the truth is that you will likely not have space to pack a ton of food + waters + beer/wine, etc. Therefore, I suggest you purchase that stuff after you drop off the tents etc. to the site.
However, if you do in fact have the space and want to make some food ahead to bring, then I have included some basic food items on the packing list. For the even more adventurous, here are some make ahead recipes that would be perfect for a camping trip!
Wow, that covered a lot! I hope you stayed with me and are totally excited to go camping now. If you have any other tips to share or have questions for me, please do not hesitate to reach to me directly!!! [email protected]
That's it!
ENJOY CAMPING WITH KIDS!
Carrie