Dinners are so much easier when you have theme night dinners that give you direction and excitement by laying out your options. Learn how to come up with your own Theme Night Dinner ideas that can help stock your pantry, give you guidance on what to cook, get you out of dinner rut, and create family traditions.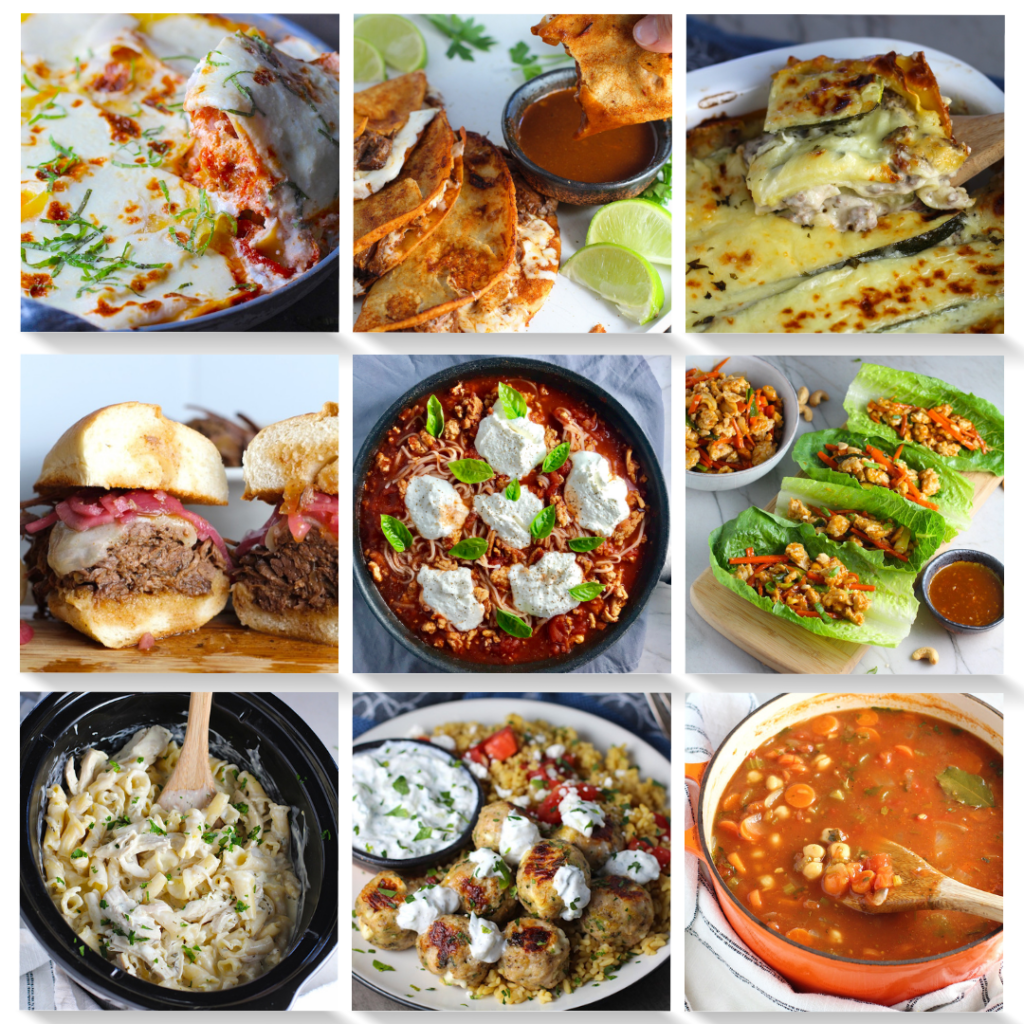 Who hasn't fallen into a weeknight dinner rut? I know that I have been there! Or worse, do you dread dinners because it's every single freakin' night, every single week? I hear you! That's why I started to use Themed Dinner Nights! These theme night dinner ideas will not only save you time and frustration, they can energize dinners, get kids out of a pizza-pasta-chicken nugget rut, and help you to always have the basic ingredients on hand.
Let me tell how these magical and simple dinner themes and themed dinners can help!
Jump to:
Meal Planning Saves Time and Expands Variety
There are so many benefits with some basic and simple meal planning, specifically dinner planning. The return on your time investment with meal planning is huge!
When you plan ahead…
you save time, stress, and money as you limit impulse purchases and take out.
you reduce waste, as you can plan to use up all ingredients across various meals.
there's less cleanup! With dinners prepped or even made ahead entirely, you have less dishes, cutting boards, pots or pans used.
you can work in more food varieties and that means…kids, picky eaters, and other family members try new things!
​But the REAL WIN with Meal Planning is that you feel more confident to tackle dinners, you take pride in what you serve, and you get to spend more quality time with your family.
In short, you will feel like a SUPER MOM!
5 Steps for Easy Dinners
So, let's get straight to the 5 easy steps to kick start dinner meal planning. Be sure to check out my Guide and Cookbook to download and save or print all of the great tools, checklists, and templates I have linked throughout this book!
Define the goals and needs for your family
Select Dinner Themes for each night of the week
List out Dinner Ideas for each Theme
Collect & organize recipes
Plot out Themes and Dinners on Calendar
Step 1 – Define the goals and needs for your family
The first thing to remember is there is no one way to meal-plan and it must be done in a way that works best for you and your family. So this first step is to define and understand your needs and goals which will guide your planning for dinners.
So, how do you do this? How do you break it down to the very specific needs of your family? Well, I have a simple questionnaire or checklist in my Cookbook that you can fill out that will help you to do just that!
After going through the guide and template that's available in the Cookbook , you might end up with something like this:
This tells you which days you need to have pre-made dinners, 30 minute dinners, smaller portion dinners, etc. It's a great way to guide your meal planning in a general way.
Step 2 – Select Dinner Themes
Dinner Themes are cuisines or food types assigned to certain day of the week. For example, Taco Tuesday or Meatless Monday.
The intent is not to limit your options, but rather to give you direction and excitement by laying out your options. I love dinner themed nights because…
They can become family traditions that create wonderful memories.
Themes offer a bit of structure and guidance. This helps make options less overwhelming. 
It's great for kids to try a new ingredient or food and help get out of a pizza or pasta rut.
I have the complete easy guide with downloadable templates to guide you through the process of picking dinner theme nights in my Cookbook! But, here is the general idea.
Start by selecting the type of food, specifically 4-6 Cuisines that your family prefers. For instance, in my family, Mexican food, Chinese, a variety of American dishes, and Italian are all faves. Maybe for you, Indian food is a family favorite. Or maybe you absolutely must have a pasta night or taco night or pizza night. Perhaps you need to work in a leftover night. It's about you and your family!
Next, write down preferred cooking methods or meal types. For example, I love my crockpot for busy nights. Casseroles and one-bowl-meals are also a must.  Maybe for you, the air fryer is a must or sheet pan dinners or instant pot recipes have to be a night.
Once you have your full list of family theme preferences, start to prioritize and consolidate. For example, you may want to plan for 5 dinners each week. So 5 themes is your target and you just need to pick 5 top themes.
You may end up with some combination of these theme night dinner ideas: Mexican, Italian, Asian, American, soups, crockpot, casseroles, or one-bowl-meals.
Step 3 – List out Theme Night Dinner Ideas and Recipes
Now we move on to Step 3, which is to make a list of dinner ideas within each theme. Having this list of ideas is the easiest way to plan your weekly menu. For variety, I like to list out different ideas and options across different proteins. Once again, I have a downloadable template that I created for you in my Cookbook!
Picking meal ideas and favorite recipes for each theme is a fun way to get the whole family involved too. Having a list of themed meals and ideas ready to go that everyone helped to pick makes your life so much easier.
I also have a blank row at the bottom that you can customize for any ideas you want to cover for each theme. Here is an example…
You can tailor this template to your specific diet, for example if you are vegetarian or don't eat red meat, you can replace those rows with other proteins.
Step 4 – Collect & organize recipes
This is not a one and done activity. Nor is it intended to become something that is overwhelming. Rather, the intent is to set up consistent and ongoing easy ways to see and try new and exciting recipes.
First, start a basic EASY Family Recipe search on Pinterest or Google. Start to see if there are any Recipe websites that really stand out for you as providing great recipes for your family.
Second, sign up for 2-3 recipe website email subscriptions. I would not sign up for any more than 2-3 as it can start to clog your inbox and become overwhelming. These steps will give you a steady supply of recipes that come to you rather than you having to seek them out.
Third, You can also follow some of your favorite recipe pages on facebook and instagram for a steady feed of recipe ideas there as well.
Finally, set up folders in email and on your desktop to save recipes that you want to try.
Once you have some new recipes that you want to try, fill in the list of dinner theme night ideas with those.
Step 5 – Plot out Themes and Dinners on Calendar
You've made it to the final step! This last step is to Plot out your Themes and Dinners on a Weekly calendar! I have a super simple Weekly calendar template for you that you can download in my Cookbook.
This is the "Put it all into action!" Step. In the columns you have the days of the week. In the rows you have the Theme, then the Recipe, then the dinner components or ingredients by category.
Start to fill in the themes and recipes you want to tackle in any given week. Here (below example) I have 3 different proteins, tofu, chicken, and beef. I also selected 2 very different recipes both using ground chicken so that I could buy it in bulk and get some cost savings. I have 2 slow cooker meals and a nice variety of cuisines.
To the far right, you can start to list out items that you will need to purchase vs. those that you already have in the kitchen.
In the bottom Notes section, you can list any prep ahead steps, cooking equipment needed, or any other notes.
Sample Theme Night Dinner Ideas
Ready to start doing this on your own? Check out my Meal Planning Theme Night Recipes! Here are the different Themes that I create recipes for regularly, but there are so many other themes that you can select and search for recipes on this site.
Want more tips for making busy family dinners easier? Click here for my Free Printable 5 Simple Steps to Easy Family Dinners!