Here are the best easy Easter Dinner Casserole recipes that you make ahead so that you can have a stress free Easter Sunday dinner.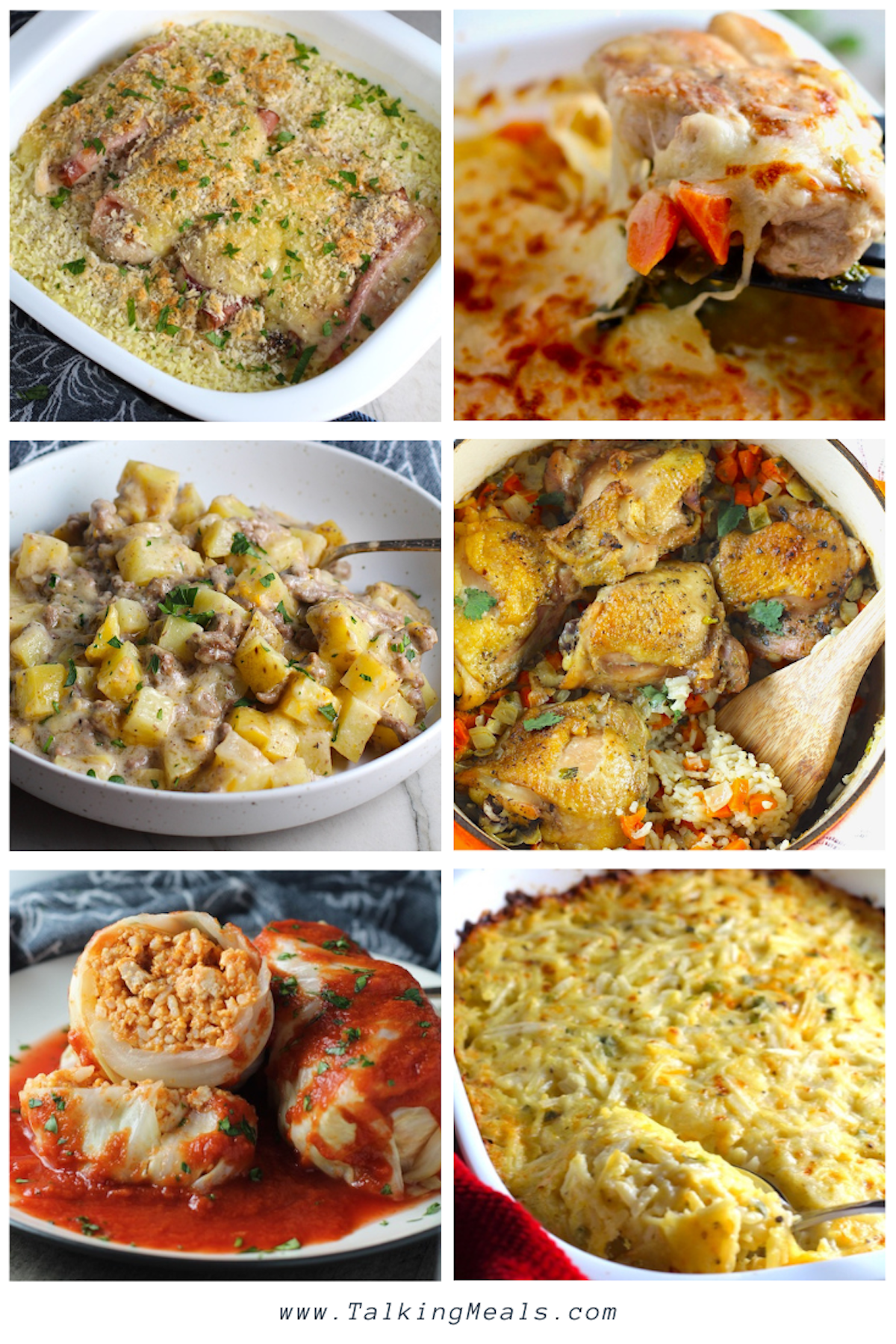 Easter is always a fun family holiday. It's a chance to bring loved ones together and celebrate Spring and love. And what better way to say 'love' than with a comforting, delicious, and of course, EASY casserole. So here I have for you, 10 Delicious and Easy Easter Dinner Casserole Recipes, that by the way, are also perfect Easter brunch casseroles.
While these Easter casseroles may not all be traditional Easter dinner ideas, they are great recipes because they have three most important characteristics.
A holiday meal should not be stressful! These casseroles are easy to make ahead so that you can have a stress free Easter Sunday dinner.
The flavors in these recipes are family favorites and are delicious so the whole family can enjoy them.
Each of these Easter casserole recipes has ingredients that please a crowd. In other words, you won't find anything hugely polarizing here. They are just simply delicious recipes.
10 Delicious & Easy Easter Dinner Casserole Recipes
When you think of what makes great casseroles, the list likely includes cheese. And this first on the list is no exception. Smothered Pork Chops with vegetables is a hearty midwestern comfort dish. It's layered with vegetables and meaty pork chops smothered in a creamy sauce and cheese. It's a great East dinner because it still feels formal enough with the pork chops being left whole. And it includes the main course and the veggie sides!
While it is certainly topped with ooey gooey cheese, it also has carrots and kale that balance it out. I love to serve this over quinoa, but it goes great with rice, noodles, tender potatoes, or just some dinner rolls.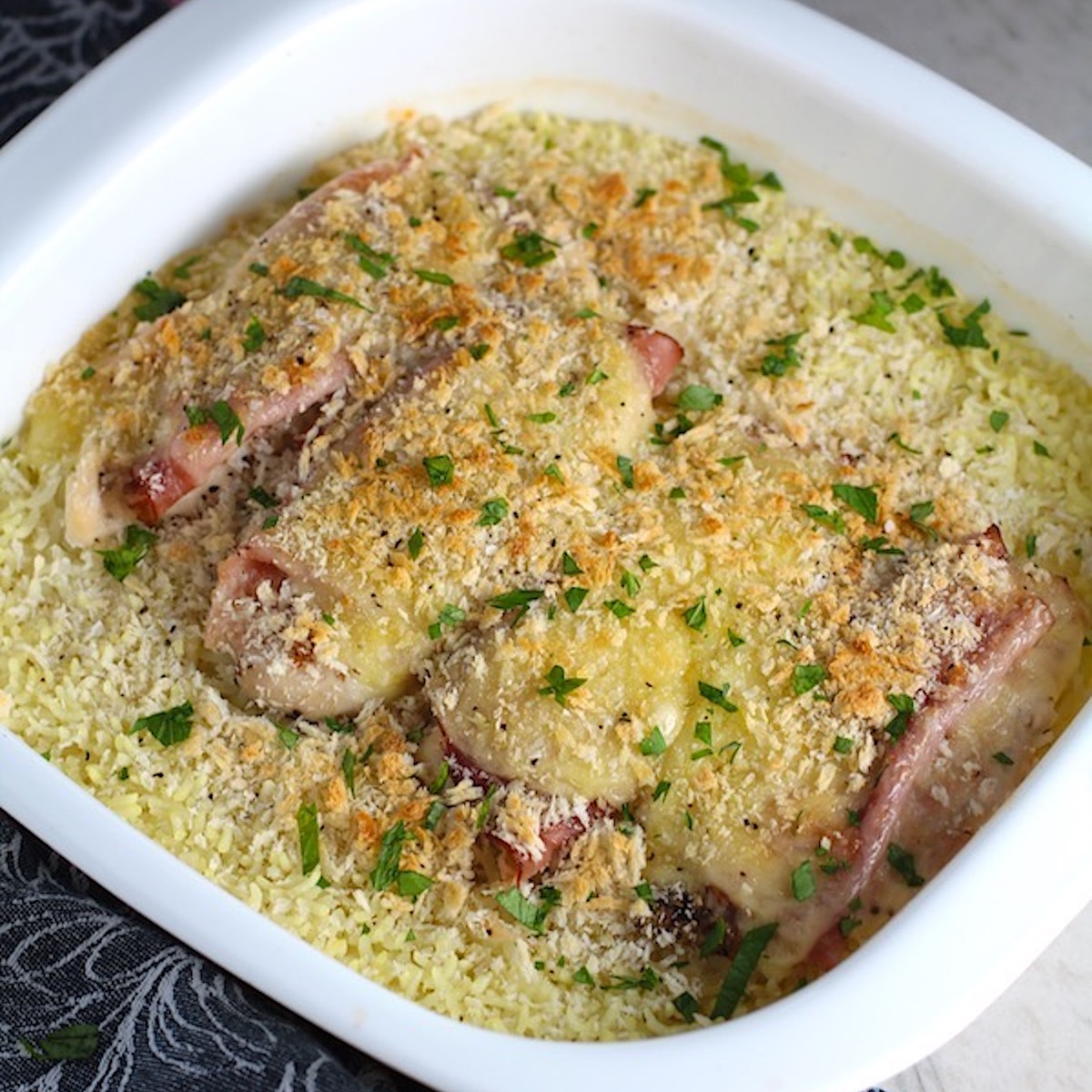 This One Pot Chicken Cordon Bleu Rice Bake has layers of deliciousness.  On the bottom, the flavorful rice cooks right in the oven.  That's right, it's a super easy recipe because there is no cooking it separately on the stove!  On top of the perfectly cooked rice, you have the chicken, salty ham, nutty and melty swiss cheese, and a crunchy breadcrumb topping!  This cozy, warm, comforting, and delicious family dinner is yours, not just for Easter, but for any busy night!
For a vegetable side to go with this casserole, you can do a simple Spring salad, buttered green beans dish or Roasted Carrots with Cumin and Avocado Crema.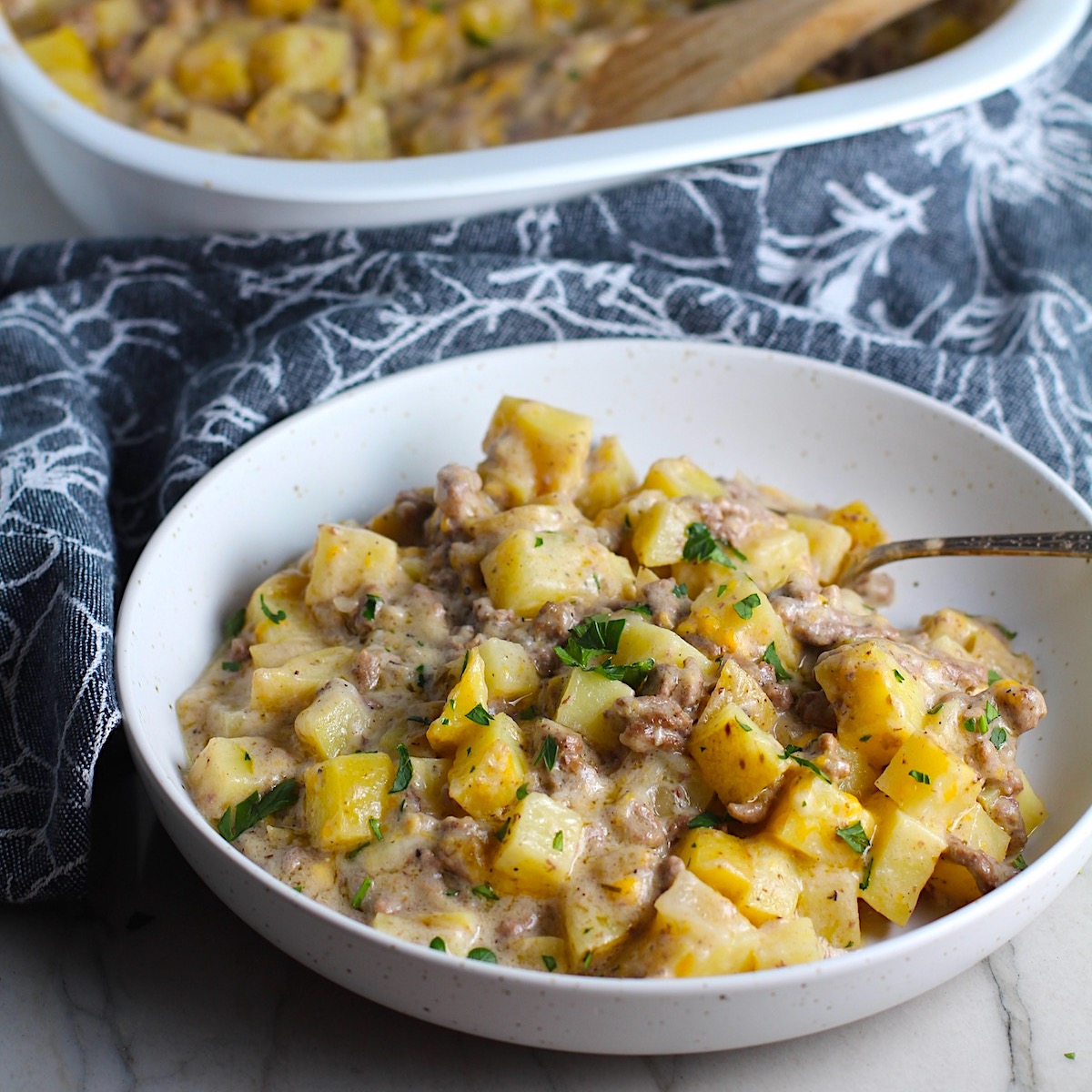 Warm, cozy, ooey gooey, cheesy and delicious! This cheesy, delicious Hamburger Potato Casserole recipe is an easy and delicious that is perfect for an Easter brunch or Dinner. Ground beef and onion are cooked and then added to a casserole dish with diced potatoes. Then an easy-to-make sauce is added on top and mixed into the beef and potatoes with shredded cheese.
You get all of the yummy flavors of Hamburger with cheese and fries in this delicious casserole! It's also great for holidays because you can make it entirely ahead and simply reheat it before serving.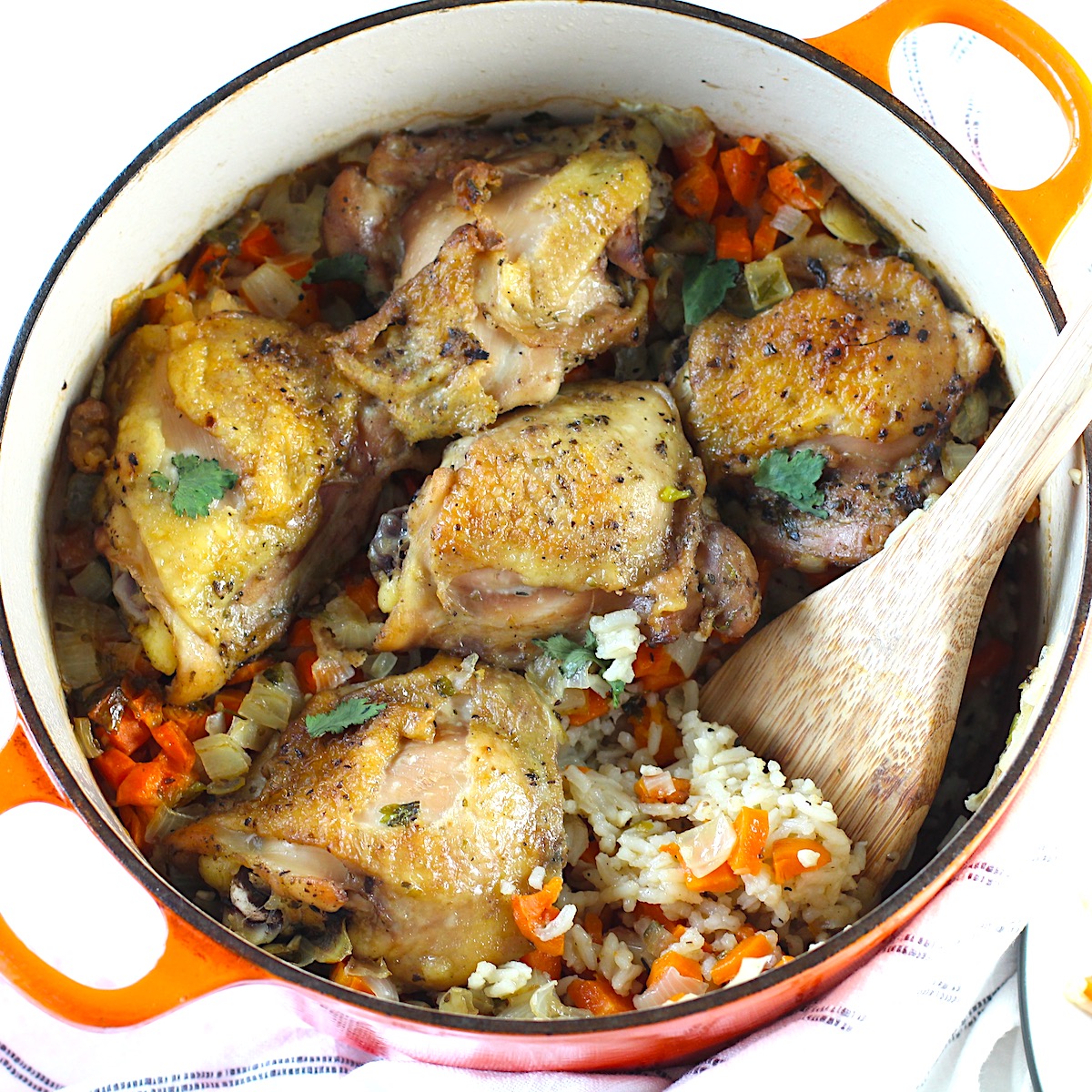 Next up for Easter dinner we have this One Pot Roasted Chicken Rice. It's a complete meal and comfort on a plate. Tender chicken thighs are seared first with garlic, salt, and pepper to start to caramelize the meat and develop deep flavor. It's then roasted to perfection with rice, onions, carrots, and garlic for unbelievable flavor and the easiest dinner!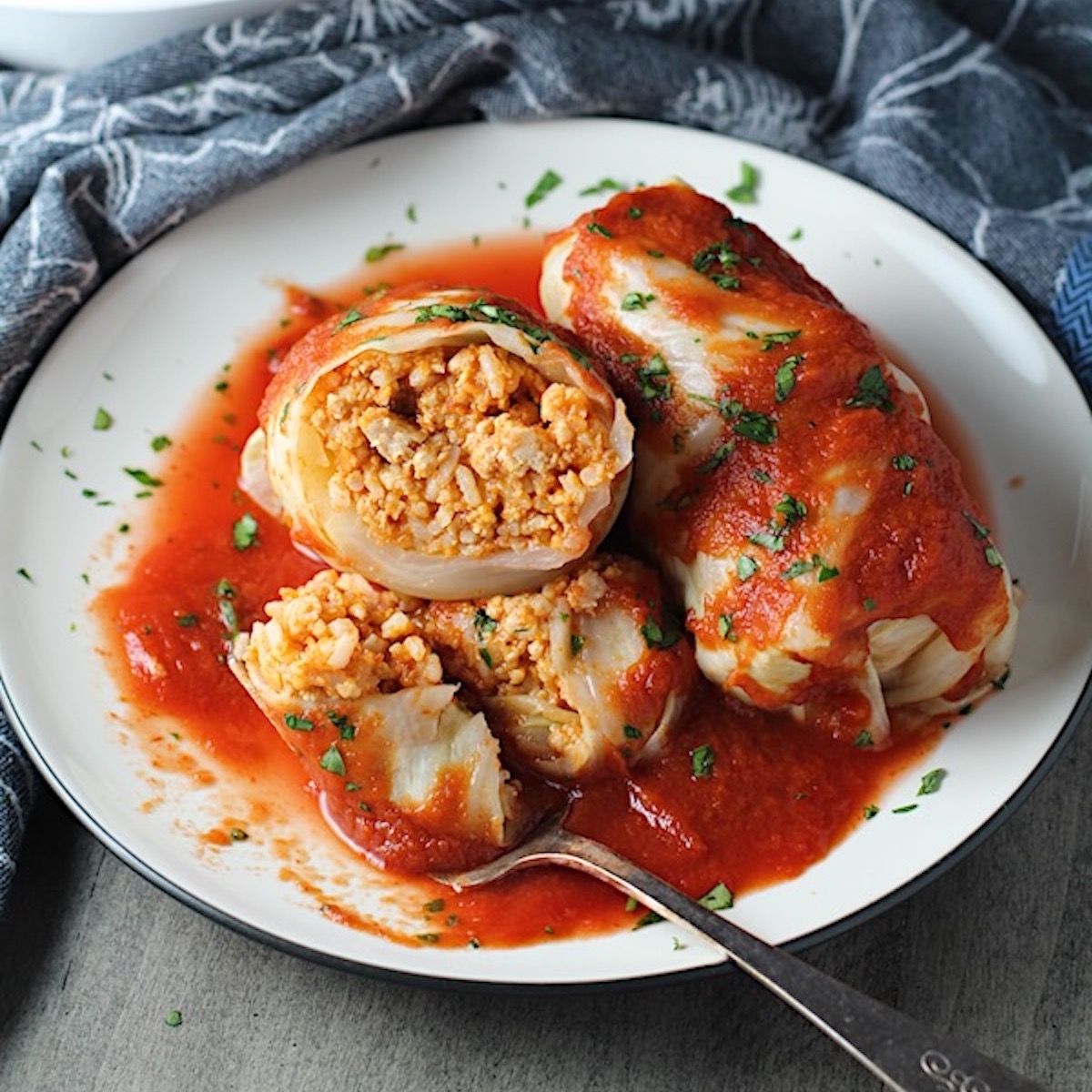 This is a great make-ahead family dish! Stuffed Ground Chicken Cabbage Rolls, or Golumpki are a traditional Polish and Slavic culture. This recipe uses ground chicken, paprika, parmesan, tomato paste, garlic, and onion for tons of flavor! It's topped with a delicious and tangy tomato sauce so the kiddos just love this too! This is not only delicious and hearty, but it's also lean and healthy!! And it's a one-pan meal with the chicken, rice, and veggie (cabbage)!
This Cheesy Hash Brown Casserole is one of the best Easter side dishes in my opinion! I mean, who doesn't love cheesy potatoes with their Easter Ham?
There is nothing better in the entire world than ooey gooey cheesy potatoes and this Cheesy Hash Brown Casserole without soup from a can does not disappoint! It's warm, creamy, and full of flavor! This recipe says goodbye to the canned soup, but is still super easy with a simple roux with milk and broth added to create a thickened flavorful sauce. It uses frozen hash browns mixed with a little sour cream, cheese, scallions, and oregano and you have the most comforting, flavorful, and delicious side dish or main (I'm just saying)!
For main dishes, I recommend this absolutely delicious Mushroom Stuffed Flank Steak with Goat Cheese and Basil. Or how about this Caramelized Onions and Mushrooms Pork Roast Dinner? Of course, you can't go wrong with a delicious roast beef or roast ham, a perfect Easter dinner main.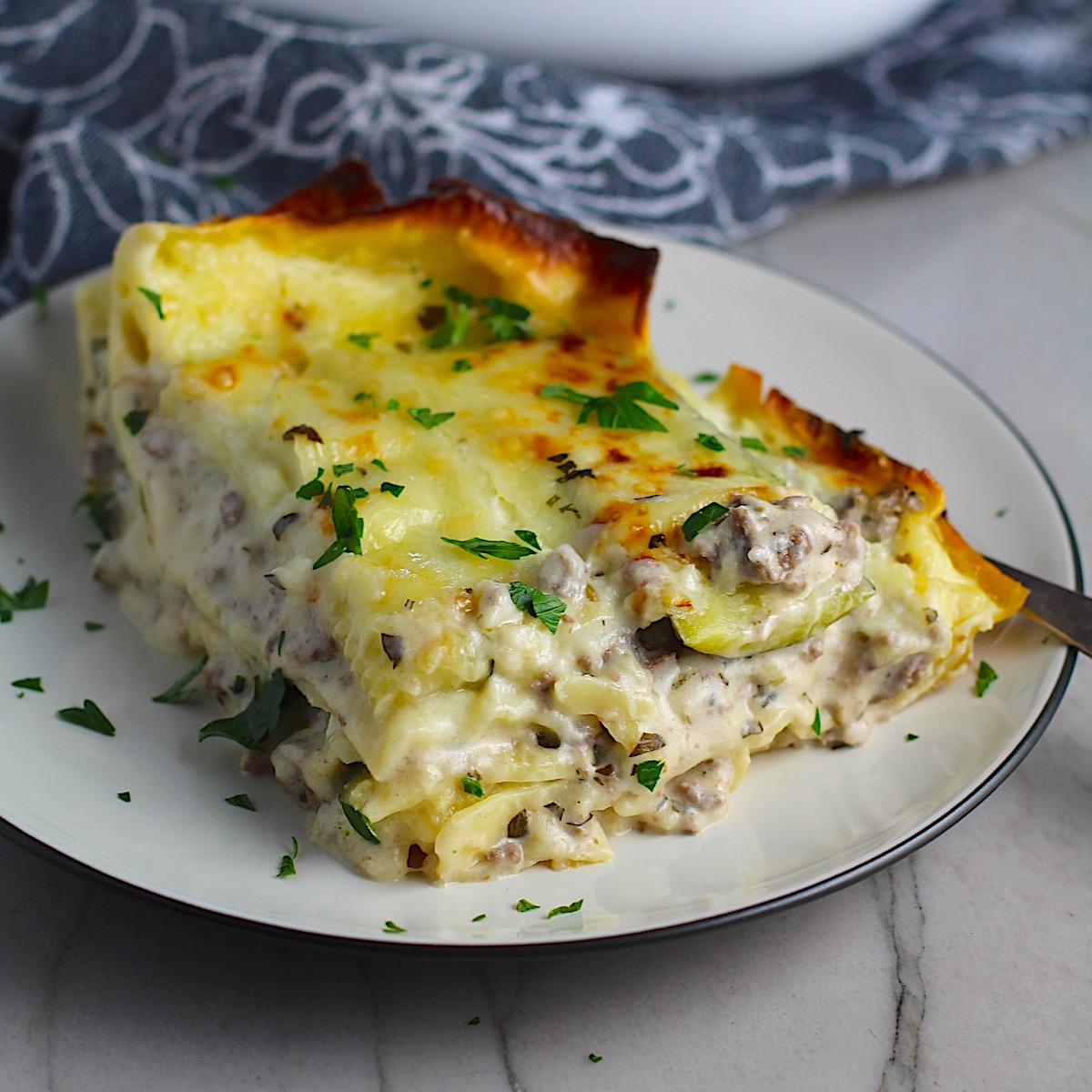 Oh my goodness, this is one knock-your-socks-off dinner! It's my White Beef Lasagna with Cream Cheese and Zucchini and it's creamy, rich, hearty, and mouthwatering delicious. No ricotta cheese? It's no problem! This lasagna recipe uses cream cheese, bechamel (white sauce), and mozzarella. You get layers of noodles and zucchini for the best of both worlds. Then rather than a tomato sauce or meat sauce, this recipe has ground beef mixed with herbs, seasonings, and creamy mozzarella and cream cheese, plus a silky white sauce in every layer. This will be one of your absolute favorite new dinners!
It's not only a favorite because it's yummy, but also because it's easy! You can make this entire cream cheese lasagna recipe ahead and reheat it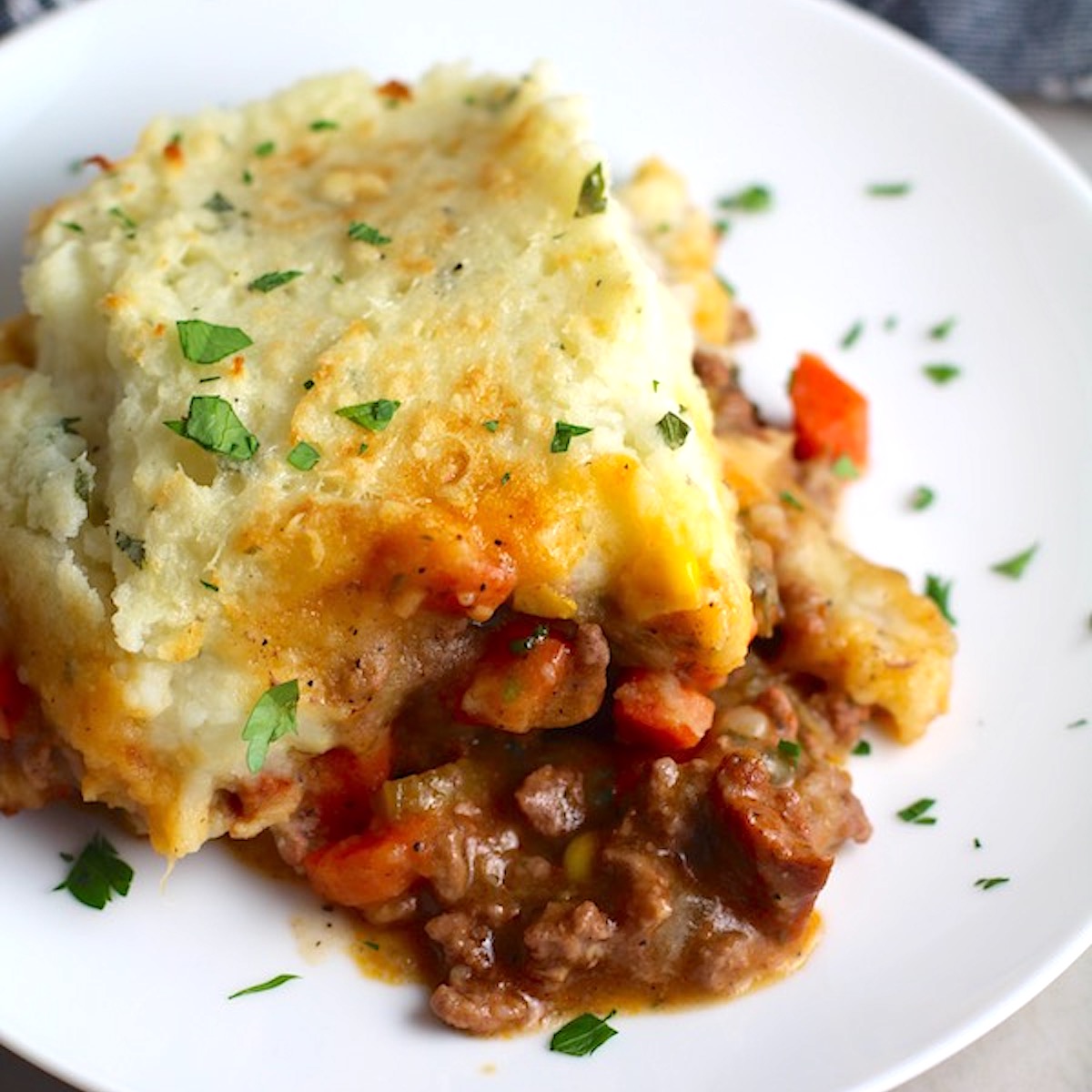 This easy Chorizo Sausage Shepherd's Pie is a make-ahead comfort food. It includes ground beef, which technically makes it a Cottage Pie recipe, as Shepherd's pie is traditionally made with lamb. This recipe is smokey, salty, and utterly delicious! It's a mashup of English and Spanish flavors.
First, I've added Spanish Chorizo to ground beef, which has fantastic smokey paprika that gives a smokey and peppery bite. The beef and chorizo are cooked in a rich and savory gravy filled with veggies and herbs.
On top of all this goodness are mashed potatoes (you can also use sweet potatoes) loaded with flavor! This recipe adds manchego, parmesan cheeses, and garlic to the potatoes so they're incredibly creamy, cheesy, and flavorful. In the oven, the potatoes get toasty and crispy – perfection!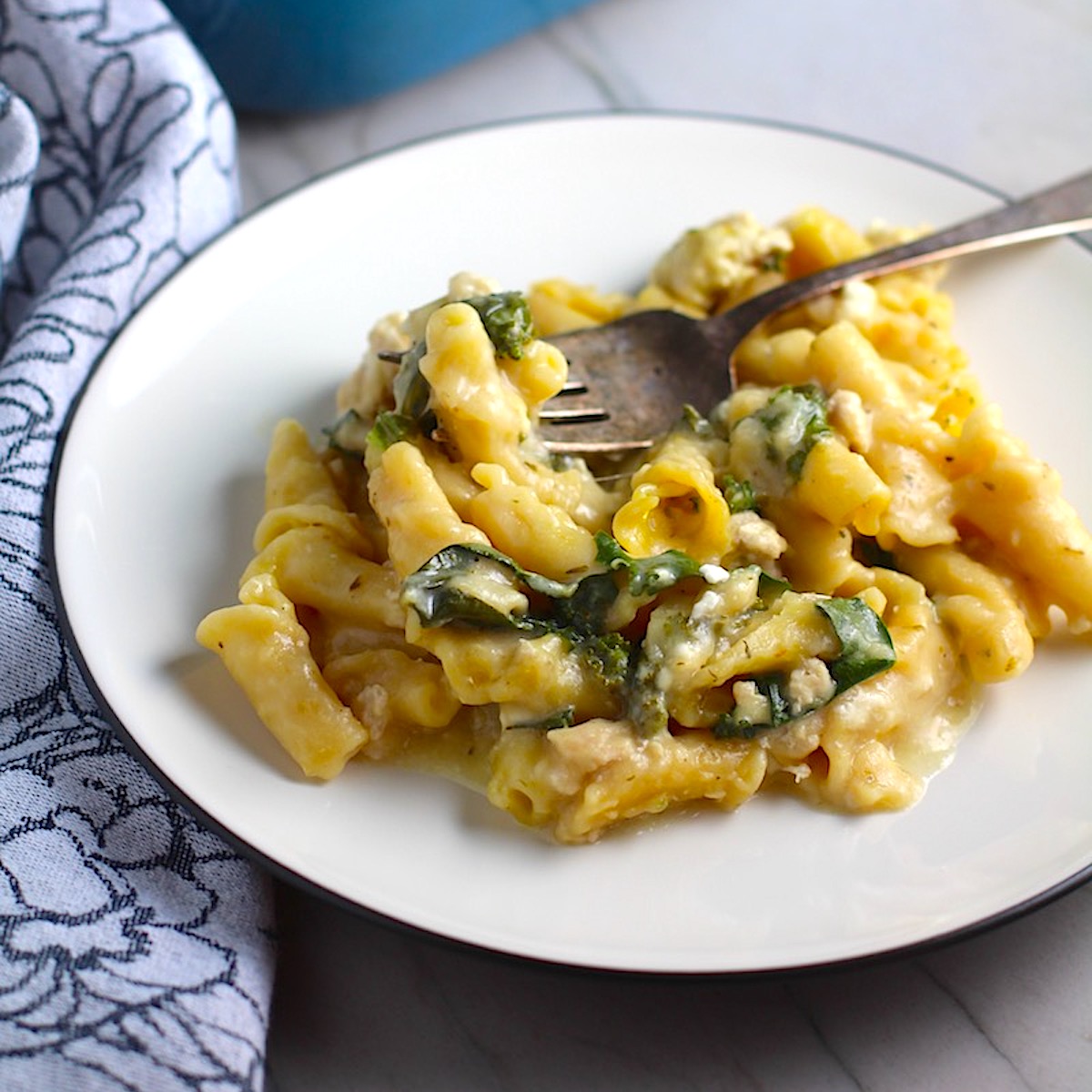 This Greek Ground Chicken Feta Pasta Bake is easy and delicious! It has lean ground chicken with garlic, oregano, parmesan, feta cheese and Kale. It's kind of like a Greek Mac n Cheese because it's so incredibly creamy and cheesy from the parmesan and feta cheeses. The Feta melts into a more mellow, rich, and flavorful backdrop – which is great for kids!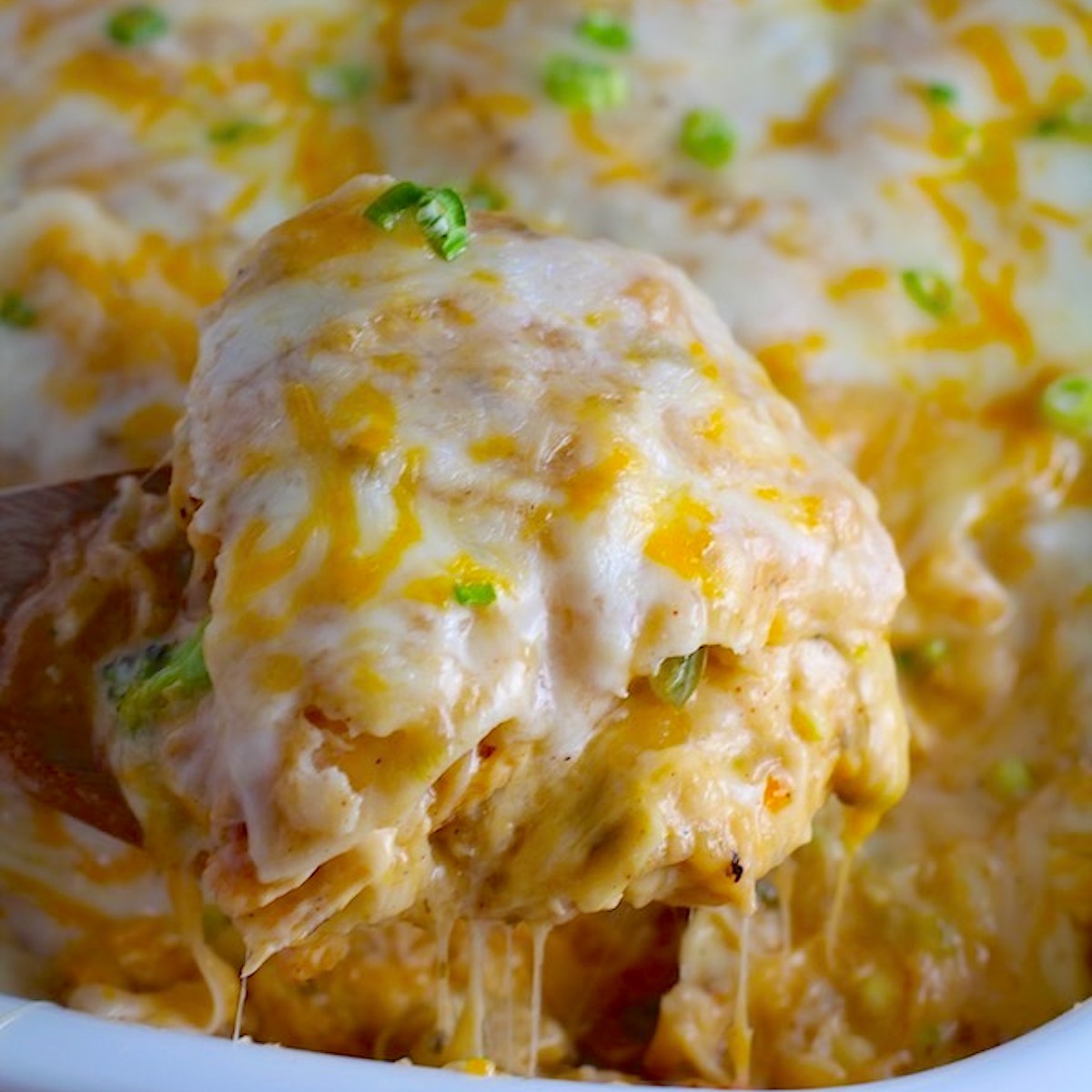 Sour Cream Chicken Enchilada Casserole with Veggies is hearty, cheesy, delicious, & easy because everything is layered in one dish. It has everything you love in a White Enchilada Casserole with the bonus of hidden vegetables with extra vitamins and nutrients! Even picky eaters will love the veggies because they won't even know they're there!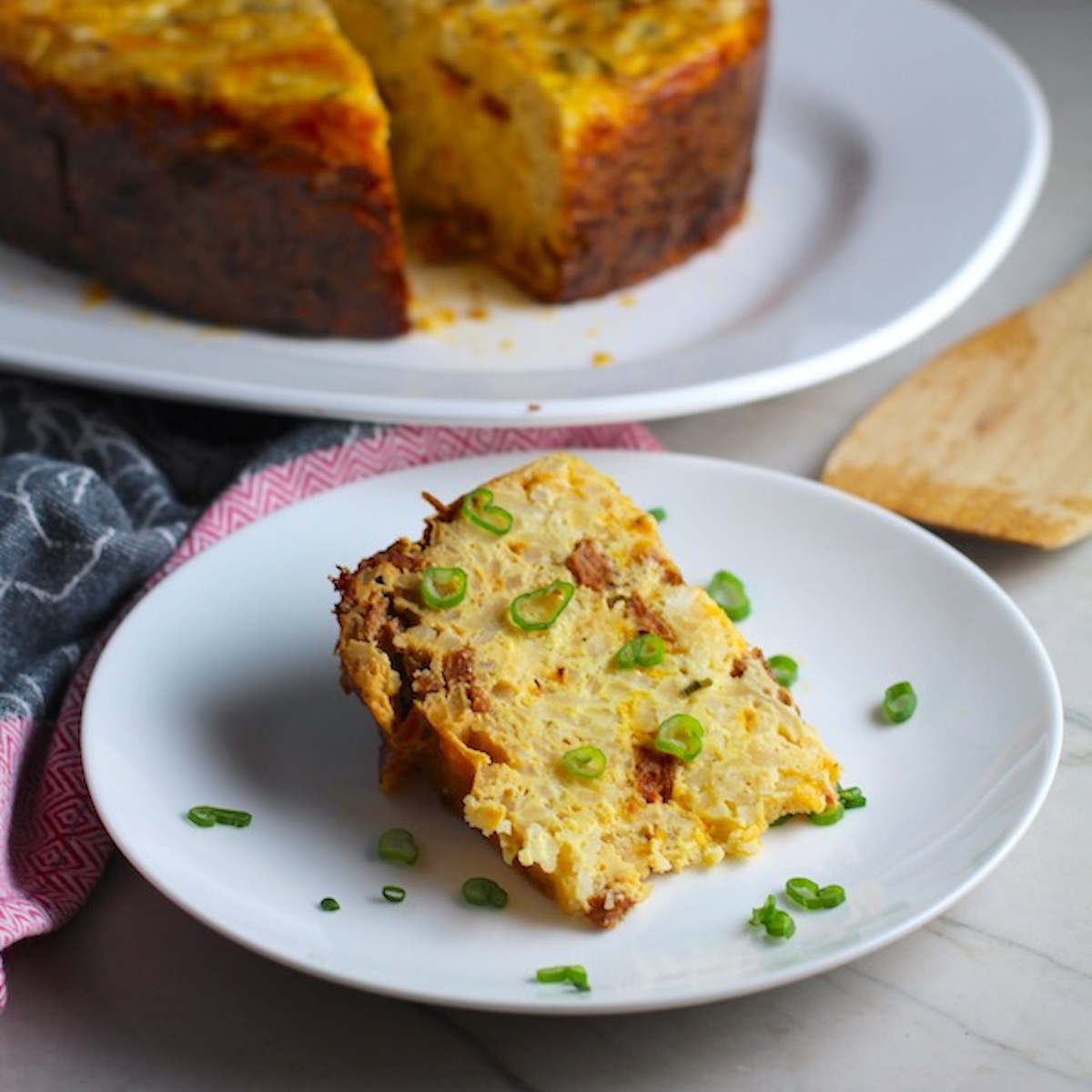 Your bonus is for Easter morning and it's an easy breakfast casserole that cooks while you sleep! That's right, this is a slow cooker breakfast egg casserole that will cook while you sleep. You happily wake up to the amazing aromas of chorizo sausage, cheese, potatoes, and eggs. Try this Slow Cooker scrambled eggs recipe with Chorizo, and Hash Browns Casserole. Just serve with some toast and fresh berries and call it a day!
What are YOUR favorite Easy Easter Dinner Casserole recipes?  Please share in the comments!
😍 Carrie