A Steak Sandwich to die for!   Ok, here we go…get ready to get messy!  This Steak Sandwich has so many flavors and textures piled on between 2 crispy pieces of flatbread.  You will not know how you will fit it in your mouth, you just will – trust me.  The tender flank steak is topped with crisp kale, topped with creamy and salty Feta, topped with tangy and sweet roasted red pepper, topped with Crispy savory onion rings, topped with another salty layer of garlic aioli that comes oozing out with each bite.   This Steak Sandwich WILL fit in your mouth and you will LOVE it!
​Another reason that I like cooking Flank Steak is because it is fabulous grilled and grilling is Dave's specialty.  I pretend that I know nothing about the grill, so that he can feel like the master of that domain and I can get him cooking with me.  Truthfully, he really is a master griller and always does an amazing job with whatever I toss at him, whether it is steak, burgers, vegetables, or fish.  Keep up the great work, Dave and all of the husband-master-grillers out there!
A Steak Sandwich Must-Have: Kale!
Kale…oh my sweet, new friend, Kale.  This is a new marriage, Kale & Steak, in fact I marry Kale with just about anything, so my Kale gets around.  And like any new marriage, Kale and I are still in the honeymoon stage gettin' busy a lot!  Ok, so now the marriage analogy has gone off the road, but you get the picture.  I put kale in my morning smoothie, lunch salads or one-bowl concoctions, and into a variety of dinner dishes.  It's not only incredibly healthy, it's incredibly versatile.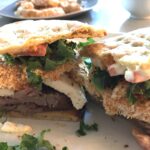 Flank Steak, Feta, Kale, & Crispy Onion Flatbread Sandwich
This sandwich has so many flavors and textures piled on between 2 crispy pieces of flatbread. The tender flank steak is topped with crisp kale, creamy and salty Feta, tangy and sweet roasted red pepper, Crispy savory onion rings, & another salty layer of garlic aioli...YUMMY!
Ingredients
2

Flatbread

2 8-10 inch rounds or squares

Flank Steak sliced thin

4

slices

Feta

4 Thin Slices

½

cup

Kale sliced into thin shreds

½

Medium Red Pepper

1

clove

garlic

minced

¼

teaspoon

salt

¼

cup

mayonnaise

1

tbls

lemon juice

1

Tbls

olive oil
Crispy Onions:
2

eggs

whites only

2

Tbls

milk

½

cup

all-purpose flour

1

teaspoons

smoked paprika

3

teaspoons

kosher salt

1.5

cups

panko breadcrumbs

1

large yellow sweet onion

sliced ½ inch thick
Instructions
Make Crispy Onions & Roasted Red Peppers
Preheat the oven to 450 degrees F. Place parchment or aluminum foil onto 1 large baking sheet, coat with olive oil and set aside.

Slice the red pepper into ¼ inch strips. Place in the corner of baking sheet, drizzle Olive oil, salt & pepper and toss to mix.

Slice onion in half then slice into ½ inch slices. Separate into individual half rings. In a medium size bowl, whisk the 2 egg whites with milk and paprika. In a separate large bowl, mix panko crumbs with 2 Tsp. salt.

Place onion rings into plastic sealable bag and add flour and 1 teaspoon salt. Shake to coat onions with flour. Then add a few of the coated onions add a time to the egg mixture and then transfer to the bowl of panko crumbs shaking to coat evenly.

Arrange on the prepared baking sheets in a single layer, making sure there is space between them. Then place in the oven. Cook until golden brown, 10 to 15 minutes. Halfway through the cooking time, flip over each onion ring to ensure even crisping.
Make additional toppings & Sandwich
Brush 2 flatbreads with olive oil and place in the over directly on the rack for 8-10 minutes or until toasted

Slice the kale into thin strips, if you haven't already done this on the prep day.

Make Aioli (if you did not already prep ahead): In a small bowl, mix the mayonnaise, garlic, salt, lemon juice, and 1 Tbls Olive Oil

Take the leftover steak slices that you cut up previously and place them in a heated sauté pan with a a drizzle of olive oil. Toss in the pan to heat each piece through for 1-2 minutes, but not so much that you over cook the steak.

Start building: Layer the steak on 1 toasted flatbread, then add the feta, then the red pepper, then a few crispy onions. Spread the aioli on the other flatbread and top the sandwich.

Cut in half and plate with the remaining Crispy onions and extra aioli for dipping!