It's that time of year again…Soup Season!!  And, I have some Easy & Tasty Soup Recipes comin' your way.  When a chill hits the air, warm and comforting food, especially soup, is what I crave.  Soup not only warms the body, it truly can warm the soul.  Soup fills your home with comforting aromas and calls everyone to the kitchen together.  It really is for everyone, anytime, anywhere. 
But, in my house, I especially love making Soup for Dinner!  I make it a weekly theme night and will often be found turning leftovers into a hearty soup for round 2.  Soup for Dinner has to deliver on 3 critical criteria:
It must be tasty – for both kids and adults
It must be easy – even on busy weeknights
It must be filling – enough for a meal
Here are 10 of my favorite Easy & Tasty Soup Recipes that are Perfect for Dinner! 
10 Easy & Tasty Soup Recipes for Fall and Winter: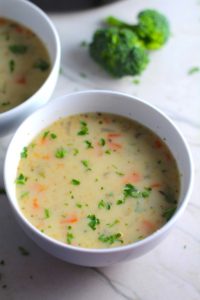 First up on the list, is this irresistible Creamy & Light Broccoli Soup.  It's easy, creamy, comforting, and delicious!  I mean, who doesn't like a creamy soup!  With Carrots, Broccoli, Onion, Garlic, and Oregano, this is one flavorful soup. And, there is no heavy cream, just milk and a little half and half mixed with cornstarch, so you can feel good about eating this gluten free veggie-loaded soup.  Best yet, this cooks in the slow cooker, so it's super easy too!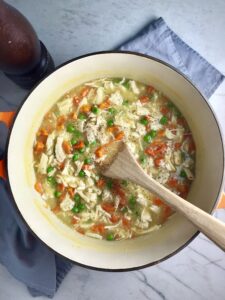 Seriously, who needs noodles when you have such a thick, hearty, creamy, and chunky chicken soup like this one? This 5-Ingredient Chunky Chicken Vegetable Soup is one of those recipes that warms the belly as well as the soul. This Chunky Chicken Vegetable Soup is creamy without the cream (in fact, there is no dairy at all in this dish). It's chunky but light because you don't have the heavy noodles. And with loads of chicken, carrots, and peas, it's full of flavor and texture even though it only has 5 ingredients.
There's seriously nothing better than the comforting aroma of a hearty soup cooking in the house.  Actually, there is one thing better.  Walking into your own house and smelling that comforting soup waiting for you!  This Slow Cooker Chicken and Mushroom Soup is warm, hearty, comforting, earthy, and just devine. The mix of blended and chunky mushrooms with carrots, onions, celery, and shredded chicken gives you a perfect bite every time. Oregano takes it over the edge with flavor giving this soup an herby taste that pairs just beautifully with the mushrooms.
This Golden Corn Soup is thick, creamy, silky and filled with fresh corn flavor and a warm golden turmeric backdrop. The incredible flavor in each spoonful immediately hits your tongue with bright creamy sweetness from the fresh sweet corn. Then it finishes with a silky, warm spice from the turmeric. The entire family will love this corn soup! Oh, it's also a stovetop quickie, so of course that makes me happy!  While I originally posted this recipe as a Chilled Soup, it's just as good hot!
This Creamy Ground Chicken Tomato Soup is creamy and chunky and has a ton of deep flavor.  AND it is healthy!  It uses all white meat ground chicken that you cook until it is incredibly browned for some serious flavor.  Then tomato paste adds the flavor back drop for the soup and a flour roux plus broth creates the amazing creaminess!  Finally Spinach is your veggie boost.  So delicious and so EASY!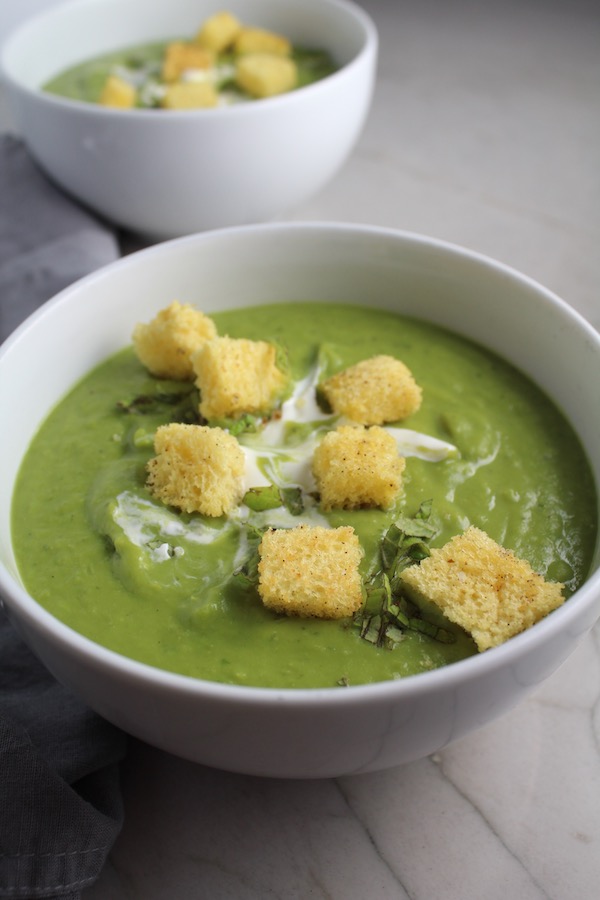 Creamy, sweet, fresh, with a kick…this Zesty Pea Soup with Peas, Jalapeño, and Mint is a delicious new take on the traditional Pea Soup recipe! You get the sweet fresh flavor of the peas with the cool mint, followed by the peppery kick from the jalapeño that gives you a wonderful warmth (not spicy hot) feel in your mouth and keeps you coming back for more. They blend together for the perfect Zesty Pea Soup.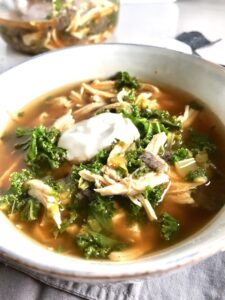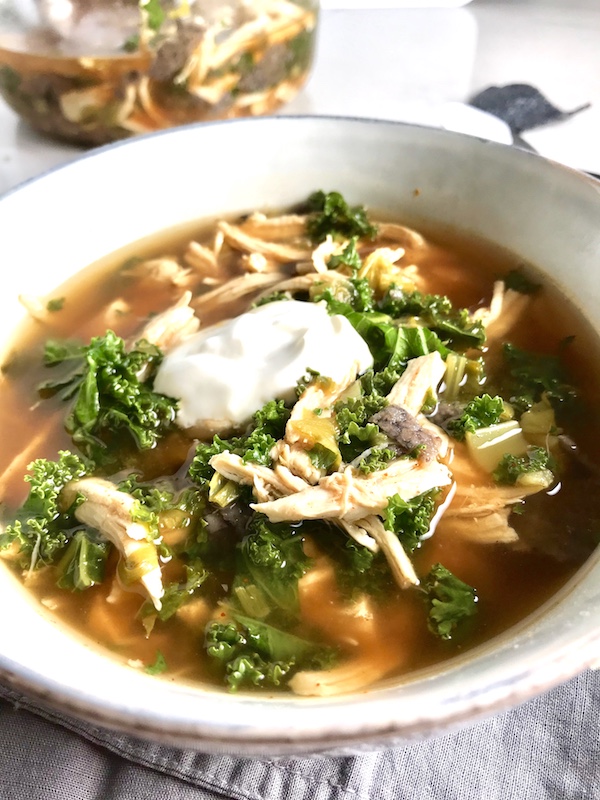 Now, I love my slow cooker for soups, but sometimes, you need a quick fix! This 5-Ingredient Chicken Tortilla Soup is comforting, quick, it's easy, it's delicious AND…it's an all-in-one balanced dish because I have added KALE! Done in 30 minutes, this soup will become your new favorite!
Comfort soups can be good for you too.  This Slow Cooker Detox Cabbage Soup is really easy, low-calorie, veggie-packed, which is a great way to kick off a system cleanse! This soup is light, but filling with cabbage, tomato, carrots, onion, and garlic. It is also so easy because it is made in the slow cooker, but you can make it faster on the stove as well. It is so good for you and so low calorie, that this makes a great dinner, lunch the next day, and snack whenever you get hungry!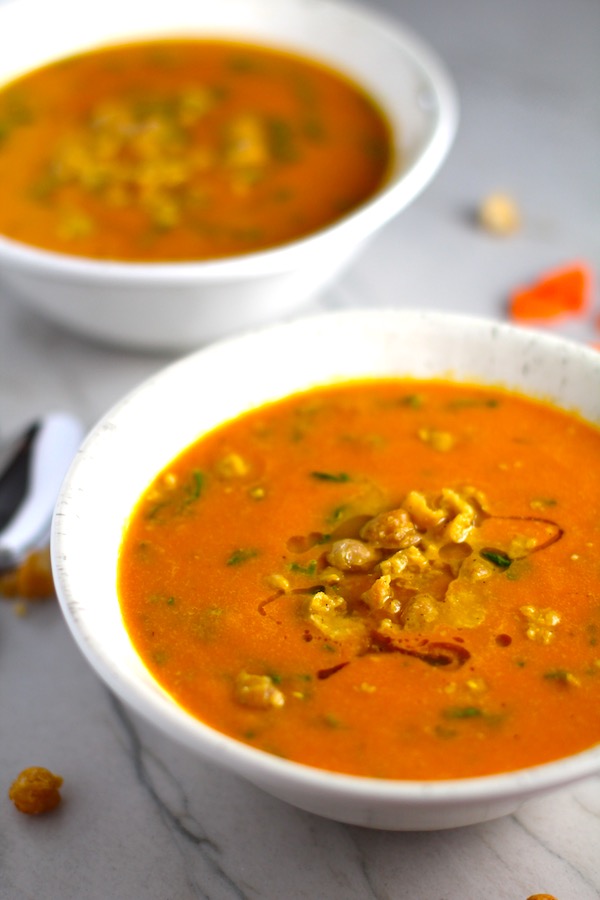 Carrot Soup with Kale and Roasted Chickpeas and Thyme is a creamy and textured make-ahead soup! The carrots give this slightly sweet flavor and creaminess to the soup, while the Chickpeas give it more depth and thicken it up. The thyme brings a gentle earthy and lemony flavor to the dish that blends so beautifully with the carrots for an addictive taste. Finally, the kale gives you texture, something to chew on and brings another hearty layer to this amazing soup!
Now this is a bowl of love. Creamy, delicious, and healthy looooveee, AKA, my Thick & Creamy Healthy Mushroom Soup. This soup is filled with earthy mushrooms, aeromatic onions, flavorful herby oregano, and bright chives. And it's made without cream or flour, so it's lighter and gluten free. But oh so thick and creamy and scrumptious. Definitely a bowl of love.   Check out the recipe!
What are YOUR favorite Fall Soup recipes?  Please share in the comments!
😍 Carrie