Jump to Recipe
What's better than soup?  Chunky and creamy soup!  Specifically, THIS chunky and Creamy Ground Chicken Tomato Soup!
So, check out this soup!  This Creamy Ground Chicken Tomato Soup will have you asking, 'How is this possible?'  How can this no-cream soup be so creamy?  Can white meat ground chicken really taste like ground beef without the fat and calories?  (spoiler, YES!) How can there be so much depth of flavor in this seemingly simple soup?
Well, let me share all my secrets!
This recipe starts with white meat ground chicken.  Super lean.  But, cooked the right way, also Super Flavorful.  You want to sear the meat in a soup pot – and I mean SEAR.  Sear it real good.  Sear it so that you create  a lot of brown stuff in the pan…brown meat, with caked-on brown drippings all over the bottom and sides of the pan.  Brown = Goodness.  Brown = Flavor.  These pictures do not do 'brown' justice.  When you start to worry it has gotten too brown…brown it some more!  Ok, you get the picture 🙂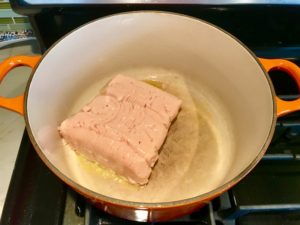 Next, add in the onion and garlic and cook them down with the beautifully browned meat.  Then, add in the tomato paste and oregano and mix in.  Let it cook down and get more browned!  This recipe uses tomato paste vs. tomato sauce or tomatoes because I LOVE the depth of flavor you get and the sauce is primarily creamy with this deep deep tomato flavor backdrop.  We are layering deep flavors on top of deep flavors.
Stir in the flour and mix to fully combine.  Let cook another few minutes to once again…get browned.  Then add in the broth and stir until fully combine and the soup starts to thicken.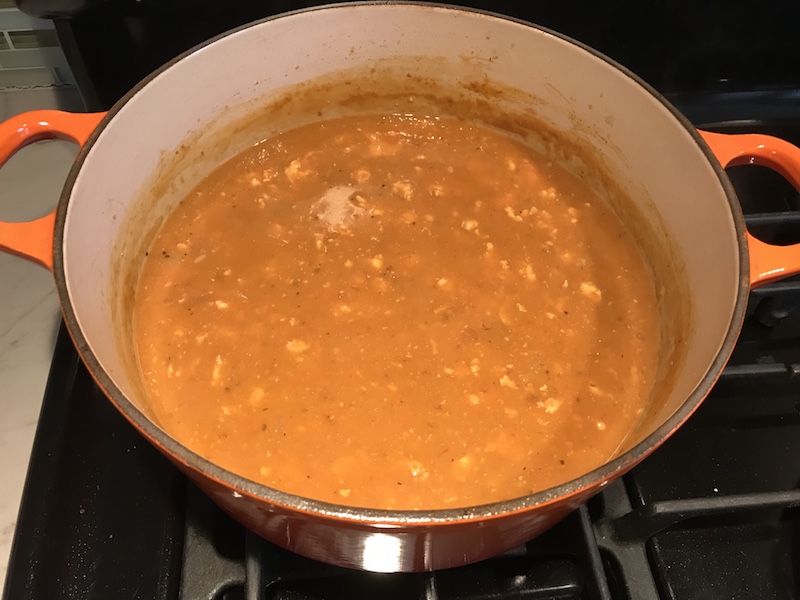 Cover and simmer on low heat for for 30 minutes, stirring every 5-7 minutes.  At the very end, stir in the spinach and turn off the heat.
I love to add a little something cool and tangy to a hot soup and a simple dollop of sour cream slightly stirred on top does the trick beautifully.  I also love to add something special to garnish and give more texture, so in this soup, Pistachios are amazing!
This is THE SOUP of Soups.  Creamy Ground Chicken Tomato Soup.  Try it this week! 😋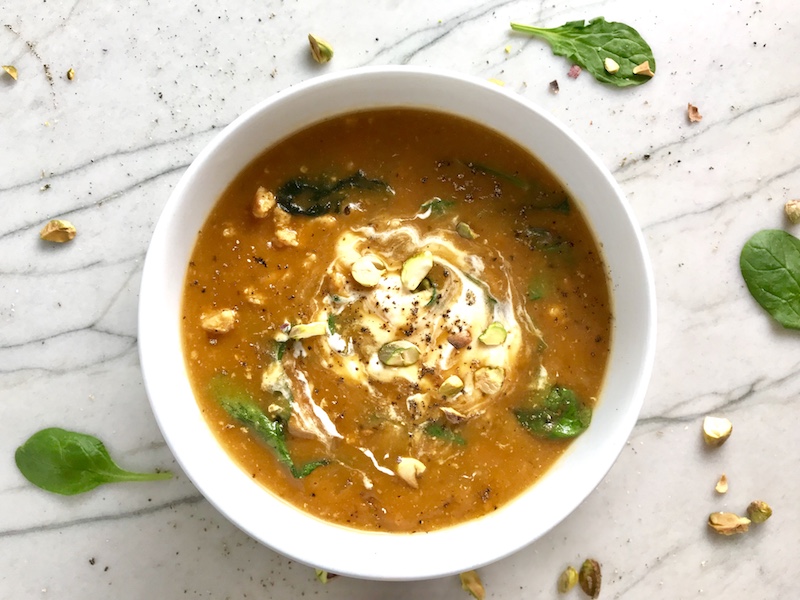 Creamy Ground Chicken Tomato Soup
This Creamy Ground Chicken Tomato Soup is creamy and chunky and has a ton of deep flavor. AND it is healthy! It uses all white meat ground chicken that you cook until it is incredibly browned for some serious flavor. Then tomato paste adds the flavor back drop for the soup and a flour roux plus broth creates the amazing creaminess! Finally Spinach is your veggie boost. So delicious and so EASY!
Ingredients
16

oz

Ground Chicken, white meat

free range, raised without antibiotics

1

tbls

Extra Virgin Olive Oil

1

cup

Onion, diced

or 1 small onion

1

clove

Garlic, minced

2

tbls

Tomato Paste

½

cup

All Purpose White Flour

5

cups

Low Sodium Chicken Broth

¼

tsp

Dried Oregano, crushed

1

cup

baby spinach leaves

1

teaspoon

Salt

Fresh Ground Pepper to taste

¼

cup

Sour Cream

2

tbls

Pistachio Nuts, shelled and chopped
Instructions
Dice the onion and mince the garlic. Chop the Pistachio Nuts.

Set all aside.

To a preheated large soup pot, add 1 tablespoon extra virgin olive oil, then the ground chicken. Break up the meat with a spatula or spoon. Sprinkle in ½ teaspoon of salt and ½ teaspoon of fresh ground pepper.

Stir the chicken until brown on all sides. Let it get REALLY brown on the bottom of the pan, about 5 minutes.

Add the diced onion, minced garlic, and Oregano. Cook stirring so that the onion and garlic don't burn, about 3-4 minutes.

Add the Tomato Paste and stir to mix. Cook another 4-5 minutes until the mixture starts getting even more browned.

Add the flour to the meat and onions and stir to mix it in. Then add the 5 cups broth to the pot and stir. Taste for seasoning and add salt and pepper to taste.

Partially cover so steam can escape and cook for 30 minutes, stirring every 5-7 minutes. The mixture will get thick and creamy.

Add the spinach leaves to the pot and stir in. Test again for seasoning and add salt and pepper to taste.

Garnish with sour cream, pistachio nuts and fresh ground pepper.