Jump to Recipe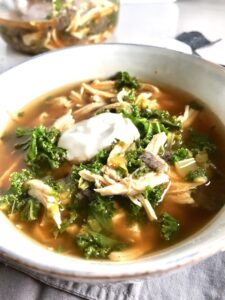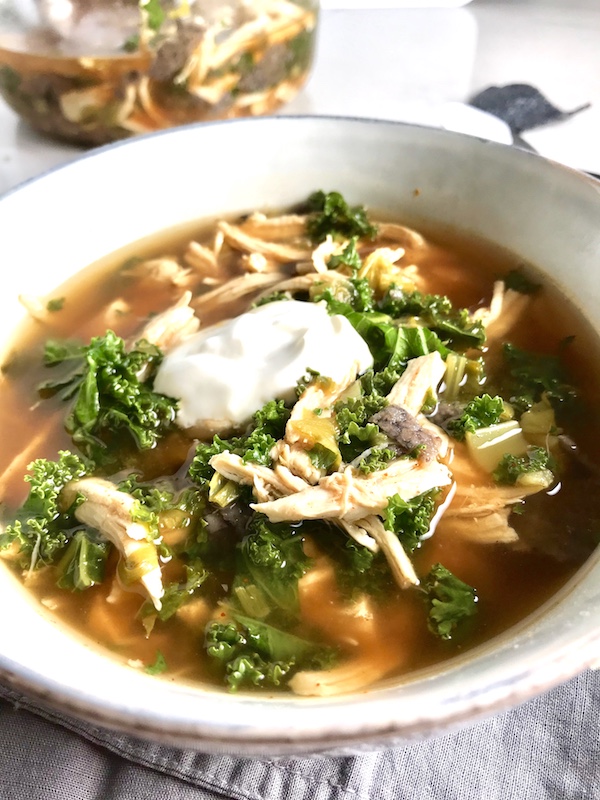 Now, I love my slow cooker for soups, but sometimes, I need a quick fix!  This 5-Ingredient Chicken Tortilla Soup is quick, it's easy, it's delicious AND…it's an all-in-one balanced dish because I have added KALE!  Done in 30 minutes, this soup will become your new favorite 🙂
This is also a fantastic recipe to use leftover chicken in!  Making extra proteins either when prepping on the weekend or just when you are cooking any dinner is smart!  Then you can use the leftover protein in a second dinner – easy and quick!  I have a great free printable cheat sheet for you with 30 Leftover Protein Dinner Ideas!!  Be sure to get this now and put it up in your kitchen for easy reference!
So, what goes into a quickie, 5-ingredient Chicken Tortilla Soup?
Chicken
Scallions
Taco Seasoning
Kale
Tortillas
You also need water, some salt & fresh ground pepper, plus whatever garnishes you may like, such as shredded cheese or sour cream, but seriously, you will not need anything else – it's THAT GOOD!
To begin, you simply place the chicken breasts and scallions into boiling water that you have seasoned with salt and pepper to taste.  You need enough water to cover the chicken with about ¾ inch additional above the chicken.  Boil for 10 minutes or until fully cooked through.  Remove chicken from the liquid, which is now a broth and set aside in the fridge to cool for about 5 minutes.  When the chicken is cool enough to touch, start shredding it all up into small bite-size pieces.
While the chicken is cooling, you can whisk into the broth, ½ packet of your favorite taco seasoning and bring it up to a light boil.  Place the shredded chicken back into the cooking broth and add thinly sliced kale.  Cook for 5 minutes, then add ½ cup crushed tortilla chips and mix into the soup and cook for another 5 minutes.  The tortilla chips will blend into the soup to both thicken it and flavor it with the delicious corn chip flavor.
That's it!  Serve in bowls, garnish with sour cream and more crushed tortilla chips & Enjoy!
5-Ingredient Chicken Tortilla Soup
This Chicken Tortilla Soup is quick, it's easy, it's delicious AND...it's an all-in-one balanced dish because I have added KALE! Done in 30 minutes, this soup will become your new favorite 🙂

Ingredients
16

oz

Chicken breasts, boneless, skinless

2

tablespoon

Chicken Base (Better than Bouillon)

6

cups

Water

2

tablespoon

Taco Seasoning

3

cups

Kale, finely sliced

1

cup

Tortilla Chips, crushed

4

Scallions
Instructions
Clean the Kale, remove the stems and thin-slice it making sure there are no large pieces that are difficult to scoop with a spoon in the soup. Dice the scallions. Crush the tortilla chips.

Bring a medium pot of water, about 5 cups of water, with the scallions (save some of the greens for garnish if you desire) 1 teaspoon salt and 1 teaspoon fresh ground pepper, up to a boil. Add the chicken breasts and boil for 10 minutes or until chicken is cooked through.

Remove chicken to a bowl and put in fridge to cool down. While the chicken is cooling, whisk into the chicken liquid (now broth) ½ of a packet or 1 heaping teaspoon of your favorite taco seasoning. Taste for seasoning and add more taco seasoning as needed (depends on how much cooking liquid you have in the pot and how spicy you want it).

Once cooled, shred the chicken with fingers into small, bite size pieces.

Add the chicken and Kale to the soup liquid and bring back to a light boil for 5 minutes. Add ½ cup of the crushed tortilla chips and stir. Cook for another 5 minutes.

Serve, garnish and enjoy!