There are so many delicious ways to use quinoa.  With lots of fiber and protein, plus other nutrients, it's a healthier substitute for rice.   It's also such a neutral flavor that it can be used in sweet or savory recipes.  Here we have 12 amazing and easy quinoa recipes that you can make for dinner for you and your family.
MORE ABOUT QUINOA
Quinoa, pronounced KEEN-wah, is cooked and consumed much like other grains in recipes.  But it's health benefits are far superior to most other grains.  In fact, the Incas referred to it as the "mother of all grains" thousands of years back and believed it to be sacred. 
However, Quinoa is actually a seed, not a grain, though the texture is similar to a grain.  It has a mild, slightly nutty taste.  Because the flavor is so mild, it really absorbs any flavors you mix with it.  It's a great side or accompaniment to top with sauces or stews.  It's also great when used to bulk up other foods, such as stuffings, as you will see in the Stuffed Tomato recipe below.  It can replace pasta or rice in most recipes.
But the greatest things about Quinoa are the fantastic health benefits.  1 cup of cooked quinoa has 8g of complete protein and 5g of fiber.  There are very few plant-based foods that provide complete proteins with all essential amino acids.  You typically need to find this in animal proteins, but Quinoa delivers this!  It also has Iron, Manganese, Lysine, and magnesium!  Combining quinoa with veggies, such as Asparagus here gives you a complete balanced meal with vitamins, fiber, protein, and other nutrients.
So, without further ado, here are…
12 DELICIOUS & EASY QUINOA RECIPES FOR FAMILY DINNERS:
First up on the list are Ground Beef Taco Quinoa Bowls.  These are so darn tasty, versatile, and easy to make so they are perfect for busy weeknights! Everything can me prepped and cooked ahead, so you only need to reheat and enjoy. The base of these bowls is the Quinoa, which is lightly seasoned and is a perfect fluffy backdrop. It's topped with saucy ground beef that's loaded with savory and smoky Mexican flavors from the chili powder, cumin, garlic, and scallions. Corn that is slightly seared brings a pop of sweetness. The Cotija cheese brings tang and creaminess and the tomato a burst of freshness. The avocado adds rich creaminess and the cool cilantro lime crema brings that final bright finishing touch.  If you are at all worried about your family accepting quinoa, this is a great way to try it!
When it comes to easy quinoa recipes, you probably don't think 'risotto', but now you will!  This Asparagus and Tomato Quinoa Risotto is quickie-version that's such a hearty, delicious, and healthy dinner. It's yet another way to incorporate that fantastic superfood, Quinoa, into your dinner rotation! The Quinoa beautifully absorbs and plumps up with all of the flavor from the broth, onions, garlic, tomato paste and oregano. Then cut asparagus is mixed in along with nutty and creamy parmesan cheese for a perfect finish.  You don't need a meat to go with this, but you certainly can add a simple grilled chicken, steak, or fish to it to complete the meal.
Quinoa and Black Bean Burritos are a scrumptious eat-with-your-hands family, dinner! They are packed with protein and fiber, but also ooey-gooey cheese, tomato, cilantro, and sour cream! The 'meat' in this recipe is a flavorful taco-seasoned quinoa, black bean, and cauliflower filling. I mean, could it get any healthier!? But yet, it looks like a traditional burrito and I'm telling you, it tastes like on too.  These burritos are also such an easy Meal Prep idea because you can prep them entirely ahead and wrap them individually in foil to store in the fridge. Then toss them into the oven to warm through.  They make a great snack after school, a quick lunch or dinner, or even a breakfast if you add some scrambled eggs inside.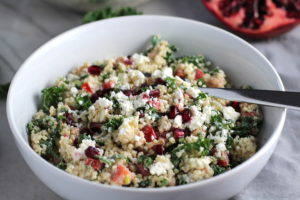 Welcome to your new breakfast, lunch, dinner, and snacks in between OBSESSION! This Quinoa and Kale Salad with Roasted Chickpeas and Creamy Lemon Dressing has everything you could ever want in a meal. It's fresh, light, and bright from the lemon dressing, kale, scallion, and red pepper. Then it's hearty, nutty, and salty from the quinoa, roasted chickpeas and Feta Cheese. And then you get a burst of fresh sweetness from the pomegranate seeds. And all of the different textures will make your mouth so happy!  Salads are super easy quinoa recipes. Not only only are they delicious and good for you, they are also incredibly versatile and can be made well in advance to enjoy all week!  Add a small container in your child's school lunch, pack some for work, or eat for dinner!
Casseroles are one of the best make-ahead options for busy families and a classic combo is broccoli and cheese. Usually, it's made with rice, but this is a healthier version that's made with Quinoa! Get ready for a comfy and cozy Broccoli Cheese Quinoa Bake that's a simple side or main dish any weeknight!  This recipe comes together easily and gives the most amazing flavor. The quinoa is hearty, creamy, and flavorful, but also super healthy, loaded with fiber and protein! The broccoli brings color, vitamins, and texture. The cheese, well, it's creamy and delicious! You can make this casserole entirely ahead and reheat any busy night! It's a balanced meal on it's own, but you can add chicken, meatballs, or any other easy meat that your family loves.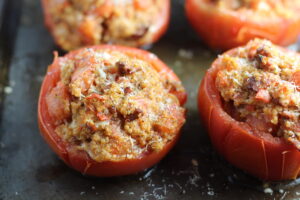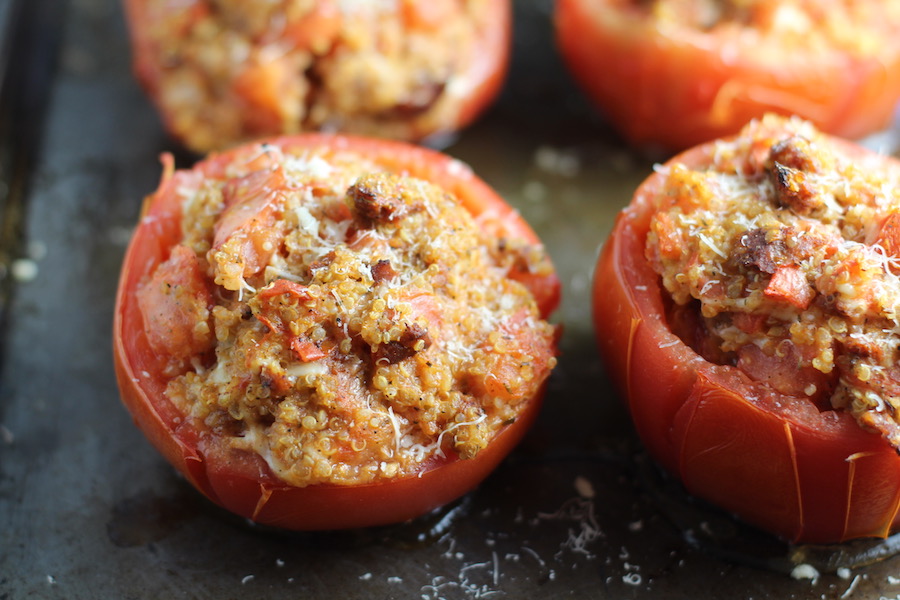 Stuffed Tomatoes are little treasures! And these Stuffed Tomatoes with chorizo, quinoa, parmesan cheese, mozzarella, chives, garlic, and oregano are simply divine! Juicy tomatoes are hollowed out and the insides are mixed with these amazing ingredients and then stuffed back in. You get the warm juicy tomato with a salty and hearty center. Each bite is salty, peppery, creamy, and incredibly flavorful! These can be stuffed ahead and then baked right before serving and are great as either a side or a main!!
Raise your hand if you love cooking, but I hate doing dishes. I don't know about you, but in my house, there are always dishes piling up! That's one of the reasons I LOVE this Mediterranean Sheet Pan Dinner for easy cleanup! It has hearty and satisfying chicken sausage, creamy and bright zucchini. and crispy nutty chickpeas. Everything is infused with Mediterranean flavors from the garlic, oregano, and olive oil. Serve over quinoa with a few dollops of seasoned Ricotta and you gotta one heck of a delicious dinner!
This Quinoa Crust Tomato Tart has artichoke hearts, goat cheese, basil, and garlic. It's a healthy alternative to pizza, but still gives you all the pizza feels with incredible taste! This was inspired by another recipe, my Bruschetta Topping with fresh tomatoes, artichoke hearts, and creamy goat cheese. Add some mozzarella and pile it all on a healthy Quinoa Crust and you have an AMAZING and healthy tart! I love this recipe because you get crunch from the crust, a burst of fresh from the tomatoes, tons of flavor from the basil and garlic, tang and meatiness from the artichoke and so much creaminess from the mozzarella and goat cheese! It's addictive and delicious!
This Creamy Cajun Beans and Cauliflower over Quinoa is a vegetarian dish for EVERYONE! Kids, adults, meat eaters, and veggie lovers will all love this recipe. The not-too-hot fantastic cajun flavors combined with healthy garbanzo beans, black beans, cauliflower, and mushrooms make this a hearty, creamy, and delicious dish. Creaminess comes from creating a roux and then using low fat milk and broth, no fattening/high-calorie heavy cream here!  For busy weeknights, you can make the cajun beans and cauliflower ahead, as well as the quinoa.  Store both in the fridge and then quickly warm up and serve together any night.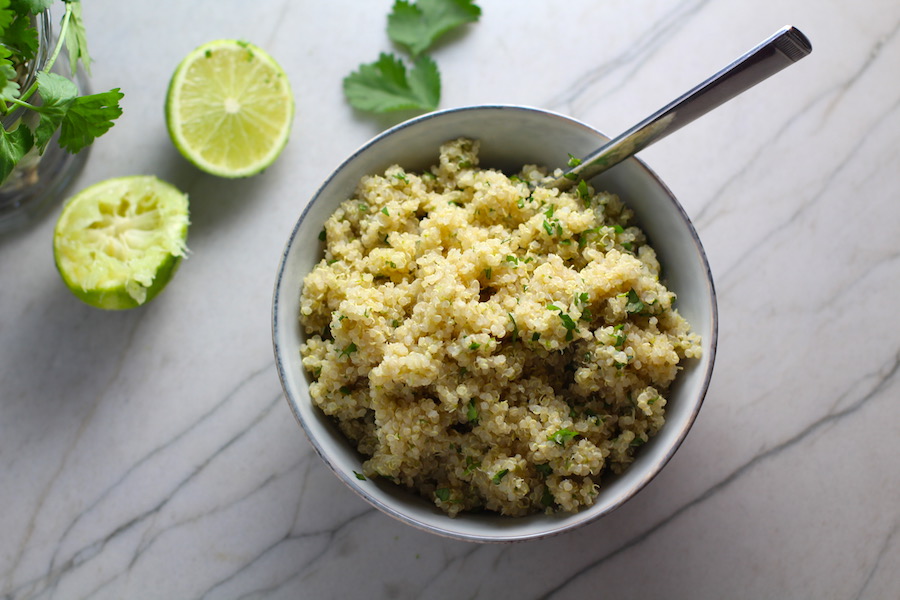 This Cilantro Lime Quinoa Side Dish is fluffy, nutty, citrusy, salty, and the perfect accompaniment for any protein or vegetable! With just a few simple ingredients, you can make this fantastic healthier alternative to rice. Just 25 minutes to cook the Quinoa, 3 ingredients, and this is yours too!  It goes great with Garlic Lime Shrimp or Sweet and Sour Chicken Kabobs or Roasted Cumin Carrots with Avocado Crema or just about any grilled, broiled, or roasted protein or veggie!
This Sunny Quinoa with Fried Egg & Veggie Medley with only 6 ingredients, is so simple, but incredible because the combination of flavors is just perfect together. And if you have never had a fried egg with the yoke oozing over your rice or pasta or, in this case, quinoa, you are missing out and have gotta try this. The yoke brings a natural creaminess to the dish that you just cannot get from anything else.  This is another dish that's great for breakfast, brunch, lunch, or dinner.
Last, but not least, another easy quinoa risotto! This Creamy Parmesan Mushroom Quinoa Risotto is truly one of my all time favorite recipes!! You get the garlic flavor in the background and the nuttiness from the Parmesan combined with the earthy mushrooms. The quinoa soaks up the broth just as rice does so you make it the same way until it becomes creamy deliciousness.  I suggest rounding out the dinner by adding a simple grilled chicken or steak.  Or how about a super flavorful Paprika Chicken for a smokey and peppery addition?
What are YOUR favorite Quinoa recipes?  Please share in the comments!
😍 Carrie