Prepare your pantry for easy last-minute dinners! Here are 10 Easy Pantry Dinner Recipes, Pantry Must-Have grocery list, and more!
Pantry Dinner Recipes to the rescue!  Of course, most of the time we want dinners filled with fresh food.  However, there are times when digging through the pantry and freezer to concoct something for dinner becomes a necessity.  Maybe it's after having a baby, or nursing an injury, taking care of a loved one, or even being (ehem) quarantined to your home.  Whatever the reason, there will come a day that you need your pantry and freezer to work hard for you!  
Here are 10 Pantry Dinner recipes where you can lean on the pantry and the freezer to help you in a pinch!  
What is a Pantry Dinner?
My definition of a Pantry Dinner for this post, is a complete meal that is entirely made with ingredients that are stored in the pantry or freezer with a shelf life over 1 month.  In other words, it's a meal that you can make with ingredients on hand and does not require anything fresh.
I have also put together a Pantry Must-Haves Grocery List with Quick & Easy Dinner Ideas! Print this list and stock up.  The dinner ideas provided here are in addition to the recipes below.
Technically, the pantry is where you store ambient, or room temperature foods.  This could be grains and pasta, canned goods, seasonings, as well as produce that does not need to be refrigerated, such as onions or potatoes.  However, for this post, I'm expanding 'Pantry' to include freezer foods since they also can be stored for months.
There are some pantry items that can actually last you much longer if you freeze them, such as sesame seeds or nuts.  Be sure to check out my 10 Freezer Hacks to make easy dinners for more like this.
Use Your Freezer For Easy Dinners
The freezer can be a huge friend in the kitchen, helping you to keep fresh veggies, meats, and so much more on hand.  You will see that I have recommended easy freezer-prepped items for each recipe.  Be sure to check out the full printable cheat sheet with 10 Freezer Hacks to make easy dinners!
For fruits and veggies, I suggest dicing them and then freezing them on a sheet pan, then transferring them to portioned freezer bags or storage containers.  When cooking with these, you can add them to the skillet, pot, or pan frozen, you do not need to thaw them first.
For Herbs or leafy veggies, such as spinach, I wash and then dry the leaves completely.  Then lay flat on a sheet pan to freeze.  Transfer to storage container.
For raw meat or fish, you can bring it home from the grocery store and immediately freeze it raw.  When you are ready to cook it, thaw it in the refrigerator for 1-2 days.  
For cooked meats, I suggest freezing the following cooked meats: ground, shredded, pulled or diced…beef, pork, or chicken.  For these, I suggest reheating them directly from the freezer and not thawing them out first.
10 Delicious & Easy Pantry Dinner Recipes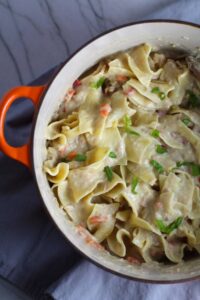 This Stove Top Tuna Casserole is a creamy and delicious comfort dish. It's full of flavor with tuna, carrots, scallions, cheddar cheese, noodles, and a surprise pop of sweet from Pimiento. This recipe is completely from scratch (no canned soup here!) but I can promise you it's so easy and only takes 30 minutes because it's a Casserole that you can make entirely on the stove top!
Pantry:

Noodles, Tuna, Olive Oil, Flour, Broth, Pimiento

half & half or milk (or broth) – Here you will probably need to swap for broth unless you have shelf-stable milk or half & half in the fridge

Freezer:

Carrots and Scallions – I love to dice these raw and then store them in the freezer for soups, skillets, or casseroles 
shredded cheddar – this stores so wonderfully in the freezer
butter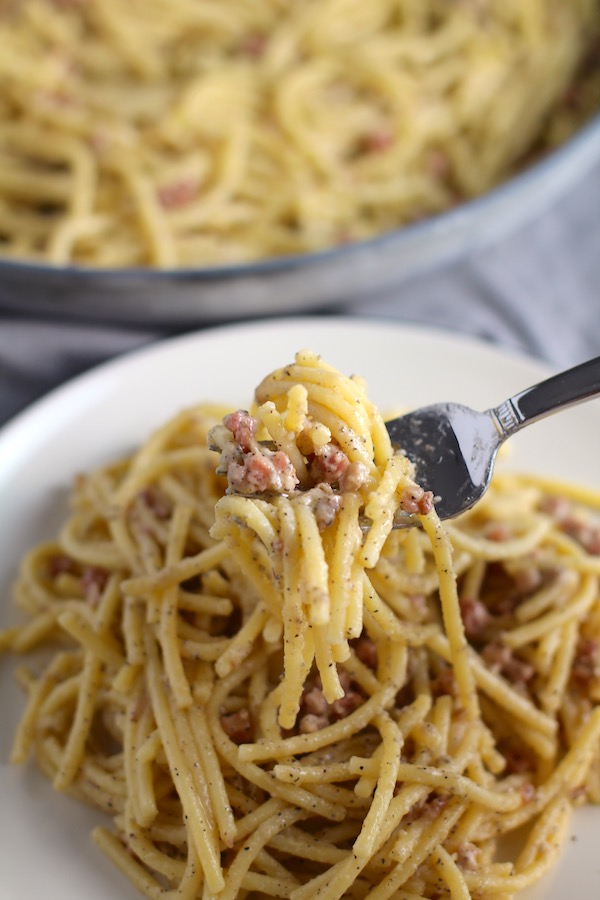 This 30-Minute Quick & Easy Pancetta, Parmesan, and Pepper Pasta is a creamy, peppery, and absolutely delicious pantry dinner.  The Pancetta is diced to give a salty and slightly peppery flavor and meatiness in every bite. The Parmesan cheese creates this nutty, salty, and creamy sauce coating every piece of pasta. And last, but not least, the ground black pepper gives that peppery flavor that really makes this pasta stand out.
Pantry:

Spaghetti, Extra Virgin Olive Oil, Salt, Black Pepper

Freezer:

Pancetta (diced), Grated Parmesan Cheese, Minced Garlic, Fresh Squeezed Lemon Juice portioned or frozen in a baggie very thin so you can break off frozen pieces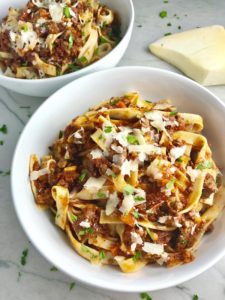 Slow Cooker Beef Bolognese is a souped-up version of the traditional Italian Meat Sauce made EASY by cooking it in the slow cooker!  It's rich, creamy, meaty, and of course filling.  It's a perfect pantry dinner because you can make tons of it ahead and freeze it in batches for months to come.  The flavors of the tomatoes, carrots, celery, onions, garlic, wine and meat become one and turn into this amazing thick sauce. 
Pantry:  Tomato Paste, Whole Peeled Tomatoes, Dry Red wine, Italian Seasoning, Bay Leaf, dried Italian Parsley (or frozen), Salt, Fresh Ground Pepper, Fettuccine
Freezer: diced Pancetta, Lean Ground Beef, diced Carrots, diced Celery, diced Onion, minced Garlic, grated Parmesan Cheese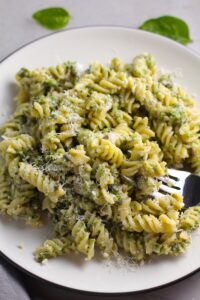 Broccoli Pesto Pasta is creamy, hearty, delicious AND good for you!  It has all of the classic pesto flavors from garlic, basil, parmesan cheese, and pine nuts. But rather a huge punch in the face of garlic, it's a bit more mellow – and healthier for you – by adding broccoli!  This pantry dinner is another one that can be made ahead and stored in the freezer, at least the pesto can.  Then cook up some pasta, thaw the pesto and enjoy!
Pantry:  Extra Virgin Olive Oil, Salt, Black Pepper, Fusilli Pasta

Freezer:

  I recommend making the pesto entirely ahead and freezing it.  However, you can also freeze some or all of these ingredients:

Chopped and cooked broccoli, minced garlic, pine nuts, basil leaves, grated parmesan cheese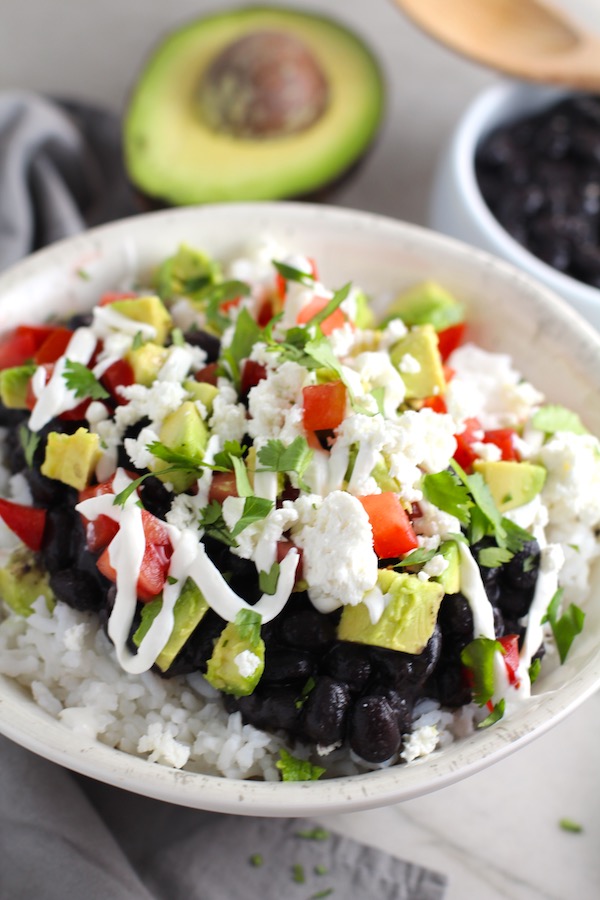 Black Bean Taco Bowls have fluffy rice with smoky black beans, creamy avocado, salty Cotija cheese, cool tangy sour cream, fresh tomato, and bright cilantro. This Black Bean Taco Bowl Bar lets everyone fills their bowl with any of the toppings that suits their fancy. You can load 'em up and the kids can pick and choose.
Pantry:  Black Beans, Chili Powder, Cumin, Salt, white Rice, tortilla chips

Freezer: 

Minced garlic, fresh cilantro leaves, sliced scallions, crumbled or grated cotija cheese

Optional:

If you are able to and want to add these garnishes, then sour cream, avocado, and tomato are best fresh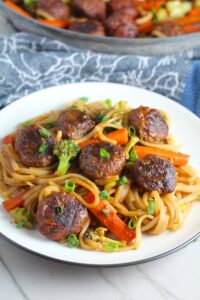 These Teriyaki Meatballs are sweet, salty, tangy, and so incredibly moist and addictive. The garlic, ginger, scallion, red bell pepper, and soy sauce all infuse the meatballs with the most amazing flavor. Combined with a simple Garlic & Ginger Soy Veggie Stir Fry and served over rice noodles, it's a perfect family dinner. Drizzle over or dip the meatballs in the tangy Teriyaki mustard sauce and they burst with even more flavor.
Pantry:

Panko Breadcrumbs, Extra Virgin Olive Oil, Chili pepper flakes, Vermicelli Rice noodles
Store these in fridge after opening: Soy Sauce, Sesame Oil, Teriyaki sauce, Dijon Mustard

Freezer:  Lean Ground beef, sliced scallions, minced garlic, minced ginger, raw sliced red bell pepper, blanched broccoli florets, sliced blanched carrots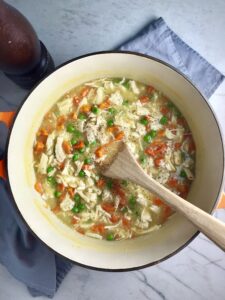 This 5-Ingredient Chunky Chicken Vegetable Soup is creamy (but there is no dairy!) and chunky, and delicious! With loads of chicken, carrots, and peas, t's full of flavor and texture even though it only has 5 ingredients. With a soup this chunky and hearty, who needs noodles!  
Pantry:

Bouillon Cubes or Granulated bouillon or chicken base, Cornstarch, Salt, Black Pepper
Freezer:  Cooked and shredded chicken breasts, sweet peas, diced Carrots
Meatballs in Cauliflower Dill Cream Sauce are easy, healthy-ish, and delicious! The Meatballs are swimming in a beautiful creamy light pink Cauliflower Cream sauce flavored with garlic, fresh dill, and a touch of tomato paste. Oh, and cream cheese because, well, every sauce just tastes better with cream cheese!  This is a fantastic freezer meal that you can make ahead and pull out months later.  Simply freeze the meatballs raw and put directly into a 400 F degree oven for 20 minutes.  Freeze the Cauliflower Cream Sauce and thaw when you are ready to enjoy it, warming it up on the stove.
Pantry:

Tomato Paste, Dill, Chicken Base or Bouillon, Salt, Pepper, Pasta, Extra Virgin Olive Oil

Freezer:

Lean Ground Beef, blanched Cauliflower florets, minced garlic, cream cheese, grated parmesan cheese, sliced scallion

Non-Pantry/Non-Freezer Items:

Milk – swap with broth or water
Egg for the meatball binder – If you do not have any eggs on hand at all, you can substitute with 2 tablespoon buttermilk or 3 tablespoon yogurt or if all else fails, add 2 tablespoon water + 2 tablespoon more parmesan
This Creamy Ground Chicken Tomato Soup is creamy and chunky and has a ton of deep flavor. AND it is healthy! It uses all white meat ground chicken that you cook until it is incredibly browned for some serious flavor. Then tomato paste adds the flavor back drop for the soup and a flour roux plus broth creates the amazing creaminess! Finally Spinach is your veggie boost. So delicious and so EASY!
Pantry: 

Extra Virgin Olive Oil, Tomato Paste, All Purpose White Flour, Low Sodium Chicken Broth, Dried Oregano, Salt, Black Pepper 

Freezer:

Ground Chicken, diced Onion, minced Garlic, baby spinach leaves

Optional Topping:

Sour Cream
Family Chickpea Coconut Curry with Vegetables is a creamy, crunchy, and filled with warm, soothing, yummy flavors. You get nutty roasted chickpeas, with sweet and creamy coconut milk. Then lots of crunch and texture from the sweet red bell pepper, zucchini, and onion. Finally, I took a little inspiration from Thai Curry and added in aeromatic fresh basil, which brings a wonderful fresh finish. It's all served on top of fluffy rice that soaks up the delicious sauce.
Pantry:

Long grain White Rice, Coconut oil or Extra Virgin Olive Oil, chickpeas, Vegetable Broth, Cornstarch, Coconut Milk, Curry Powder, Cayenne Pepper, Honey, Salt, Ground Black Pepper

Freezer: 

Sliced Raw Red Bell Pepper, diced onion, minced garlic, minced ginger, basil leaves

Non-Pantry/Non-Freezer Items: 

This recipe has zucchini, which frankly does not freeze well without getting mushy, so I would look to other veggies, such as broccoli or carrots if you do not have fresh zucchini. 
Once again, be sure to get these printable Cheat Sheets for more tips and ideas: