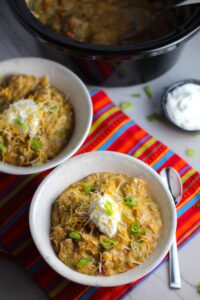 Make Ahead Freezer Meals can be a dinner saver for busy families!  You know those days that you are racing home from a late meeting or going from piano to gymnastics and not getting home with the kids until 7pm?  Well, Make Ahead Freezer Meals are great for those nights!  These are frozen meal kits where you put all of the raw ingredients into a freezer storage container or bag and freeze it for up to 3 months.  Then thaw the day before and either pour into the slow cooker the morning of or onto a sheet pan when you get home.  That's it, one bag, one cooking vessel, one hot dinner ready to go!!!
"I feel like we are in a dinner rut with 3-4 easy dinners in the rotation"
Sound familiar?  Of course it does!  You are freaking busy!!!!  Do you have a job, kids, activities, or all of the above?  Yes!  You have LIFE going on!  So, you likely turn to what you know and what is easy when it comes to dinners.  However, if you spend 10 minutes throwing all ingredients in a freezer bag, you can try something totally new!!!  I have covered family-friendly flavors across Asian, Moroccan, Mexican, Italian-ish, and American cuisines.
These Make Ahead Freezer Meal recipes meet the most important criteria for busy families:
EASY TO MAKE – Easy to new put the Make Ahead Freezer Meal together in 10 minutes
NEW FAMILY FRIENDLY FLAVORS – the kids will enjoy them too!!
BALANCED MEALS – with protein and veggies
EASY TO COOK – Cooking is either done in a slow cooker so it's ready when you are or takes 30 minutes on 1 pan in the oven.
Do you have a slow cooker?
Actually, just before I share the recipes with you, I wanted to make sure I shared what I used to cook many of them.  I absolutely love love love my easy and simple (and not expensive) Crock-Pot.  I have the 6-Quart version with 5 settings (low 4-hour, low 6-hour, high 8-hour, high 10-hour, and warm).
You can order this today and have it in a few days to start your Slow Cooker Cookin'!
5 MUST-TRY MAKE AHEAD FREEZER MEALS
(Clicks links for full recipes)
This Make-Ahead Freezer Hoisin Chicken with Red Peppers, Carrots, Onions, Ginger, and Soy sauce is absolutely delicious and so easy to make. You get sweet and savory all in one dish and it's perfect for families with kids because it's sweet, not spicy at all. All ingredients go into a freezer bag, you thaw the night before, and then cook on a sheet pan…so EASY! Of course, you don't have to freeze this, you can just make it, but let's face it, we could all use some meals ready for us on those insanely, crazy, busy nights!
This Prep-Ahead Freezer Creamy Tomato Soup with Ground Chicken and Spinach is creamy and chunky and has a ton of deep flavor. AND it is healthy! It uses all white meat ground chicken that you cook until it is incredibly browned for some serious flavor. Then tomato paste adds the flavor back drop for the soup and a flour roux plus broth creates the amazing creaminess! Finally Spinach is your veggie boost. So delicious and so EASY!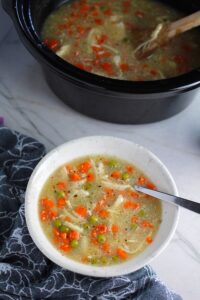 This 5-Ingredient Homemade Chicken Soup is thick, creamy (but, no dairy!), and hearty. It's filled with flavorful broth, meaty shredded chicken, and sweet bursts of bright veggies. But, this version is also the easiest ever because you prepare all of the ingredients ahead (even months ahead) and freeze them until you are ready to cook this wonderful meal. Then you thaw, pour all of the ingredients into the Slow Cooker, set and forget. Forget until those amazing and comforting aromas remind you that you have a Homemade Chicken Soup waiting for you!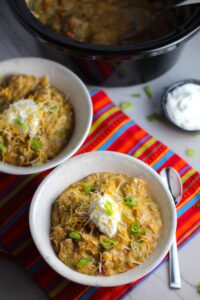 This Chipotle Chicken Enchilada Stew is creamy, cozy, hearty, cheesy, and slightly spicy. This Stew is a Prepped Freezer Meal recipe, which means it's a great option to prep ahead and easily make for dinner on a busy weeknight. Ingredients freeze raw, thaw, then cook in the slow cooker or in the oven. It's a stew because it's thick and hearty with bites of chicken, carrots, onion, chipotle peppers in adobo sauce for spice, cumin, garlic and lots of tortilla chips that melt down to thicken this delicious stew.
Moroccan Chicken Chili with Chickpeas and a Cilantro Lime Yogurt is loaded with comforting, healthy, and even healing ingredients and spices. You get the warmth from the Ginger, Turmeric, Garlic, and Coriander. Tons of flavor comes from really browned ground chicken and Shallots. And you get creamy heartiness from the Carrots and Chickpeas. Finally, you get the cool and tangy balance from the Cilantro Lime Yogurt. This Moroccan Chicken Chili has so many warm spices and flavors, it will become a favorite. I like to serve this over white rice, but you can definitely eat it by itself.
I hope you try these Make Ahead Freezer Meals and if so, please let me know what you thought in the comments!
😍 Carrie