When sweaters and jackets come out, so does my beautiful, life-changing, depend-on-it-during-cold-weather SLOW COOKER!  And so do my Easy Slow Cooker Recipes!  My slow cooker is one of my most beloved kitchen appliances.  Not only does a slow cooker make wonderful food, it helps to make your life easier and gives you peace of mind.  You can fill the slow cooker in the morning and let it cook all day while you are at work.  You come home to delicious and comforting aromas and have a warm dinner waiting for you.
Here are 8 Delicious and Easy Slow Cooker Recipes that you can make this Fall and Winter for you, your family, and your friends.
Do you have a slow cooker?
Actually, just before I share the recipes with you, I wanted to make sure I shared what I used to cook them.  I absolutely love love love my easy and simple (and not expensive) Crock-Pot.  I have the 6-Quart version with 5 settings (low 4-hour, low 6-hour, high 8-hour, high 10-hour, and warm).
You can order this today and have it in a few days to start your Slow Cooker Cookin'!
8 Delicious & Easy Slow Cooker Recipes for Fall and Winter: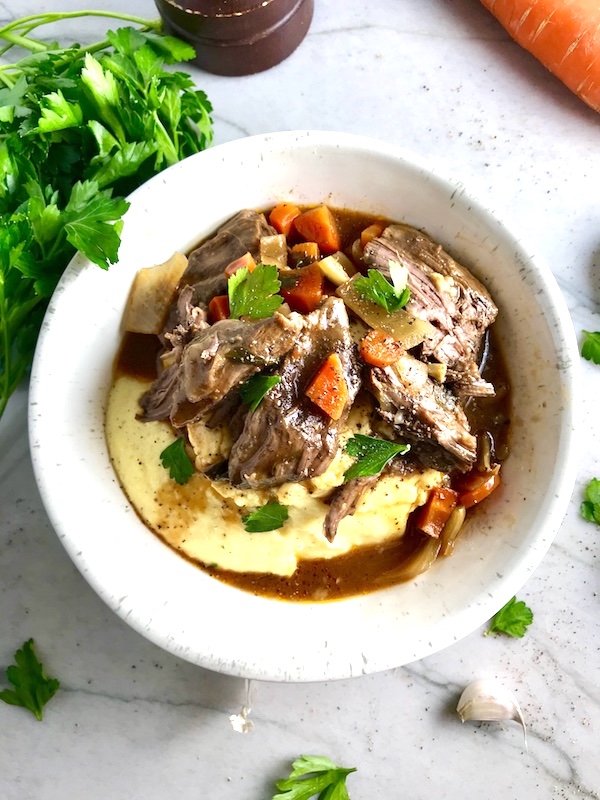 Easy Slow Cooker Short Ribs are always a show-stopper and the perfect main dish for entertaining.  I have made them for holiday dinner parties, for Sunday family dinners, visits from out-of-towners, and thank you meals for friends.  They are incredibly decadent and taste like you slaved away in the kitchen for your guests.  The flavors from the onion, carrots, demi-glace, thyme, and garlic all seep into the meat, which is fall-apart tender and absolutely delicious.  These Easy Slow Cooker Short Ribs taste amazing with Creamy Parmesan Polenta, so check out that recipe too!
Ok, my fellow Mushroom Lovers, this Slow Cooker Chicken and Mushroom Soup is for you!  It's warm, hearty, comforting, earthy, and just devine. The mix of blended and chunky mushrooms with carrots, onions, celery, and shredded chicken gives you a perfect bite every time. Oregano takes it over the top with flavor giving this soup an herby taste that pairs just beautifully with the mushrooms.  You can stretch this soup and make it more of a stew by serving it over rice or pasta too!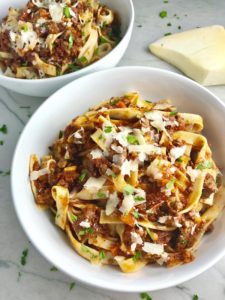 Slow Cooker Beef Bolognese is a souped-up version of the traditional Italian Meat Sauce made EASY by cooking it in the slow cooker!  It's rich, creamy, meaty, and of course filling.  Perfect for crowds since everyone loves a good meat sauce or just make it for your immediate family with leftovers.  Beef bolognese is a traditionally cooked slowly on the stove for hours.  The flavors of the tomatoes, carrots, celery, onions, garlic, wine and meat become one and turn into this amazing thick sauce. My recipe adds even MORE FLAVOR with Pancetta and Demi-Glace and then it all cooks in the slow cooker so you can go about your busy day!
This Slow Cooker Ground Chicken & Artichoke Ragu is a healthier meat sauce that is loaded with veggies.  It's hearty, creamy, and has so many different flavors and textures.  The ground chicken is seared to get this perfect browned flavor. The tomatoes, red peppers, and artichoke hearts cook down into a hearty ragu. But the most unique part of this recipe, the secret ingredient, is hummus! Yes, the hummus brings a creamy, earthy and  deep backdrop of flavor.  This is wonderful to eat with pasta, rice, a baked potato or on quinoa.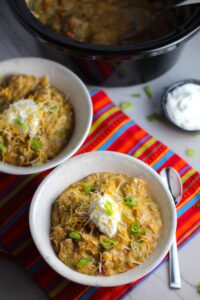 This Chipotle Chicken Enchilada Stew is creamy, cozy, hearty, cheesy, and slightly spicy. This Stew is a Prepped Freezer Meal recipe, which means it's a great option to prep ahead and easily make for dinner on a busy weeknight. Ingredients freeze raw, thaw, then cook in the slow cooker or in the oven. It's a stew because it's thick and hearty with bites of chicken, carrots, onion, chipotle peppers in adobo sauce for spice, cumin, garlic and lots of tortilla chips that melt down to thicken this delicious stew.
Comfort soups can be good for you too.  This Slow Cooker Detox Cabbage Soup is really easy, low-calorie, veggie-packed, which is a great way to get some healthy in between the holiday feastes! This soup is light, but filling with cabbage, tomato, carrots, onion, and garlic. It is also so easy because it is made in the slow cooker, but you can make it faster on the stove as well. It is so good for you and so low calorie, that this makes a great dinner, lunch the next day, and snack whenever you get hungry!
Moroccan Chicken Chili with Chickpeas and a Cilantro Lime Yogurt is loaded with comforting, healthy, and even healing ingredients and spices. You get the warmth from the Ginger, Turmeric, Garlic, and Coriander. Tons of flavor comes from really browned ground chicken and Shallots. And you get creamy heartiness from the Carrots and Chickpeas. Finally, you get the cool and tangy balance from the Cilantro Lime Yogurt. This Moroccan Chicken Chili has so many warm spices and flavors, it will become a favorite. I like to serve this over white rice, but you can definitely eat it by itself.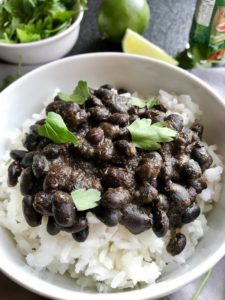 These Slow Cooker Brazilian Black Beans, known as Feijão, are a traditional dish in Brazil. The slow cooker makes it incredibly easy to make these anytime and it allows all of the flavors from the meat, onion, cilantro, and garlic to cook into the beans for a distinctive, thick, saucy, and hearty dish. They are great as a side or a main dish. If you have never tried these beans, you really MUST and I promise you will love them.
This Slow Cooker Pork Stew is so simple with only 5 ingredients, but so flavorful. I love to use Pork stew meat that has already been cubed for me by the butcher because it cooks evenly and gets incredibly tender and is so easy to pull apart. This recipe uses 2 lbs of pork so that you have leftovers to enjoy over and over – or to entertain a larger group. This stew can be frozen to reheat at a later date or put in the fridge for eating the next day! The simple ingredients in addition to the pork are Carrots, Onion Soup Mix, Garlic, and Rice. Everything (except the rice) gets tossed into the slow cooker with water and then simmers for 8 hours. Serve over rice and enjoy!
What are YOUR favorite Slow Cooker recipes?  Please share in the comments!
😍 Carrie