Jump to Recipe
Homemade Pumpkin Spice is so easy to make and this recipe is not necessarily anything new or very different from others that are out there.  However, what is new and different in this post is that it gives you 20 EASY WAYS TO USE this amazing Pumpkin Spice Blend – most of which require no baking at all!
Let's face it, not all of us have the time or energy to be baking homemade pumpkin pies or pumpkin breads.  But we all have 5 minutes to measure out 4 spices (you might already have in your house) and mix them together!  I am here to tell you that you can still enjoy this wonderful and magical Pumpkin Spice Blend without baking or even the pumpkin!  Some of these ideas are simple ways to jazz up things you already eat and have in the house.  Other ideas may require some new fun purchases, but again, will be EASY for you to jazz up!  All ideas are fun and delicious.
Quick note!  This post contains affiliate links, which means I earn a commission (at no extra cost to you) if you purchase from them.  This commission is what helps me keep this blog afloat :).  But, I also share these links because I have used the products, genuinely love them, and want you to know exactly what I used. 
MAKING YOUR PUMPKIN SPICE BLEND
Here is what you need, knowing that you can make more or less in the same proportions depending on how many ideas you want to tackle!  You can give this wonderful spice blend away as gifts too, so think about how much you want to make to start gifting!!
4 teaspoon Ground Cinnamon
2 teaspoon Ground Ginger
1 teaspoon Ground Cloves
½ teaspoon Ground Nutmeg
Feel free to play around with these ingredients too!  If you like a little more nutmeg or ginger or cloves, just add them as the Cinnamon is the Hero in my version, but make it your own!
I had whole cloves, so I simply add them to a coffee grinder to grind them up into a powder.
TIP:
After pouring out the clove, you will have some grounds left in the grinder.  I love to immediately grind up coffee blending it with the remaining clove grinds and it adds such amazing flavor!!!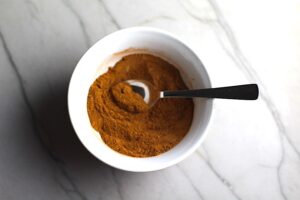 TIP:
if you don't already have a fine mesh strainer, get a mini one for sprinkling on this Pumpkin Spice Blend.  It's also great for adding powdered sugar to the top of desserts.  Simply add a teaspoon of the spice blend and shake or lightly tap the strainer over the food and you get a lovely even coating.  Here is the one that like:  OXO Good Grips 3-Inch Mini Strainer
20 EASY WAYS TO USE YOUR HOMEMADE PUMPKIN SPICE
#1.  In coffee or latte – Duh, not too terribly inventive right?  But, consider adding it to the grounds when you are brewing vs. trying to sprinkle it in after.  Or add it to your milk and warm it in the microwave before adding to your coffee.
#2.  Over kids rice cereal or Cheerios – this is an awesome one!  I try not to buy super sugary cereals, but they beg and I given in sometimes (of course).  Everyday cereal in our house is Cheerios, Rice Chex, or Rice Krispies.  I swear, if you add a sprinkle of this Pumpkin Spice, it takes the cereal over the top!  I mean, they LOVE it!!!  And they feel like it's a special treat – and I am Super Mom 🙂
#3.  In oatmeal – This is such an easy thing to add to overnight or quick cooking oats when making your oatmeal.  It feels extra warm and special.
#4.  Sprinkled over Apple Slices – My kids unenthusiastically eat apples.  But!  When I add this spice blend to apple slices, it's like a whole new world.  They consider it a dessert vs. a snack.  It makes the apples somehow taste sweeter even though you have not added any sugar.  Yum!  This is one of my favorites because it's just so darn simple!
#5.  On baked biscuits – You can make biscuits from scratch and add it to the batter or sprinkle the spice blend on top before or after baking.  I highly recommend working it into the baking process because the amazing smell that will come out of your oven is to die for.
#6.  On Pancakes – In Pancake batter or sprinkled on top in the skillet or after they are done cooking.  Or you can mix it into the syrup and warm it up!
Still with me??
#7.  Make Pumpkin Spiced Black Baked Beans – Simply add a can of drained black beans to a sauce pot with ½ cup water, and a ½ teaspoon salt.  Then start with a ¼ teaspoon of the Pumpkin Spice blend.  Taste and add more to your liking!
#8.  In and sprinkled on top of Hot Cocoa – Make a hot drink that you can share with the kids!  Mix a sprinkle of the spice blend into the hot cocoa or sprinkle on top of the whipped cream.
#9.  In Sauerkraut – What???  Yes, my friends, my father-in-law grew up outside of Baltimore and apparently Sauerkraut is a Thanksgiving Side Dish tradition.  So jazz add this spice blend to it to holiday-ify it!
#10.  Add it to Mashed Yams – If Sauerkraut is not your thing, try Pumpkin Spice in this more traditional Thanksgiving Side Dish.
Halfway There!!
#11.  In a Smoothie – Try a Blended Frozen Banana, Plain or Vanilla Yogurt, milk, Kale, and a sprinkle to taste of the PUmpkin Spice Blend.
#12.  Mix it into yogurt – Add it to your favorite yogurt with a little granola and diced apple.
#13.  On yogurt or cream cheese on toast – Spread yogurt or cream cheese on whole wheat or gluten free toast and then sprink the spice blend over top.
#14.  Sprinkle it on buttered toast – so simple, just toast your bread, spread a little butter and then sprinkle on the spice blend.
#15.  Roast it on Squash or Sweet potatoes  – toss in olive oil and a little spice blend, then roast in oven.
#16.  Add it to Chili for a holiday twist!  – Making a big pot of chili?  Try adding a ½ teaspoon of Pumpkin Spice for a whole new taste.  Add more to taste.
#17.  Mix it into Almond or regular Milk – Turn milk into a a spiced treat either cold or warmed up.
#18.  Mix it into or sprinkle it on Vanilla frosting for your cake or cupcakes.
#19.  Add it to a regular yellow or vanilla cake batter – Whether you make the cake from scratch or buy a cake mix, add a 2 teaspoon of this spice blend to have a Pumpkin Spice Cake!
#20.  Sprinkle on vanilla Ice cream – Sprinkle over vanilla or your favorite ice cream for a super holiday treat!
There you have it!!  DO YOU HAVE ANY OTHER IDEAS TO ADD TO THIS LIST??  PLEASE LEAVE ME A MESSAGE IN THE COMMENTS!
ENJOY!
😍 Carrie
Homemade Pumpkin Spice Recipe
This Pumpkin Spice Recipe is not rocket science, nor is it terribly different or inventive. But, it is easy! And not everyone knows the 4 simple spices that go into it or the measurements to make it just right. So I am putting in this recipe, but be sure to refer to the rest of this post, because the true value here is HOW TO USE this amazing Pumpkin Spice blend 20 different EASY WAYS.
Ingredients
4

teaspoon

Ground Cinnamon

2

teaspoon

Ground Ginger

1

teaspoon

Ground Clove

½

teaspoon

Ground Nutmeg
Instructions
Put all ingredients in a bowl and mix together. Store in a sealed container. You can store this tightly sealed for months up to a year, but trust me, it will not last that long as you will want to put it on everything!