Jump to Recipe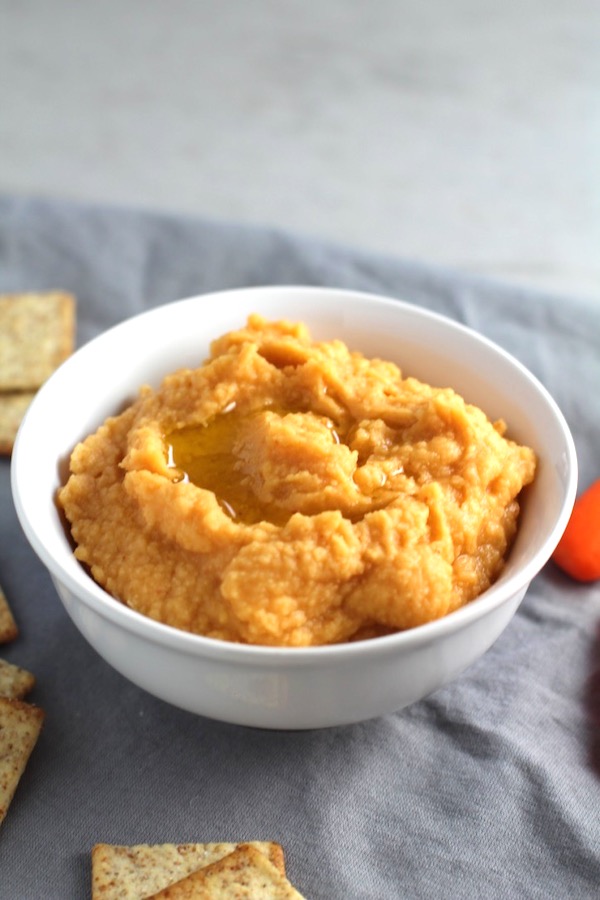 ✨Magical Sriracha Hummus✨is seriously the easiest hummus you will ever make and it's perfect for snacking or adding to a meal.  It's so easy, I hesitated to add it as a recipe!  But, we could all use new inspiration, right?  This is Hummus without Tahini, but still full of flavor.  The chickpeas have so much creamy flavor and the Sriracha gives it a kick that is totally addictive! 😍  

Sriracha Hummus is Magical: Easy, Yummy, Healthy
This Sriracha Hummus without tahini is Magical because there are only 2 main ingredients (not including salt, water, oil) and it takes only minutes to make.  It's also Magical because it tastes unbelievable and can be used in so many different ways in every meal and also snacks (scroll down for ideas!).  I seriously cannot get enough of this stuff! 
But the magic doesn't stop there!  Sriracha Hummus is so GOOD FOR YOU! 
Chickpeas are high in protein and are a good source of vitamins, minerals, and fiber!
Sriracha is made from red chili peppers which have capsaicin.  Capsaicin has been shown to increase your metabolism, as well as boost your mood, and reduce hunger.  Chili Peppers also have vitamins A and C, which help to strengthen your immune system!  Right on!  Click here for more on the benefits of Capsaicin.  
Try these other easy recipes with Chickpeas and/or Sriracha:
Ways you can eat your Magican Sriracha Hummus!
Not only can you enjoy hummus with crackers, pita, and veggies. The options are endless, so give these ideas a try!
layer on toast with avocado and/or egg
put on sandwich with cucumber, tomato, and roasted red pepper
mix into pasta for a thick, creamy, protein-packed sauce!!
add to slow cooker chili, stew, or soups
mix in a chicken salad with carrots, celery, feta, a little Greek yogurt and scallions
mix into mashed cauliflower or potatoes!!!
WHAT OTHER IDEAS DO YOU HAVE??   Please tell me in the comments. 
Quick note! This post contains affiliate links, which means I earn a commission (at no extra cost to you) if you purchase from them. This commission is what helps me keep this blog afloat :). But, I also share these links because I have used the products, genuinely love them, and want you to know exactly what I used.
SUPER EASY TO MAKE!
1️⃣ Drain & Rinse 1 can of Chickpeas. Then add them to a mini food processor. My Cuisinart Mini Food Processor is one of my absolute favorite and most used gadgets in my kitchen!
2️⃣ Add 1 Tbls Sriracha Sauce & 1 Tbls Oil. I love Sriracha and use it on eggs, on sandwiches, in soups, salads…the list goes on. My go-to Sriracha is Huy Fong Foods Sriracha which you can find in most stores or just place a quick order from online!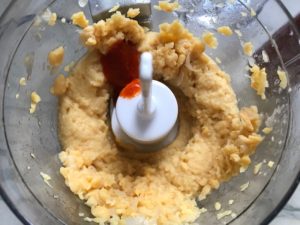 3️⃣ Add ¼ cup water and pinch of salt to taste
4️⃣ Pulse then fully process until smooth. Add a drizzle more oil if needed and more Sriracha/Salt to taste.
That is it, my friends! Enjoy this amazing and magical Sriracha Hummus for all your days to come!
😍 Carrie
Magical Sriracha Hummus
Magical Sriracha Hummus is seriously the easiest hummus you will ever make and it's perfect for snacking or adding to a meal. This recipe is a Hummus without tahini, but still full of flavor. The chickpeas have so much flavor and the Sriracha gives it a kick that is totally addictive!
Ingredients
1

can

Chickpeas

about 15.5 ounces

1

tbls

Sriracha

or more to taste!

¼

cup

water

1

tbls

Extra Virgin Olive Oil

Pinch

Salt to taste
Instructions
Drain & Rinse 1 can of Chickpeas. Then add them to a mini food processor. Pulse to get them blending.

Add 1 Tbls Sriracha Sauce & 1 Tbls Oil. Add ¼ cup water and pinch of salt to taste.

Serve as a dip, snack, on sandwiches, on toast, with eggs, with pasta, on salads, and so much more! Enjoy