I LOVE empanadas and these Chicken and Chorizo Empanadas with corn and just enough delicious gruyere (wha???) yes, gruyere cheese to make it creamy and nutty, are absolutely unbelievable!  The gruyere cheese has so much more depth than a cream cheese or cheddar cheese that you often find in empanada recipes, so I really love how it brings the creaminess and binding to the filling, but also a nutty and earthy depth of flavor.
The sweet corn kernels inside these Chicken Chorizo Empanadas are a surprising little texture and flavor treat.  The chipotle sauce addition to the filling also brings an amazing smoky flavor to every bite.  And the crispy and flaky and salty crust just brings it all together.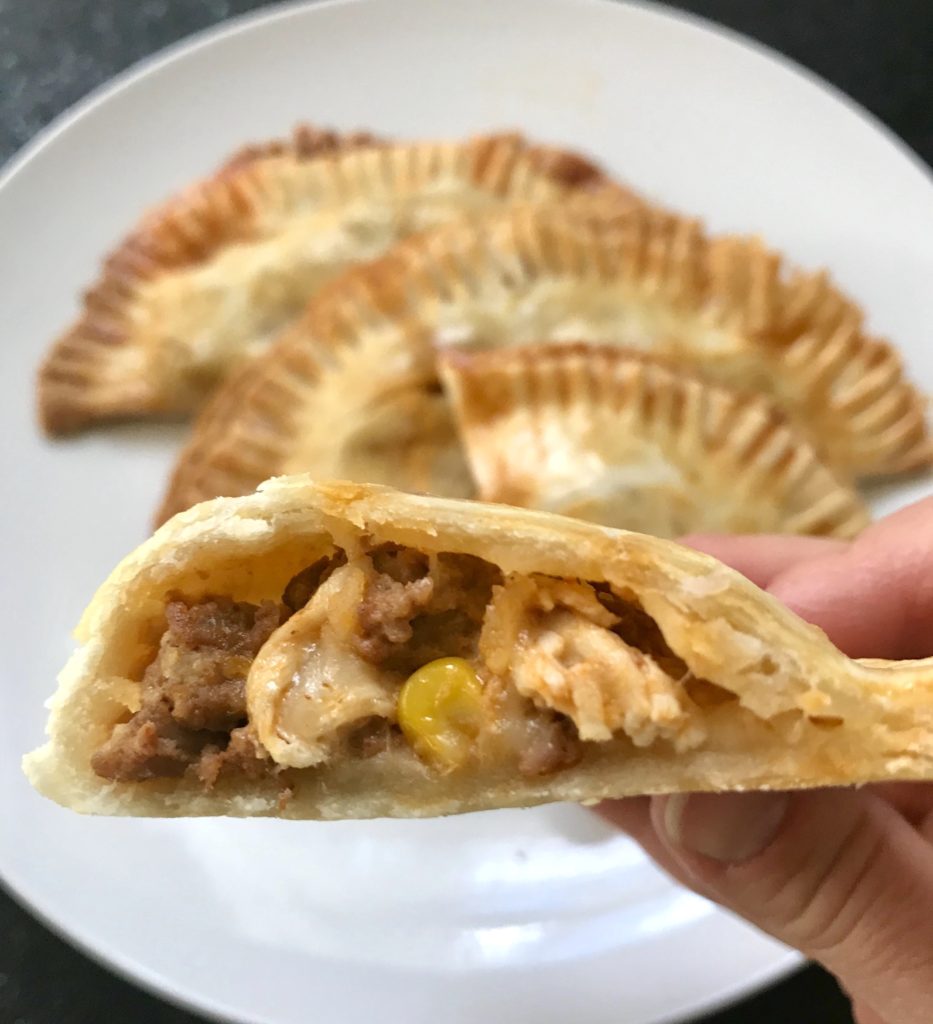 Empanadas Can be a Main or an App!
You can make these as a main dish or an appetizer.  Simply adjust the size of the circles you cut in the dough.  Here I have 1 that is an entire pie crust circle that we cut into pieces after it was cooked and then another smaller example.
Check out my latest Ground Beef Empanada recipe too!
This is also such a fun recipe to make with kids.  My girls love to cook in the kitchen together, especially when there is dough, mixing, baking – and of course sprinkles – involved.
Last thing about these Chicken & Chorizo Empanadas…don't worry about making them look perfect!  It's ok if the insides start oozing out or if the circle is uneven or if the crust cracks and you have to try to mush it back together.  The most important thing here is the taste and bringing friends and family together with some delicious food!  Have fun and enjoy!
Chicken & Chorizo Empanadas
These empanadas combine so many textures and delicious latin flavors. The chorizo brings the flare and spice, the chicken brings the heartiness and fullness, corn brings sweetness and texture, the gruyere cheese melds all ingredients together with a creamy nutty flavor. I absolutely love making these empanadas with easy ready-made pie crusts from the store. You can the dough out into any size circle you want, whether that's 1 huge empanada that you cut in half for 2 or into 4 of even 6 for smaller serving sizes. Enjoy!
Ingredients
1

Cup

Chicken, shredded

easiest to get a rotisserie chicken and then shred it

1

Cup

Chorizo, cooked

buy raw and break up into small bits in pan

1

Cup

Gruyere Cheese, shredded

1

Tbls

Chipotle Sauce

¼

Cup

Sour Cream

¼

Cup

Corn Kernels

2-

9"

Pie crusts
Instructions
Preheat oven to 350 degrees

Shred the cooked chicken. If you didn't buy a rotisserie chicken, you can either roast or boil the chicken to keep in the moisture. Let the chicken cool, then shred with fingers.

Cook the chorizo in a pan. I buy the raw chorizo in casings and then remove it from the casings to break it up into small bits that can be mixed up and easily bit into within the empanada. Cool the chorizo.

In a bowl, combine 1 cup shredded chicken, 1 cup chorizo, ¼ cup corn kernels, cup shredded gruyere cheese, 1 Tbls chipotle sauce, and ¼ cup sour cream.

Roll out the pie crust so thin and pliable. Decide on how large you want the empanadas to be and then either keep hole for 1 large one that you can cut up once cooked or use bowls to measure out the circles. Cut away the excess dough and roll out to make additional empanadas.

Place filling on the right half of the circle leaving enough edge to press together with the other side and crimp.

Brush edge of entire round crust with beaten egg. Fold over the unfilled half of the crust over the filling to create a half circle. Press edge with fork to seal. Cut 2 slits in top of each; brush top with beaten egg.

Bake 20 to 25 minutes or until golden brown. Serve with salsa or Chipotle sauce mixed with sour cream. Enjoy!