Let's talk about chicken! This post will walk you through the ins and the outs of buying, preparing, and storing chicken so that it's ready when you needed it for easy dinners! A little time spent ahead on chicken can save you tons of time later.
Getting dinner on the table every single night for your family can be exhausting. But with a few tips and tricks for planning and prepping ahead, you can have some staple ingredients waiting for you when you needed them. One of these ingredients is chicken!
Chicken Parts and Forms and Easy Dinners to Use Them In
Chicken Breasts
Chicken Breasts provide white meat and are the leanest part of the chicken. As a result, they do need quite a bit of seasoning and other ingredients to give them flavor. They can be fried, pan seared, broiled, roasted, baked, or grilled. Chicken breasts are very versatile and when off the bone, cook relatively quickly, which makes them a great option for easy family dinners. Here are some of my favorite chicken recipes:
Chicken Thighs
Chicken thighs are dark meat and therefore, have a bit more calories and fat vs. chicken breasts. More fat, also means more flavor. Chicken thighs don't dry out as quickly or overcook as often as chicken breasts do. That means that chicken thighs generally have a better result in recipes with long cooking times. When chicken thighs are removed from the bone, they cook just as quickly as chicken breasts cook. While I do tend to cook more with chicken breasts, here are my favorite recipes to use thighs in:
Chicken Legs and Wings
Chicken legs and wings are also considered dark meat and sold on the bone. Therefore, because you must cook not just the meat, but also through to the bone, these generally take longer to cook. If you bake or roast them in the oven on high heat, they will take 35-45 minutes depending on the size and temperature. I do not yet have any recipes on the blog with either legs or wings, but if you are looking for a sauce that would be great on these before roasting them in the oven, try my Easy Sesame Sweet Chili Chicken.
Ground Chicken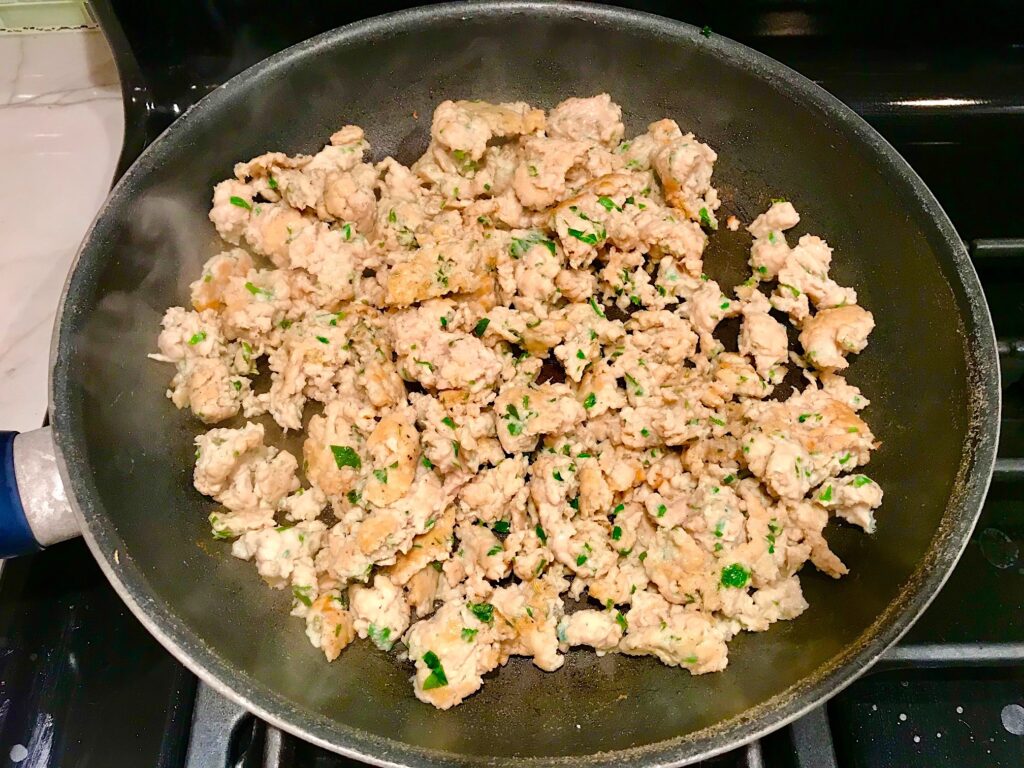 Ground chicken is such an amazing, leaner alternative to ground beef or ground pork. While it doesn't have as much fat or natural flavor as ground beef, if you know how to use it, it can be very delicious!
There are different cuts used for the ground chicken, such dark meat cuts (thighs, legs) or white meat (breast). The white meat is leaner. Some ground chicken is a mix and some will say white meat only. I generally use 99% lean white meat ground chicken in my recipes. However, you use any ground chicken variety. I LOVE to use ground chicken, so there are many on this site, but here are a few of my faves:
Rotisserie Chicken
Most grocery stores these days carry fully cooked rotisserie chickens. These are great options for quick dinners where you simply shred the meat or cut it off the bone. Because it's cooked rotisserie style, it is usually flavored with herbs and seasonings and is pretty moist. I love to add shredded chicken from a rotisserie chicken to soups, casseroles, tacos, enchiladas, and salads. You can remove the meat and shred it or chop it before storing chicken from a rotisserie.
Rotisserie chicken makes these recipes so incredibly easy for busy weeknights!
Chicken Safety 101
Chicken is an easy and healthy protein choice when handled and cooked properly. However, raw chicken is often contaminated with bacteria that can cause food poisoning if safety precautions are not followed.
For my food business, I have taken received a Food Handling and Safety certification and want to share chicken safety highlights with you. When handling raw chicken, there are a few critical things to remember:
First and foremost, always keep raw chicken away from ready-to-eat or cooked foods.

Separate them from other groceries at the store.
Store raw chicken in a separate area of the refrigerator. As packaging can leak, make sure that raw chicken is stored on lower shelves so it does not drip onto and contaminate food below.

Do not wash raw chicken in the kitchen sink, as juices can splash and contaminate other foods, utensils, and countertops. You do not need to wash chicken at all. If needed, you can pat it down with disposable paper towel.
Wash hands with warm, soapy water for 20 seconds before and after handling chicken.
Use a separate cutting board, plate, or other surface for raw chicken and once you are done using it, do not use it for any other cooking prep.
Wash cutting boards, utensils, dishes, and countertops with hot soapy water after preparing chicken and before you prepare the next item. In fact, I have separate cutting boards labeled just for chicken
When cooking any type of chicken, be sure to use a food thermometer to make sure chicken is cooked to an internal temperature of 165 F degrees.
Refrigerate or freeze leftover chicken within 1-2 hours.
Preparing Chicken
Preparing chicken in advance is one of the best ways to make dinners easier! No matter what kind of chicken you are using, you can do some prep steps ahead or even cook it ahead. Think about the time saved from pulling out raw chicken, a cutting board, taking safety precautions, and then the cleaning.
Here are some easy ways to prep raw breasts or thighs in advance.
For Ground chicken, here are some ways to get ahead.
You can also cook it ahead before story chicken! Here are some ways to get ahead by cooking ahead.
Storing chicken in the fridge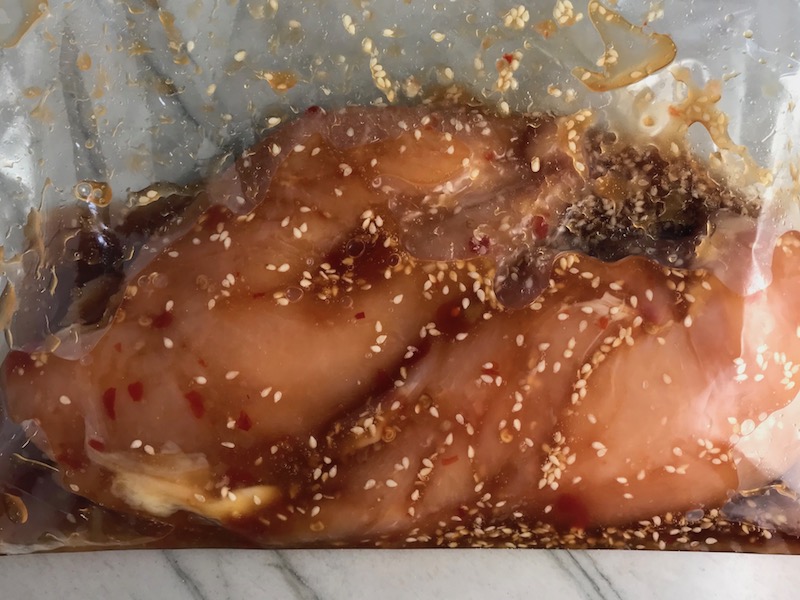 Whether you are storing raw chicken in original packaging or after cutting or otherwise prepping it, keep raw chicken in a separate area of the refrigerator. Make sure to store chicken in an airtight container or packaging. As packaging can leak, make sure that raw chicken is stored on lower shelves so it does not drip onto and contaminate food below.
Raw chicken meat can be stored in the fridge 3-5 days. Raw ground chicken will last up to 3 days. Make sure to look at the packaging dates as well.
For cooked chicken, refrigerate within 1-2 hours for cooking. Cooked chicken will last in the fridge for 3-4 days.
Storing chicken in the Freezer
Quick note! This post contains affiliate links, which means I earn a commission (at no extra cost to you) if you purchase from them. This commission is what helps me keep this blog afloat :). I also share these links because I have used the products, genuinely love them, and want you to know exactly what I used.
For any of the chicken preparations just mentioned, you can also freeze them. For raw chicken, you want to seal it in an airtight container. I love my NutriChef Vacuum Sealer for freezing raw meat. It's really the best option to ensure that all air is removed and helps to prevent freezer burn.However, you could also use a freezer bag or freezer-safe food storage container. Note, plastic wrap is not the best option for the freezer as it can let air in allowing bacteria.
Raw chicken that is whole or cut into pieces will last in the freezer for up to 12 months if sealed airtight. Ground chicken doesn't last as long generally, so you should use it within 6 months.
For any cooked chicken, again, you want to freeze it within 1-2 hours of cooking it. Store it in the freezer in an airtight container. Cooked chicken will last in the freezer up to 4-6 months.
TIP: For easy defrosting later, try to lay the chicken out as flat as possible, even into a single layer, when freezing it. Always defrost frozen chicken in the refrigerator, not out at room temperature or in a water bath, and leave at least 24 hours for defrosting time.
For more fantastic ways to use your Freezer to prepare food ahead and make it last longer, check out this printable cheat sheet with 10 Freezer Hacks to make easy dinners!