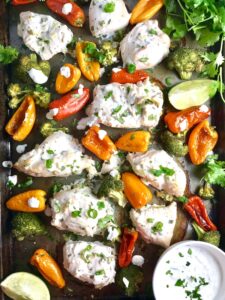 I am so excited to be sharing 10 of my favorite Tasty and Easy Gluten Free Recipes for Summer!
Yes, it is finally Summer!  Woo hoo!  That means sun, warmer weather, picnics, pools, beaches, and playing outdoors. I always feel happier and more energetic when the sun is shining and I can play outside – with or without the kiddos :).
Summer also means bathing suits, so if you're like me, in the Summertime you look for some recipes that are a bit lighter and won't weigh you down so much.  As I have shared before, I eat gluten free because I find that that my body digests gluten free foods better and I am much less bloated when I cut out the gluten.  And that definitely helps me feel more confident and happy in a bathing suit.
However, lighter and gluten free should never mean skimping on flavor.  So, here are 10 of my favorite EASY GLUTEN FREE RECIPES for this Summer that are FULL of FLAVOR, but will not leave you feeling weighed down.
10 TASTY & EASY GLUTEN FREE RECIPES FOR SUMMER
Quinoa is truly a superfood, especially in the gluten free world. It's high in protein, has nearly 2x the fiber found in other grains, and has iron, antioxidants, and more!. This recipe takes Quinoa to a whole other level.  It is a Creamy Parmesan Quinoa Mushroom Risotto recipe with garlic, parmesan, and mushrooms. Paired with the hearty Cauliflower steak spiced with Cumin, Chili Powder, and Garlic, this is the perfect meal!  This is a filling, but healthy and light meal that is great for summer as you can make the Quinoa Risotto ahead and then quickly either roast or grill the Cauliflower Steaks the night of.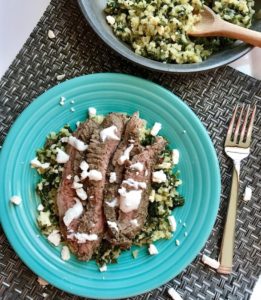 Mediterranean Flank Steak with Kale & Feta Cauliflower Rice is a delicious Mediterranean-inspired recipe with a flavorful garlic-oregano-rubbed flank steak on top of delicious cauliflower "rice". Finish with a cool and bright lemon garlic yogurt sauce. Mediterranean cuisine is filled with fresh and natural ingredients, both of which hold true in this meal. The simple rub for the flank steak lets the meat be the hero. The salty, texture-filled, Kale and Feta Cauliflower Rice seriously tastes just like rice filled with flavor.
If there is a soup for Summer, this is it!  Summer is for healing and this is a healing soup with Turmeric.  This Golden Lentil Soup is amazingly creamy, rich, tasty, and healthy soup – a Golden soup!  Lentils are the star here; however, Turmeric plays an important role in giving this soup the amazing yellowish-orange-golden color.  Turmeric is a natural anti-inflammatory so not only does it bring flavor and color, but it also has healing benefits!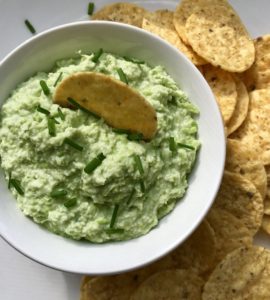 This one here, my friends, is an all-time favorite!  Really for anytime of the year, but particularly for Summer as a cool snack, for entertaining at the next wine party, or bringing to a picnic.  Edamame Bean Gorgonzola dip is sort-of like hummus, but made of Edamame beans.  The edamame beans have a mild, slightly nutty flavor that really takes on the more sharp and salty flavors from the gorgonzola.  The texture is perfect with the edamame providing the more hearty and textured bite and the gorgonzola bringing the creamy feel.  Dip veggies in this Edamame Bean Dip, spread on crackers, layer into a sandwich, or dollop on grilled steak or chicken…Delicious!
What's more Summer than potato salad, right?  This Fully Loaded Potato Salad has salty bacon and cheddar cheese, creamy and rich egg, fresh scallions and baby spinach, and crunchy carrots.  The dressing is simple with a blend of yellow mustard and mayo.  YUMM-Y!  I love to create EASY, YUMMY, COMFORT-FOOD with a HEALTHY TWIST.  And what can be more comforting than Potato Salad with bacon, egg, and cheese?  So the healthy twist here is obviously the addition of spinach and carrots.  So eat up!!
This warm Chicken and Seared Cabbage Salad with carrots and broccoli can be eaten by itself or on top of rice and it is great warm or cold!  And in the Summer, any recipe that is versatile is a GREAT recipe in my book.  I love Asian flavors and the nuttiness from the sesame oil, the saltiness from the soy sauce, with the sweetness from the honey and vinegar are a wonderful combination.  Best of all, this recipe can be made in advance so easy-peasy.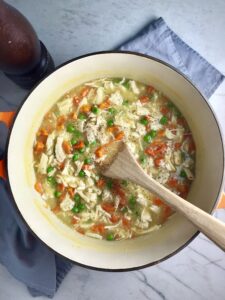 Chicken Soup hardly seems like a Summer recipe.  However, let me tell you that Chicken soup can feed the soul absolutely any time of the year, including Summer.  This 5-Ingredient Chunky Chicken Vegetable Soup is perfect for busy Summer nights because it is entirely MAKE-AHEAD!  Also, while it is deliciously creamy and hearty, it is also very light as there is no dairy or heavy noodles.  With loads of chicken, carrots, and peas, it's full of flavor and texture even though it only has 5 ingredients.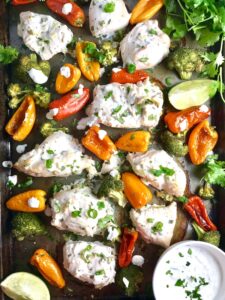 Summer food doesn't have to be just grilled foods or cold salads.  You are busy and still need go-to sheet pan oven meals.  This Cilantro Lime Yogurt Chicken & Peppers is a bright and sunny one-pan wonder with fresh sweet peppers, broccoli, and chicken.  The yogurt marinade tenderizes the chicken helping to keep it moist and tender as it cooks. The flavors seep into the meat and coat the outside so when it roasts, it gets this sweet and salty crust. The mini sweet peppers are not only cute, but so delicious and sweet. The broccoli is crunchy and crisp.  Serve with a crusty bread, rice, orzo, Quinoa, or pasta!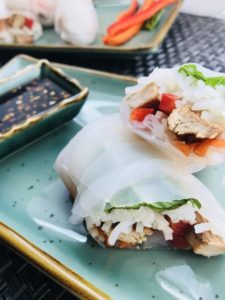 I mean c'mon, it has 'Summer' in the name!  But really, aside from the name, these are really a wonderful Summer treat to make for lunch, appetizers, or dinner.  They are also tons of fun for kids to help with!  These Chicken Summer Rolls start with Teriyaki Chicken strips, Rice noodles, carrots, red pepper, and basil.  All get rolled up in a light moistened rice paper.  What you get is this bite of freshness that you dip into the sweet, tangy, and salty Garlic Honey Soy Sauce.  These are a Summer delight!
When I think of Summer, I think of salads.  But, salads don't just need to be greens, this Veggie Quinoa Salad with Lemon Dressing is a cool, refreshing, but filling and delicious salad that can stand alone or be a great side dish.  It has so many fresh and flavorful vegetables including cucumber, sweet peppers, radicchio, scallions, and parsley.  The dressing is a bright Creamy Lemon Dressing with Lemon, honey, mustard, and sour cream.  You can also make a huge batch of this and portion out for lunches and eat all week!
What are YOUR favorite Easy Gluten Free recipes?  Please share in the comments!
😍 Carrie