Life gets crazy, so let me help you with dinner! Here are 10 kid-friendly, delicious, and easy Family Dinners that will help you get into new Back-to-School routines.
It's almost Back-to-School time and that means…things are gonna get craaaazzzzyyyy! But just because your little angels won't let you use the bathroom in privacy, doesn't mean you can't get dinner on the table! The extra school craziness just means we need to take a little help from wherever we can get it. So let me help you, Mama! Here are 10 (plus a bonus 11) super easy, kid-friendly, delicious, Prep-Ahead Easy Family Dinners that you can add to your Back-to-School arsenal.
These Easy Family Dinners will set you up to be the Super-Mom that you are!
A few Criteria for these Easy Family Dinners
Before I get into these magical Easy Family Dinners, let me share a few things about them first.
I consider 'Prep-Ahead' as preparing all of the ingredients so that you can simply cook on the night you want to eat. In some cases, prep-ahead can also mean cooking ahead in a slow cooker or cooking some of the components in advance and finishing it on dinner night. Bottom line, it means doing stuff ahead so you are less stressed!
When I think of kid-friendly, I considered dishes that were a bit more inspired than just chicken nuggets. Though, don't get me wrong, my girls would take chicken nuggets ANY night of the week! However, I know that spice can be a concern, so wherever possible, the heat is toned down and the spices mellowed out. You will still see full-flavored deliciousness in each and every dinner recipe!
Finally, a Family dinner is one that won't break the bank! Save the fancy or expensive dinners for the weekends and stretch your dollar during the week feeding your family nourishing food that doesn't cost an arm and a leg. With that in mind, you will see quite a bit of Chicken, vegetables, beans, and healthy grains on this list. These are foods that fill your family up with healthy vitamins and nutrients.
10 (+Bonus) Delicious Prep-Ahead Easy Family Dinners: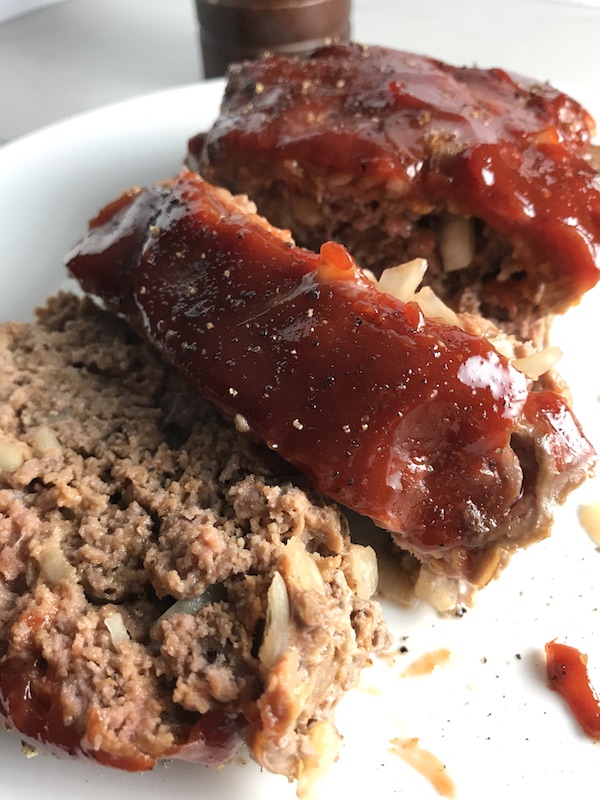 First up on the list is none other that the trusty Meatloaf!! But, this is a special meatloaf, friends. It's a super duper moist, flavorful, tangy, and utterly delicious only-5-ingredient Easy Meatloaf. And you can serve it with equally delicious Cheesy Cauliflower Rice – but of course, you can opt for a simpler side, like potatoes, rice, or a salad! This Gluten Free, Easy 5-Ingredient Meatloaf is loaded with flavor, but only a few ingredients. It's also so moist because it replaces breadcrumbs with parmesan cheese for an incredible texture and taste!
Prep-Ahead 20 min (meatloaf 10 min; Cauliflower 10 min): You can make the meatloaf entirely ahead on Sunday and cook on the weeknight. The Cauliflower prep includes cutting off the florets and blending to turn it into 'rice' and shredding the cheese. Or, cook both the meatloaf and the Cheesy Cauliflower Rice on Sunday and just reheat!
Cook 60 min: The meatloaf cooks in the oven for 60 minutes straight, not muss, no fuss. The Cauliflower Rice takes only 15 minutes to saute and then make the cheese sauce, all of which can be done while the meatloaf cooks.
Next up? Fun, eat-with-your-hands Moroccan Meatball Stuffed Pitas! These are so yummy; filled with homemade hummus and moist turkey meatballs made with warm Moroccan spices like ginger, turmeric, and coriander. The flavors are warm, not hot/spicy, so they are perfect for kids. Then these pitas are topped with creamy, fresh and bright lemon yogurt sauce. Easy, Fun, Delicious, and Good for You!
Prep-Ahead 20 min: You can prepare just about everything for this one in advance! Chop and dice the ingredients, make the meatballs (and even freeze them for months ahead!), make the hummus, and mix the yogurt sauce.
Cook 20 min

: The only thing you need to cook are the meatballs, but even these can be made on Sunday and reheated on a weeknight. You will also want to warm up the pitas a bit.
Sometimes less is more and this Chicken & Cherry Tomato Pasta with Basil, Garlic, and Parmesan Cheese is just that…more, as in you will WANT MORE! And let's face it, on a busy school night, LESS IS ALWAYS MORE! It has a garlic-y backdrop with sweetness from the natural sugars that are released from the cherry tomatoes. Then you get freshness from the basil, salty and nutty flavors from the Parmesan and a hearty bite from the chicken and pasta!! It's simply divine!
Prep-Ahead 10 min: Prep is just cutting the chicken, mincing the garlic, and shredding the parmesan.
Cook 20 min: Cook the spaghetti, then make the chicken and tomatoes in a skillet. Combine with pasta and parm and enjoy!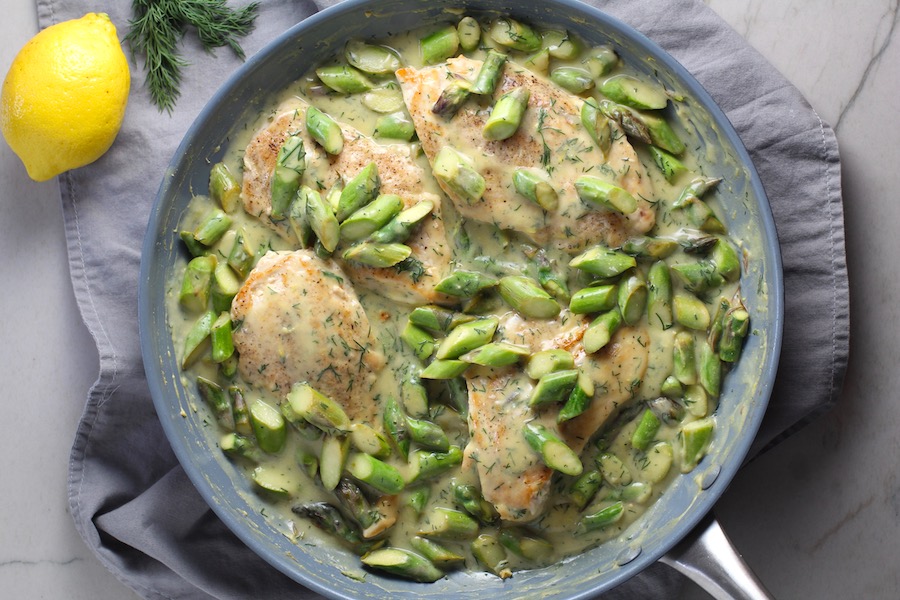 Creamy, bright, herby, and lemony, this recipe is full of flavor! Lemon Dill Sauce Chicken and Asparagus is an easy one-pan recipe that comes together fast and the entire family will love. It has seared chicken in a light and creamy sauce delicately flavored with garlic, lemon and fresh dill. Then it's loaded with fresh and bright asparagus.
Prep-Ahead 10 min: You can slice the asparagus, mince the garlic, and chop the dill.
Cook 20 min: Everything cooks in one skillet for this one! You start with the chicken, add the asparagus, then the sauce ingredients.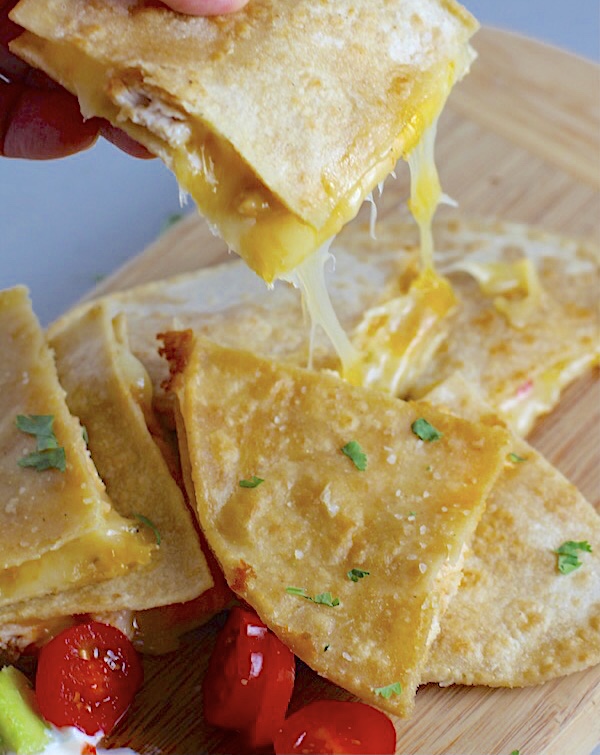 You can never go wrong with Quesadillas, but these are extra delicious with Chicken, Pepper Jack Cheese, and Corn Tortillas! If Chicken Enchiladas and Cheese Quesadillas had a baby, it would be these incredible Chicken & Cheese Corn Tortilla Quesadillas! With crispy edges, a soft gooey center, and mouthwatering flavor, they will become your new obsession. I filled these with hearty shredded chicken, flavored with warm and smoky Mexican spices. Then layered in shredded Pepper Jack cheese and Cheddar that gets so melty and oozy and delicious. Quesadillas make for easy family dinners!
Prep-Ahead 30 min: You can roast and shred the chicken ahead of time, as well as shred the cheese.
Cook 10 min: Each quesadilla takes less than 10 minutes to cook.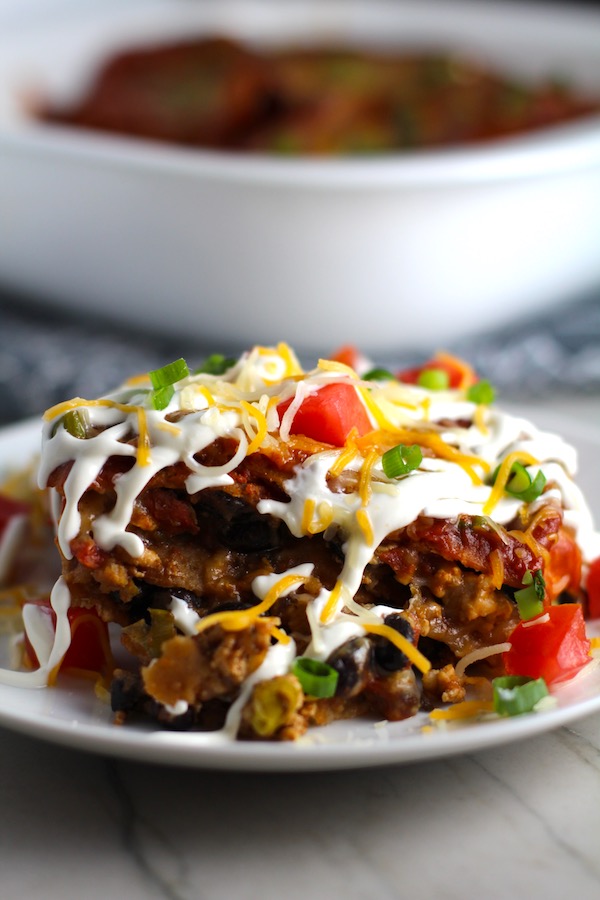 Who wouldn't love a Taco Casserole!? Especially Mom when this is ready to go on a busy school night! Nothing beats layers of taco meat, tortillas, beans, and cheese! Except, a Taco Casserole that's made with healthier lean ground chicken and fiber rich black beans. This Taco Casserole has corn tortillas layered with browned ground chicken seasoned with smokey mexican spices, black beans, tomatoes, and cheese, and then more cheese.
Prep-Ahead 10 min: For this one, you can actually make the entire casserole and then just cook it on the night you plan to eat it! That means, cooking the ground chicken, adding the beans, tomatoes, and all other ingredients. Then layering the meat and beans with the cheese and tortillas. Or, you can cook it too and then simply reheat it when ready.
Cook 30 min: Cooking this puppy means just putting in the oven for 30 min to melt all of the casserole layers together.
Slow Cooker Beef Bolognese is a souped-up version of the traditional Italian Meat Sauce made EASY by cooking it in the slow cooker! It's rich, creamy, meaty, and of course filling. Perfect for crowds since everyone loves a good meat sauce or just make it for your immediate family with leftovers. Beef bolognese is a traditionally cooked slowly on the stove for hours. The flavors of the tomatoes, carrots, celery, onions, garlic, wine and meat become one and turn into this amazing thick sauce. My recipe adds even MORE FLAVOR with Pancetta and Demi-Glace and then it all cooks in the slow cooker so you can go about your busy day!
Prep-Ahead 30 min: Dice the carrots, celery, and onion. Sear the pancetta and beef. Then add all ingredients to the slow cooker.
Slow Cooker 8 hours

: Set and forget!
If you don't have a slow cooker, I highly recommend that you get one! They are A-MAZ-ING for easy family dinners! My slow cooker is my very good friend when times get crazy. I absolutely love love love my easy and simple (and not expensive) Crock-Pot. I have the 6-Quart version with 5 settings (low 4-hour, low 6-hour, high 8-hour, high 10-hour, and warm).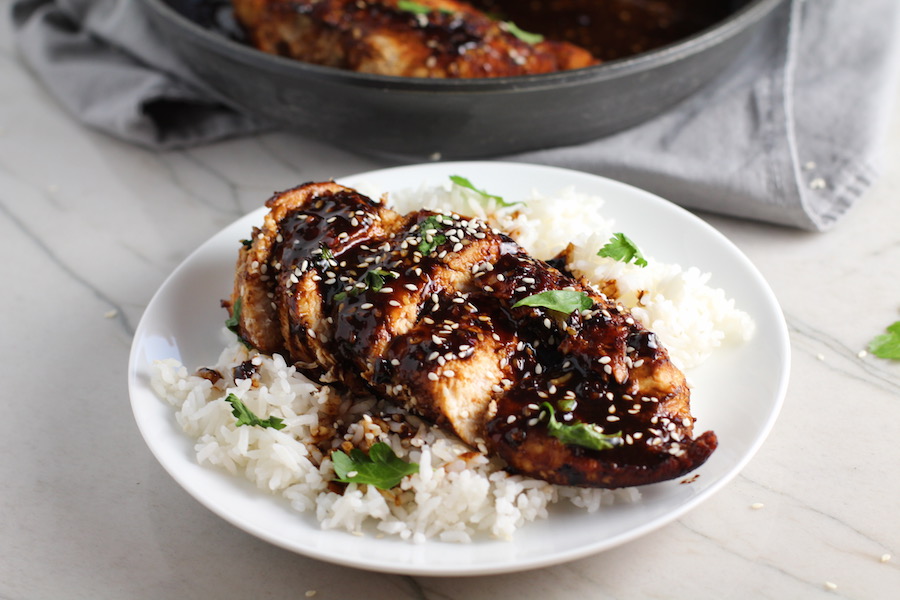 Make-Ahead Marinades are easy family dinners. They're perfect for busy school nights and when mixed with a protein, such as chicken, can even be frozen up to 4 months ahead! This EASY Sesame Sweet Chili Chicken is quick to make and mouth wateringly yummy! The fantastic marinade and sauce is slightly sweet, tangy, savory, nutty, with a touch of heat. You can prepare it days ahead, tt takes just minutes to prepare, minutes to cook, and everyone will love it!!
Prep-Ahead 10 min: For this one, you are just preparing the marinade and then prepping any side veggies that you want to make.
Cook 20 min: This Chicken cooks in a skillet and on the side, a simple rice with veggie.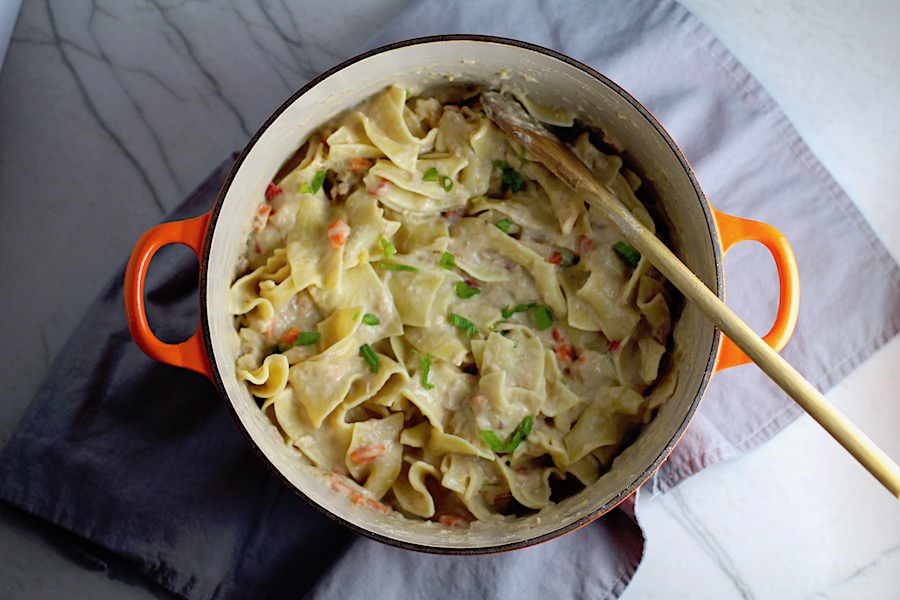 Tuna Casserole is a school night dinner that I grew up on. My version refreshes this 'old school' recipe! Here you get a creamy and delicious easy homemade comfort dish with tuna and noodles and a surprise pop of sweet from Pimiento. This version is completely from scratch (no canned soup here!) and I can promise you it's so easy and only takes 30 minutes because it's a Casserole that you can make entirely on the stove top!
Prep-Ahead 10 min: Not much to prep for this one, but as with the others, you can certainly make this entire dish ahead on Sunday and reheat on a weeknight! For the prep, it's just cutting the Carrots and Scallions, as well as shredding cheddar cheese. You could also cook the noodles ahead.
Cook 20 min: This dish comes together quickly on the stovetop in a large dutch oven or soup pot!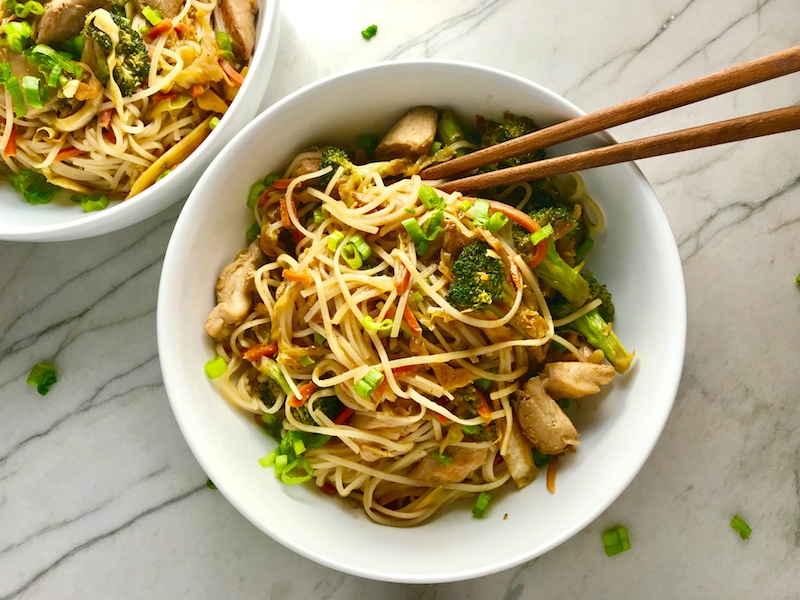 Slurp 'em if you got 'em! This is a kid fave…Slurpable Noodles! Teriyaki Peanut Sauce Chicken and Broccoli stir fry with rice noodles is a super simple, delicious, one pan weeknight dinner option. You get a simple, but complex flavor combo from the peanut butter, teriyaki sauce, and the sesame oil. It's one of those sauces that if no one is watching, I may slurp up a spoonful of it and may even lick my bowl after to get every last drop. It's that good.
Prep-Ahead 10 min: You can cut the broccoli, marinate the chicken, make the peanut teriyaki sauce, and slice the scallions.
Cook 20 min: On the night you're ready to eat, you just need to cook the noodles and stir fry the chicken, broccoli, cabbage/carrot mix, and scallions with the sauce.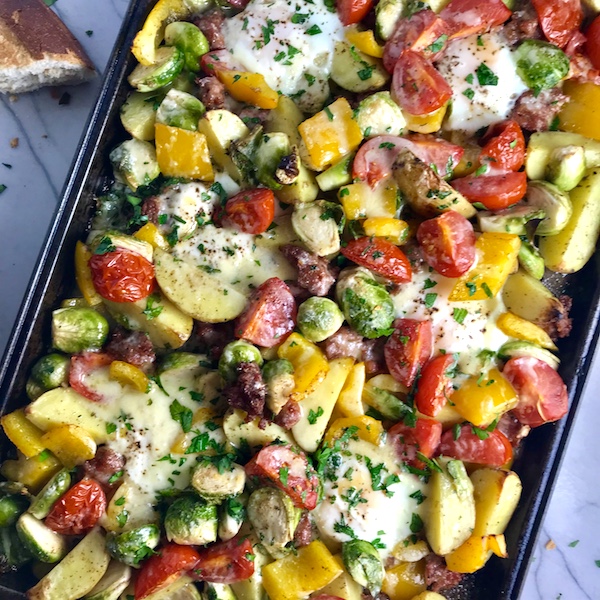 Some may call this breakfast for dinner. I just call it delicious and easy! Perfect for school nights! This One Pan Italian Sausage and Eggs is LOADED with flavors and textures. You get the salty Italian Sausage, sweet bell pepper, creamy potatoes, sweet and juicy tomatoes, meaty brussel sprouts, creamy eggs, and salty, nutty cheddar cheese. Best of all, the entire meal cooks on one large pan!
Prep-Ahead 10 min: You can prepare the sweet peppers, brussels sprouts, garlic, parsley, and parmesan cheese.
Cook 55 min: This dish does take a bit longer than the others to cook, but it's all on 1 pan! So, while you do need the time, it's time in the oven while you do other things 🙂
What are YOUR favorite Back-to-School Dinner recipes? Please share in the comments!
😍 Carrie