Zucchini Fries are an addictive and healthy alternative to french fries and they are really easy to make and sooooo yummy!!  They are crunchy and salty on the outside, warm and creamy on the inside.  Oh, and did I mention that because they are baked, not fried, they are good for you too???
I made these years ago, but then for no good reason at all, they fell out of my life.  Then through a series of random circumstances, Zucchini Fries entered my life again.  First,  it was through a meal kit delivery meal, where I think they were paired with a burger.  Second, it was at one of my new favorite restaurants in Jersey City, Kitchen Step, which has absolutely amazing small plates with one being these super addictive string-cut Zucchini Fries.  Here Dave and I are at Kitchen Step (Dave doesn't smile until he gets his Zucchini Fries :).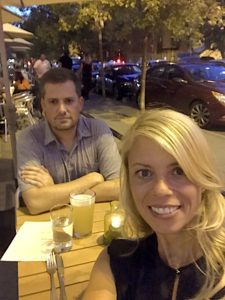 So, after these few interventions from the Zucchini gods, I took the hint and decided it was time to make my own again!  I tried a few different cuts of the zucchini, but because I wanted a healthier baked version, I needed a thicker cut that could hold the panko bread crumbs and withstand the oven high temperature.
The ingredients are simple, Zucchini, panko bread crumbs, eggs, extra virgin olive oil, salt & pepper.
After you cut your zucchini, you coat it in beaten eggs, then dredge it in panko bread crumbs that are seasoned with salt & pepper.  Then line them up on a sheet pan that has been coated with extra virgin olive oil.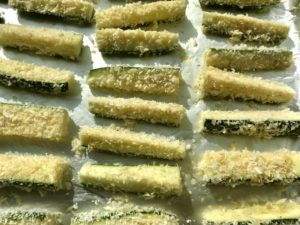 Put them into a 400 degree F oven and bake – that's it!  Then…comes…the…sauce!  I love the sauce that Kitchen Step serves it's fries with, which is a Harissa Mayo.  Harissa is a hot chili pepper paste and I love the combination of the mild, salty, crispy zucchini fries with a cool, spicy, and creamy sauce.  For my dipping sauce, I combine Sriracha sauce and Mayonnaise and that is a simply perfect combo.
When the Zucchini Fries are done baking, you can serve them as a snack, an appetizer for entertaining, or a side dish.  Dip them into the Sriracha sauce and I swear you will be in heaven!  See the full recipe below.  Enjoy!
Parmesan Zucchini Chips
Baked Parmesan Zucchini Chips with Sriracha dipping sauce are so good you'll forget you're eating a healthy veggie! The parmesan breadcrumbs create this amazing salty, crispy crust on the outside, while leaving the zucchini soft and succulent on the inside. The slightly salty, slightly sweet, slightly spicy Sriracha dipping sauce makes for the perfect combo.
Ingredients
Zucchini Chips
3

Zucchini, Medium

or 4-5 small

1

Egg

1

tablespoon

Water

¾

cup

Panko Breadcrumbs

½

cup

Parmesan Cheese, grated

½

teaspoon

Salt

½

teaspoon

Pepper

Extra Virgin Olive Oil Cooking Spray
Sriracha Aioli
¾

cup

Mayonnaise

1

clove

Garlic, minced

1

tablespoon

Sriracha Sauce, or more to taste

1

tablespoon

Ketchup
Instructions
Prep Ahead to make Kit
Mix the parmesan, breadcrumbs, salt, and pepper. Place in a small storage bag.

Wash and slice the zucchini. Place in a large gallon storage bag for fridge.

Mince 1 clove garlic. I like to use a garlic press to get the mince as fine as possible.

Make the Sriracha sauce by combining the minced garlic clove, the mayonnaise, ketchup and the sriracha sauce in a small mixing bowl. Mix to combine all ingredients and store in the fridge.
Cook
Preheat the oven to 400 degrees F and spray a large sheet pan with Extra Virgin Olive Oil Cooking Spray. TIP: line with aluminum before spraying for easy cleanup

In a medium-size bowl, beat 1 egg with a tablespoon water. Pour the parm-breadcrumbs into a separate medium-size bowl.


Make the zucchini chips in batches of 3-5 at a time. First dip the zucchini slices in the egg. Scoop out and let excess egg drip off. Then dredge in the panko crumbs and toss to coat.

Scoop out and place on an oil coated pan. Make sure to leave some space between the zucchini so they are not overcrowded. The zucchini will shrink, but you don't want them touching or they may not crisp up. Spray the breaded chips with Extra Virgin Olive Oil and then place on center rack in oven for 10 minutes.

Remove them from the oven, flip each chip over, then bake for another 10 minutes.

Serve the Chips with Sriracha Aioli and Enjoy!
Recipe Notes
Can these be made ahead and frozen?
Zucchini have a high water content, so when you freeze them, they can turn to ice. Then when thawed, you have soggy zucchini. Therefore, if you want to freeze these, you should first par-bake them to reduce the liquid. Then bake them in the oven straight from the freezer.

What seasonings can I add to the parmesan and breadcrumbs?
You can add just about any of your favorite seasoning blends to the breadcrumb mixture. Italian seasoning, Everything bagel seasoning, Taco seasoning, or just add fresh herbs, such as parsley or basil. You can also add in garlic powder, onion powder, or paprika into the coating mix.