Jump to Recipe
Skillet Chicken Tomato Sauce with Ricotta is a 6-ingredient, 25-minute, one pan meal.  Ground chicken tomato sauce makes it a healthier family dinner!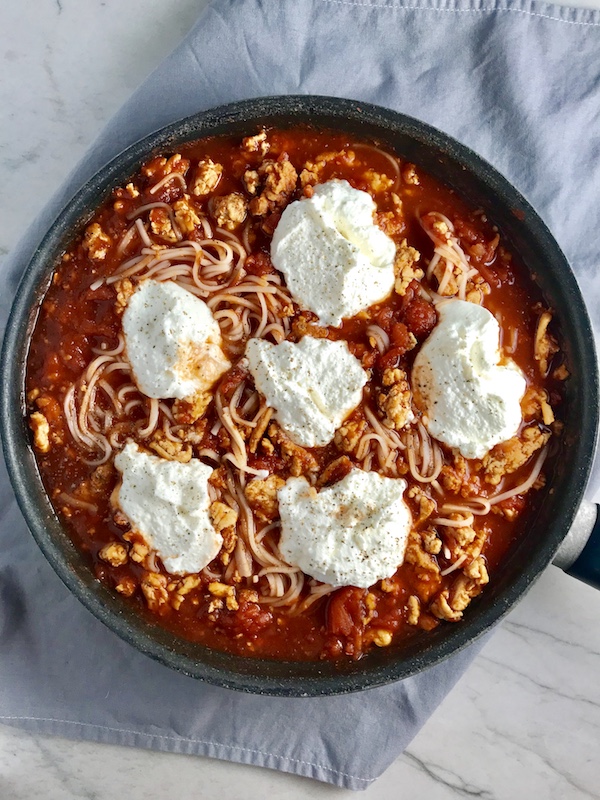 This Skillet Ground Chicken Tomato Sauce with Ricotta is a delicious and simple one pan meal. Ground chicken is seared until it gets a super browned, flavorful crust. Then garlic, vegetable broth and tomatoes are added. All of this cooks down into a delightful sauce that really lets the tomato shine with a meaty bite from the chicken. After pasta is mixed in (I used Gluten Free), creamy Ricotta Cheese and fresh basil are added. It's perfection! Bellissimo!
Of the 10 ingredients in this recipe, 7 can come from the pantry! And the ground chicken and basil can be stored frozen, so really, it's just ricotta that you need to buy. So, it's one that is always ready to go! Click here to get more pantry dinner ideas and Pantry Must-Haves for Quick & Easy Dinners!
INSPIRED BY ITALY
Italian food always seems very romantic to me. When I think of Spaghetti, I think of Lady and the Tramp. You know the scene sharing the pasta and kissing – yes, I am a bit of a sap. So, Italy was a natural choice for my honeymoon over 10 years ago. For our 10th Anniversary, this past July, Dave and I decided to go back for some much-needed romance. I mean, having kids takes its toll in the romance department – am I right?
The trip was absolutely amazing. Here's another amazing recipe – Walnut Sauce with Ricotta & Spinach Pasta Recipe – that was inspired by a dish I ate in Cinque Terre.
Let's Make this Skillet Ground Chicken Tomato & Ricotta!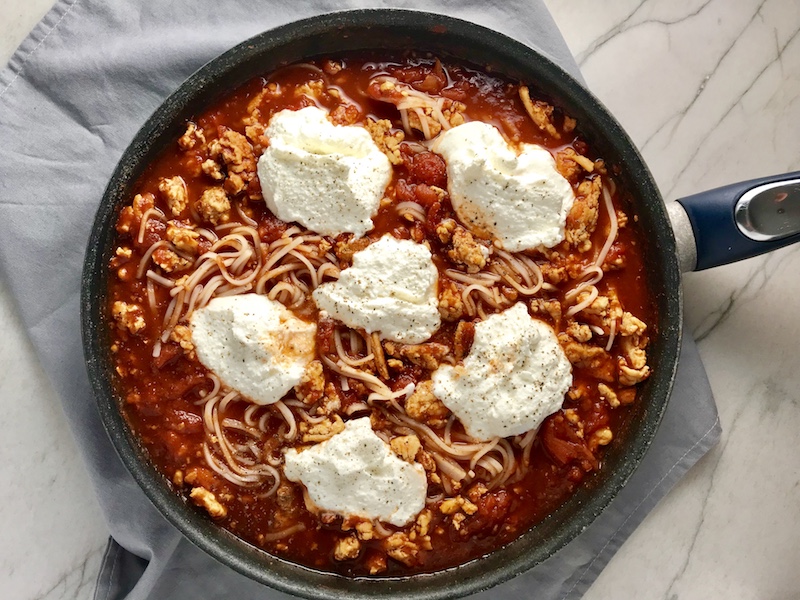 Quick note! This post contains affiliate links, which means I earn a commission (at no extra cost to you) if you purchase from them. This commission is what helps me keep this blog afloat :). But, I also share these links because I have used the products, genuinely love them, and want you to know exactly what I used.
PREP-AHEAD TO MAKE SKILLET GROUND CHICKEN TOMATO SAUCE COOKING 'KIT'
This recipe is so simple, that there isn't much to do ahead of time. Mince the garlic and rough chopping the basil leaves. You can also just leave the basil whole for garnish at the end.
The ground chicken tomato sauce can also be made in advance and stored it in the fridge. Then on the night you are ready to eat it, heat it up in the skillet, add the spaghetti (or gluten free pasta as I used) and the ricotta.
COOK YOUR CHICKEN TOMATO SAUCE WITH RICOTTA MEAL:
For this recipe, I used gluten free rice noodles, which really act like spaghetti. There are a lot of different gluten free pastas available. Make sure it's sturdy enough to hold up in the sauce and that you do not overcook it. , so that it doesn't turn to mush in the sauce. I find the rice noodles cooked al dente hold up really well. Of course, you can always use regular spaghetti for this!
Since this recipe is so simple with just a few ingredients, here is the secret to really bringing out the flavor. BROWN the ground chicken. I'm talking REALLY BROWN it! Sear it to the point where you worry the brown bits on the bottom of the pan may burn. That's what will give your sauce real depth of flavor with this low fat and calorie meat. BROWNED = FLAVOR 🙂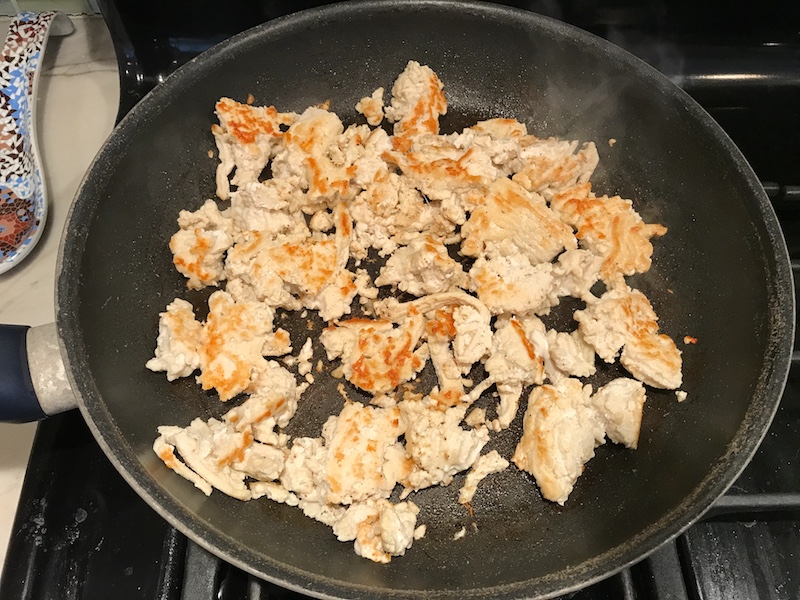 Once the ground chicken is really browned add the garlic and broth. As you add the broth, scrape the bottom to pick up all of those yummy brown bits stuck to the skillet. Those brown bits will give your sauce great flavor. I used Better than Bouillon Vegetable Base broth in this dish because I love the deep, rich flavors it brings. You can use any other chicken or veggie broth you like.
This is a quick weeknight meal, so I recommend using sweet, full flavored canned San Marzano Whole Peeled tomatoes. You can break them up easily for a textured sauce with pieces of the tomato, which I really love vs. a pureed tomato sauce.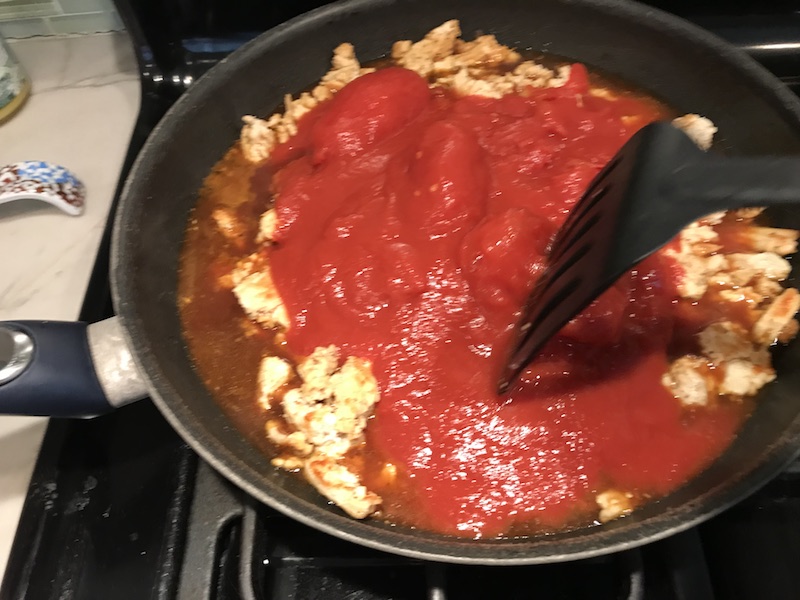 For the Ricotta…Add as much or as little as you want in dollops into the sauce.
Serve it in bowls or dishes and then simply garnish with fresh basil.
That's it! ENJOY!
😍 Carrie
Skillet Chicken Tomato Sauce with Ricotta and Pasta
This Skillet Chicken Tomato Sauce with Ricotta and Pasta is a delicious and simple one pan meal. Ground chicken is seared to get a browned, flavorful crust. Garlic, broth & tomatoes are added & cooked down into a delightful sauce with a meaty bite from the chicken. Pasta is mixed in, then creamy Ricotta is added. Bellissimo!

Ingredients
16

oz

Ground Chicken Breast

Free Range, No antibiotics used

28

oz

San Marzano Whole peeled tomatoes

1

cup

Vegetable Broth or Chicken Broth

1

clove

Garlic

½

teaspoon

Salt

increase to 1 teaspoon if your broth is unsalted

1

teaspoon

Fresh Ground Pepper

2

teaspoon

Extra Virgin Olive Oil

8

oz

Spaghetti

I used gluten free

16

oz

Ricotta Cheese

¾

cup

Basil Leaves, loose
Instructions
Prep Ahead
Mince the garlic Clove. Rough chop the basil leaves – or just leave them whole for garnish at the end.
Cook
Make the spaghetti to al dente according to package instructions then set aside until you are ready to add to the sauce. NOTE: you do not want to over cook the pasta as it will continue to cook in the sauce.

Preheat a large skillet on high heat. Add 2 teaspoon Extra Virgin Olive Oil and spread it around the skillet. Add the ground chicken, break it up and make a single layer of meat so that all of it can get a nice brown sear.

Let the chicken cook on high heat for at least 5 minutes without touching it, but even longer is better so that it gets REALLY BROWNED! Then flip the chicken over breaking it up again so that it doesn't form one large patty and cook the other side for another 5 minutes. You want to make sure that all of the pink is gone and preferably all of the white too so that everything is nice and browned. BROWNED = FLAVOR 🙂

Now add the minced garlic and stir to combine and cook for 1 minute.

Add the Broth and stir to get all of those delicious browned bits off the bottom of the skillet.

Add the tomatoes and break them up with a spatula. Mix to combine. Cover and simmer for 5 minutes. TIP: If you do not have a cover for your skillet, you can use a sheet pan or just aluminum foil.

Now mix in the spaghetti and mix using tongs so that all of the sauce combines with the pasta.

Finally, add in some hefty dollops of creamy ricotta cheese. You can add in as much or as little as you want, but I like to scoop out 1-2 dollops per serving.

Serve and garnish with basil.
Recipe Notes
This recipe is intentionally simply and short on herbs because I really wanted to let the natural sweetness of the tomatoes and the browned flavor from the chicken be the star.  The basil at the very end as garnish is a nice fresh burst of flavor.  However, feel free to also add basil to the sauce and mix it in before you cover it to simmer.