These Pork Carnitas Tacos  have shredded pork tenderloin topped with pickled red onions, goat cheese & tangy cilantro lime crema.  On the side, Creamy Corn with goat cheese…wha!?!?  Yep, goat cheese is tangy, sweet, salty and oh-so-creamy for an unexpected, but absolutely delicious combination!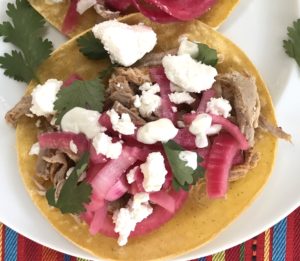 I grew up on tacos-from-a-box and there is nothing wrong with those, I still make them today in a pinch.  The box just gives you all of the dry components and seasonings.  However, once I tried making Pork Carnitas, I was hooked!  Pork Carnitas is basically Mexican slow cooked pulled pork.  My version speeds up the slow cooking process to make it even easier!  But, the taste is still amazing.
After the Pork Carnitas, here is what really sets these apart from the tacos-from-a-box.  PICKLED ONIONS!  If you have had these on tacos, well, then you know what I'm talkin' about.  If not, PLEASE PLEASE try this, it is amazing and delicious and addictive and…just wow.  They are so easy to make as well and the beautiful pink color is natural from the Red onions sitting in the vinegar and sugar.  Seriously, I cannot say enough about the YUM factor here.  Making them is super easy too.  You simply simmer the vinegar and sugar until the sugar dissolves completely and then pour over the sliced onions to cover them.  Let sit for 1 hour up to over night in the fridge and that's it!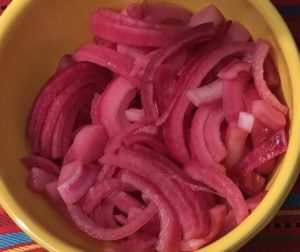 Finally, the goat cheese and the Cilantro Lime Crema.  Now, traditionally, you put Cotija cheese on these, but I just absolutely love the tanginess and creaminess from goat cheese, so that is what I use, but feel free to go traditional or go with even shredded cheddar.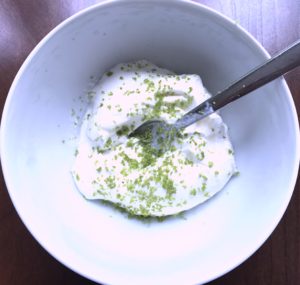 The Cilantro Lime Crema is, well, nothing short of delish and it's really everything I can do from eating it straight with a spoon.  The key is the Lime zest, not just using the juice.  The zest gives a more intense lime flavor without the intense sour.
Last, but not least, is the Creamy Corn…hmmmm.  Naturally sweet with a slight tang from the goat cheese.
Enjoy!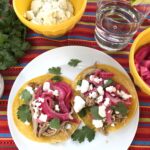 Pork Carnitas Tacos with Cilantro Lime Crema and Cream Corn
Pork Carnitas Tacos use pork tenderloin, shredded perfectly to fit into your tortillas and they are topped pickled red onions, goat cheese & tangy cilantro lime crema! On the side, a Creamy Corn with goat cheese that is to die for!
Ingredients
1

Lb

Pork tenderloin

1

Tsp.

Ground cumin

1

Tsp.

Chili powder

4

Fresh Scallions

6

oz

Goat Cheese

12

Corn Tortillas
1

Cup

Sour Cream

2

Limes

4

Tbls.

Cilantro, chopped + leaves for tacos
Pickled Onions
1

Large red onion

1

Cup

White or Red wine vinegar

3

Tbls

White sugar
Creamy Corn
4

Cups

Frozen Corn

1

tbls

Butter

2

tbls

Sour Cream

2

teaspoon

Cilantro, chopped

3

tbls

Goat Cheese, crumbled
Instructions
Make Pork filling
Preheat oven to 400 degrees F. Season the pork with Cumin, Chili Powder, Salt, Pepper making sure to coat all sides evenly. Place on sheet pan and cook in oven for 30min. Make sure pork center is 145º. Turn off oven, cover with aluminum and keep pork in for another 10minutes.

Slice the pork tenderloin into 1.5 inch pieces, then shred pork into bite size pieces (this is easily done using your own fingers)
Onions
Cut the red onion in half and then thinly slice and separate thin slices into a bowl that is large enough to cover the onion with the pickling liquid.

In a saucepan, bring 1 cup white vinegar and 2 Tbls sugar to a boil and then turn off the heat and stir to make sure the sugar is completely dissolved. Pour the hot mixture over the onions and push down to make sure covered by the liquid. Let sit until up to room temperature, then place in refrigerator until ready to use
Tortillas
Once pork is done, turn oven down to 300º. Wrap 12 tortillas in aluminum foil & place in oven for 10 minutes. Turn off oven & let stay in oven until ready to eat
Make Cilantro Lime Crema
Add sour cream to small bowl

Zest 1 lime and add the zest + juice from half the lime into sour cream & mix to combine until smooth. If needed add juice from ¼ more of the lime at a time tasting as you add to make sure it doesn't get to acidic.

Add 1 teaspoon chopped Cilantro and salt/pepper to taste to crema
Make Corn
Add corn into small pot with 1 tbls Butter to thaw and heat through

Add 2 tbls Sour Cream, 2 teaspoon chopped Cilantro. Remove from heat and crumble 3 tbls goat cheese into the corn and mix to combine
Plate: Tortillas, pork, pickled red onions, goat cheese, then add fresh cilantro leaves