Here are easy Halloween Dinner Ideas that you can make and serve in the Slow Cooker – Crockpot – so guests can help themselves!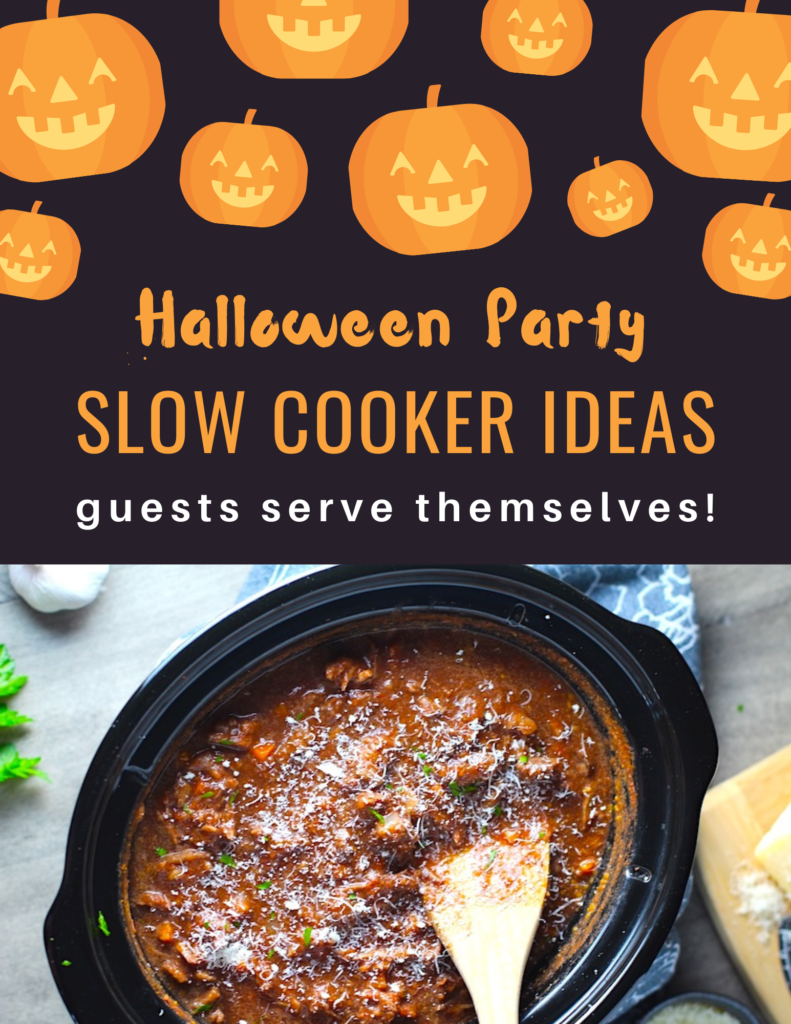 Are you having a Halloween party or get-together this year? Then easy recipes are in order so that you can enjoy the party and not be serving or slaving away! And the Slow Cooker is just the thing to make your party-hosting life easier. These Halloween Dinner recipes are delicious, fun, and easy for guests to help themselves so you don't have to worry.
The Slow Cooker is Perfect for Parties
The slow cooker is perfect for parties because it does most of the work for you, keeps food warm, and guests can serve themselves! Here is my checklist for the recipes in this list.
EASY – 90% of the Dinner is cooked in the slow cooker. This means that the main protein and veggies are cooked in the slow cooker. The only other parts of the dinner that may be needed are a starch or grain (sandwich bread, pasta, rice, etc.) and potentially a simple salad if you desire.
KID-FRIENDLY – these recipes are kid-tested and parents have confirmed to me that their kids enjoyed them! Let's face it, kids are finicky. One day they love something and the next they don't. So, I don't pretend that all kids will love these recipes. However, there is nothing too spicy or too polarizing here.
COMFORTING – It's getting cold out, so all of these recipes are sure to warm your insides and give you a cozy and comfy feeling. The slow cooker keeps the food warm so you don't have to worry!
A Slow Cooker is a Busy Family's Best Friend
My slow cooker is one of my most beloved kitchen appliances. Not only does a slow cooker make wonderful food, it helps to make your life easier and gives you peace of mind. You can fill the slow cooker in the morning and let it cook all day while you are at work. You come home to delicious and comforting aromas and have a warm dinner waiting for you.
I absolutely love love love my easy and simple (and not expensive) Crock-Pot. I have the 6-Quart version with 5 settings (low 4-hour, low 6-hour, high 8-hour, high 10-hour, and warm).
There are other fancier versions and if I were in the market for a new slow cooker, I would want THIS one with a browning insert! You can order this today and have it in a few days to start your Slow Cooker Cookin'!
So, here you go!
Halloween Dinner Ideas in the Slow Cooker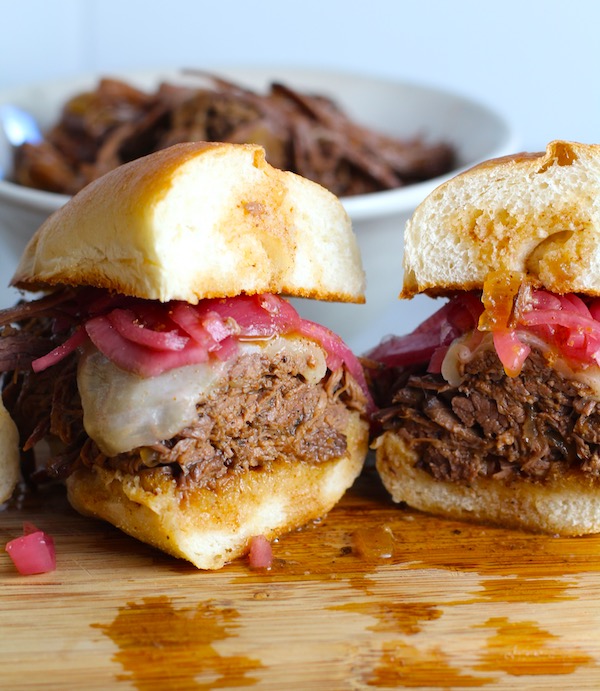 Smoky Pulled Beef Brisket in the Slow Cooker is crazy-delicious! Can I just tell you that there are good recipes and then there are OMG fantastic recipes. This Smoky Pulled Beef Brisket is OMG fantastic. It is smoky, savory, tender, moist, and full of flavor. There are so many ways to enjoy this amazing beef, but one of my favorites is loaded onto a bun to soak up all the fabulous juices. Then top with a melty cheese and some pickled onions for the perfect bite.
This Halloween dinner recipe goes a long way when you serve with sandwich bread or buns and other condiments.
There is nothing better than the comforting aroma of a hearty soup cooking in the house. Actually, there is one thing better. Walking into your own house after trick-or-treating and smelling that comforting soup waiting for you! Slow Cooker Chicken and Mushroom Soup is that soup that can be waiting for you! This soup is warm, hearty, comforting, earthy, and just divine. The mix of blended and chunky mushrooms with carrots, onions, celery, and shredded chicken gives you a perfect bite every time. Oregano takes it over the edge with flavor giving this soup an herby taste that pairs just beautifully with the mushrooms. For a Halloween party, you can serve this a couple ways. First, you can serve it as soup. However, if you're guests will be standing and eating, soup can be messy and difficult to manage. So, you can serve rice on the side and make it more of a stew and add in various yummy toppings, such as shredded cheese or grated parmesan, sour cream, scallions, croutons, tortilla or pita chips.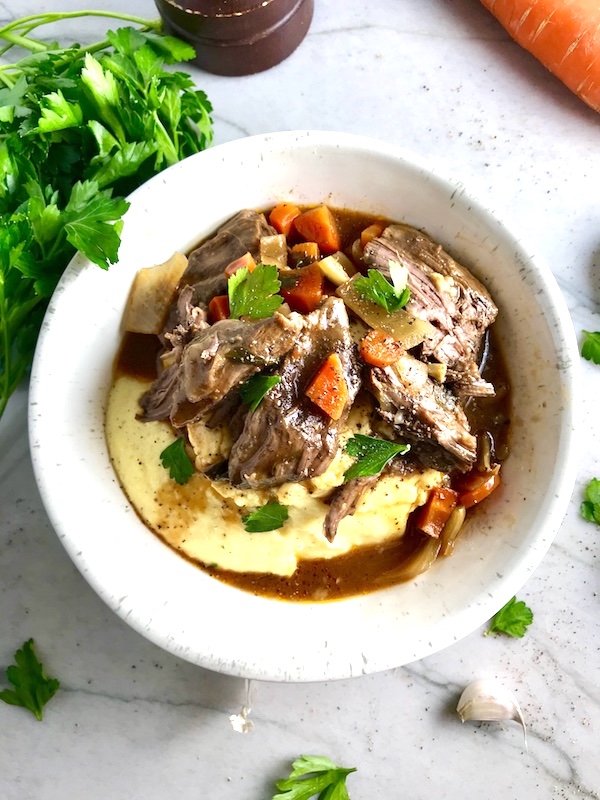 Easy Slow Cooker Short Ribs are always a show-stopper and the perfect main dish for entertaining. I have made them for holiday dinner parties, for Sunday family dinners, visits from out-of-towners, and thank you meals for friends. They are incredibly decadent and taste like you slaved away in the kitchen for your guests. The flavors from the onion, carrots, demi-glace, thyme, and garlic all seep into the meat, which is fall-apart tender and absolutely delicious. These Easy Slow Cooker Short Ribs taste amazing with Creamy Parmesan Polenta, so check out that recipe too!
This Paprika Pork Stew Recipe is loaded with flavor and texture. With each spoonful you get a smokey and salty bite flavor from the pork, paprika, oregano, garlic and onion. Carrots balance out this dish with a slightly sweet and tender bite. Finally, the pork is so moist and fork tender. You can serve rice or noodles on the side and serve various yummy toppings, such as shredded cheese or grated parmesan, sour cream, scallions, croutons, tortilla or pita chips.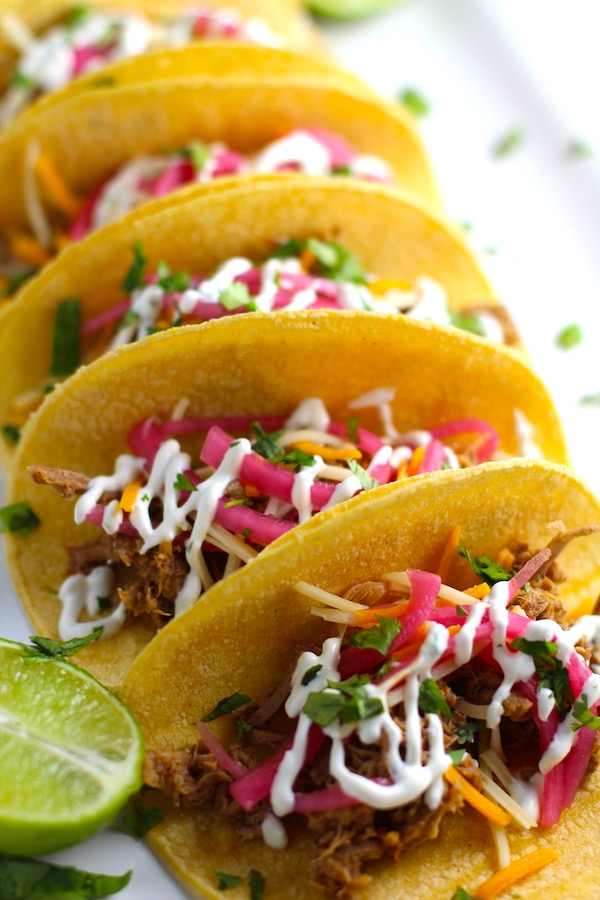 These Slow Cooker Pork Tacos are mouthwateringly fantastic and were a hit at my Halloween party 3 years ago! Top them with with Pickled Onions, Shredded Cheese, and Cilantro Lime Crema drizzled all over! You get the salty and smoky flavor from the perfectly seasoned and slow cooked pork, a sweet and tart bite from the pickled onions, with creaminess from the cheese, and tang from the cilantro lime crema. Guests can build their own taco anyway that they want!
This is my easy, made-for-busy-moms Shredded Beef Ragu Recipe! It has a thick meaty texture and a super rich delicious flavor. It's made with beef chuck, so it's affordable and easy to work with. It's made without wine, but instead gets that acidic backdrop from Balsamic Vinegar. And it's easy for busy moms because it's made in a slow cooker! Just toss all ingredients in, set for 6-8 hours, shred the beef, and that's it!
This Ground Beef Vegetable Soup Recipe is a delicious soup that's comforting and hearty with loads of veggies! Make it in the slow cooker or on the stove top.
Looking for a way to add tons of flavor to vegetable soup and add some curb appeal for your whole family? Well, then this Ground Beef Vegetable Soup Recipe is a great way to do just that! Browned ground beef, fresh vegetables, a tomato-based broth, and wonderful herbs and seasonings come together to make one fantastic and hearty soup. Each bite gives you meaty ground beef, tangy tomatoes, sweet carrots, and flavorful onions, garlic, and herbs.
This 5-Ingredient Homemade Chicken Soup is thick, creamy (but, no dairy!), and hearty. It's filled with flavorful broth, meaty shredded chicken, and sweet bursts of bright veggies. But, this version is also the easiest ever because you prepare all of the ingredients ahead (even months ahead) and freeze them until you are ready to cook this wonderful meal. Then you thaw, pour all of the ingredients into the Slow Cooker, set and forget. Forget until those amazing and comforting aromas remind you that you have a Homemade Chicken Soup waiting for you! This is a great option for serving with mini sandwiches!
These Slow Cooker Brazilian Black Beans, known as Feijão, are a traditional dish in Brazil. The slow cooker makes it incredibly easy to make these anytime and it allows all of the flavors from the meat, onion, cilantro, and garlic to cook into the beans for a distinctive, thick, saucy, and hearty dish. They are great as a side or a main dish. If you have never tried these beans, you really MUST and I promise you will love them.  While not traditional in Brazil, you could certainly serve lots of different toppings for these delicious beans, such as diced tomatoes, shredded cheese, lime wedges, scallions, etc.
HAPPY HALLOWEEN!
😍 Carrie