Jump to Recipe
This Creamy Garlic Parmesan Chicken is creamy, garlic-y, and delicious!  It's a simple go-to dish in my house because I always have the ingredients on hand.  After Thanksgiving, easy meals are definitely a MUST for me and this one fits the bill.
The first time I made this recipe was just after moving in with my now-husband, Dave, in NYC back in 2004 (eek, now I feel old).  We had just purchased our first home, a beautiful pre-war shoebox (I say that lovingly) co-op apartment on 73rd and Lexington on the Upper East Side.  Actually, it was the perfect size for us.  It was a one-bedroom with high ceilings, a fireplace, and a teeny-tiny AMAZING-because-it-was-ours galley kitchen.
I loved cooking and was excited to cook for Dave and I, but really didn't have a set of go-to recipes that could give us enough variety.  I started by asking my friends to send me their favorites and one of my best friends, Lucia, sent me a version of this recipe and I evolved it to make it even easier and a bit more 'Carrie'.
Super Easy Recipe!
It all starts with a bowl that you mix all of the creamy ingredients together in…the minced garlic, freshly grated parmesan cheese, mayonnaise, sour cream, a little milk, and parsley.  You sear the chicken in a pan and then transfer to a baking dish and bake for 20min.  Then, simply scoop the creamy garlic parmesan sauce on top of the chicken.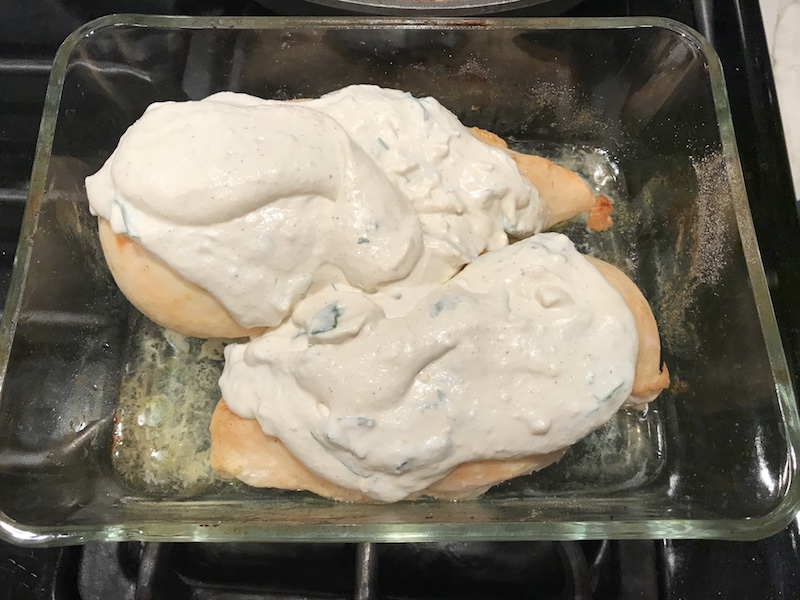 Put under the broiler just until the sauce with the cheese is warmed through and slightly browned.  Once browned, it takes on such a nutty and salty and creamy flavor that you don't necessarily expect when you hear sour cream and mayonnaise.  I usually serve this over rice so that all the extra sauce can be soaked up and eaten with the rice because absolutely none of this sauce should be left behind (no, I don't lick the plate…ok, so maybe a little).  A simple side of roasted asparagus or sauteed zucchini or just a simple salad and that's all you need for the perfect simple meal.
Creamy Garlic Parmesan Chicken
This is a simple go-to chicken recipe that you likely already have all of the ingredients for and easily put together for dinner tonight! It is creamy, salty, garlic-y, & cheesy! Serve over rice and with a simple veggie side, like roasted asparagus and you are good to go!
Ingredients
2

Chicken Breasts

1

teaspoon

Coconut Oil

or Extra Virgin Olive Oil

¼

Cup

Parmesan Cheese, grated

¼

Cup

Sour Cream

¼

Cup

Mayonnaise

1

Clove

Garlic, minced

1

tbls

Milk

1

tbls

Parsley, finely chopped

¼

teaspoon

Salt

¼

tsp

Ground pepper
Instructions
Preheat oven to 375 degrees F

Season chicken breasts with some salt & pepper (not the ¼ teaspoon in the ingredient list) and then sear in a hot pan with coconut oil until golden brown on both sides. About 2-3 minutes each side.

Move chicken to a baking dish with 1.5-2 inch sides and put into preheated oven for 20 minutes.

While chicken is cooking, mix all other ingredients in a bowl: garlic, parmesan, mayo, sour cream, milk, parsley, salt and pepper.

When the chicken is done, remove it from the oven and smear the garlic parmesan mixture over the top. Put the chicken back in the oven under the broiler until the topping becomes golden brown and bubbly.

Remove from oven and let sit for at least 5 minutes. Then slice the chicken plate with rice or polenta. Spoon the sauce in the baking dish all over top of the chicken. Enjoy!